Zee News and IBN7 in soup for 'unlawful reportage' branding JNU prof Nivedita Menon as anti-national
A leading group of academics and scholars across the world has come out in support of JNU professor and feminist writer Nivedita Menon
Academics, scholars and prominent personalities across the world have come out in support of feminist writer Nivedita Menon, who teaches at the Centre for Comparative Politics and Political Theory at the School of International Studies in JNU and noted scientist and poet Gauhar Raza.
Kafila has issued a statement condemning the attack on Menon and Raza and requesting the Press Council of India and the Broadcast Association to take necessary action against Zee News and IBN 7 for their "unlawful reportage."
Actors, journalists, lawyers and many others, including Kavita Krishnan, Naseeruddin Shah, Prabhat Patnaik and more have also signed the statement demanding Zee News to take responsibility and issue an apology, as per The Citizen.
According to Catch News, media channel Zee News called Raza "anti-national and "who supports Afzal Guru," while playing one of his poems.
Referring to a speech made by Menon on JNU campus, on 8 March, Zee News reported "some professors of the prestigious university are the real culprits, who are infusing hatred for the country amongst the youngsters."
The Wire reported that Menon was giving a lecture on the accession of Kashmir into India at the time of Independence and how the map of India looks very different in international publications. She had said, "If people are raising slogans for azadi, shouldn't this be looked at in the context of India being seen as an imperialist country internationally?" The report said that Zee News has been accused of "airing doctored video" and selectively picking Menon's quotes from her speech. It added that IBN 7 "demanded sedition charges slapped against Menon." 
On 13 March, the ABVP lodged two police complaints against the varsity's associate dean for giving permission to the controversial Afzal Guru event and professor Nivedita Menon for her alleged remarks on pro-azadi slogans on Kashmir.
JNU Students' Union Joint Secretary Saurabh Sharma, who had filed the complaint, had stated regarding Menon, "Everyone knows that India is illegally occupying Kashmir. It is said the world over. Everybody accepts (it). (sic)"
JNU's ABVP unit president Alok Singh had said, "We demand that Nivedita Menon (a teacher) must step down for ridiculing and trivialising the martyrdom and dedication of Indian army. The teachers have been academically legitimising the terrorism and violence on the campus."
Defending Menon, Mary E. John, who is with the Centre for Women's Development Studies, wrote in The Hindu, "That is precisely why we are outraged not by the fact that people disagree with Prof. Menon or want to question her views, but by the mode in which they are choosing to do so. The malicious campaign we have witnessed in recent days is not about expressing dissent; it is about bullying and intimidation."
With inputs from PTI
Find latest and upcoming tech gadgets online on Tech2 Gadgets. Get technology news, gadgets reviews & ratings. Popular gadgets including laptop, tablet and mobile specifications, features, prices, comparison.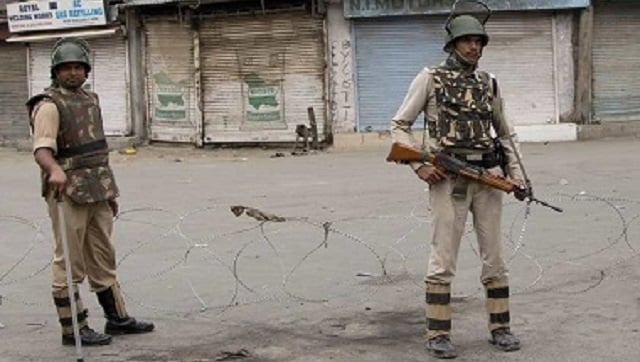 India
Srinagar police said that "separatist and Pakistan-sponsored groups" are planning to observe 5 August as 'Black Day' and that violence or protests are not ruled out
India
Sinha succeeds former IAS officer Girish Chandra Murmu, who resigned on Wednesday night and was appointed Comptroller and Auditor General (CAG) on Thursday
India
The new 35 COVID-19 positive cases at one of the biggest prisons in Kashmir has come weeks after more than 90 inmates were found positive at the Anantnag jail. Capable of holding not more than 3,234 inmates, prisons in Jammu and Kashmir currently have 3,700 inmates.