Zakir Naik denies misuse of funds by his NGO, says ban on IRF politically motivated
Naik said he was positive the agencies would have surely realised he wasn't promoting terrorism, but they have no choice due to political pressures.
Mumbai: Controversial Islamic preacher Zakir Naik on Sunday claimed that there has been no misuse of funds by his banned NGO and rejected all allegations of involvement in terror-related activities.
Remaining non-committal on returning to India, where he has been booked for hate speech and under anti-terror law UAPA, the 51-year-old televangelist, who is currently abroad, said he has repeatedly offered his cooperation to NIA.
Facing heat over charge of inspiring some of the Dhaka attackers through his speeches, he said the moment someone resorts to violence, he ceases to be Islamic and loses his support.
"It is wrong to imply that a few miscreants who joined terror groups were influenced by me. So if I was really spreading terror, wouldn't I have made a few lakh terrorists by now? Not just a handful.
"In a fan following of millions, there may be a handful of anti-social elements who will go astray and take up violence. But they are surely not following what I've told them. The moment they pick up senseless violence, they cease to be Islamic and they surely lose my support," Naik told PTI in an e-mail interview.
Asked about the legal steps he would take to challenge the ban on his NGO Islamic Research Foundation (IRF), he said his legal teams in Mumbai and Delhi were looking into the issue and would move the Court soon.
The Centre recently banned the IRF for five years and declared it as an unlawful association.
Naik said the ban on IRF was politically motivated.
On allegations of money laundering by IRF in the funds received from abroad, he said the Rs 47 crore in question came from his personal account in Dubai to his personal account in Mumbai in the last six plus years.
"It was duly declared by me in the returns and used for lawful activities, including giving gifts and loans to my family members. I don't know where is the problem in that.
"IRF received about Rs 14 crore in the FCRA account over the past 15 years. Of this, about Rs 4 crore was from NRIs living abroad. Only about Rs 10 crore was received from foreign donors in the last about 15 years. All of this was duly declared to the MHA, including the amounts, the names and the addresses of the donors. So, where is the question of money laundering?" Naik asked.
Asked why was he not returning to India, Naik said he has repeatedly offered his co-operation to government agencies in their investigations but till date, no agency bothered to contact him, ask him questions, or send him any notice.
The physician-turned-preacher claimed he was invited twice before May 2014 to address IPS trainees at the National Police Academy in Hyderabad.
"Do you mean to say that this prestigious Institution invited a person who promotes terrorism to address the IPS officers?" he asked.
Naik said he was positive the NIA and other agencies, after doing thorough research for more than four months would have surely realised he was far away from promoting terrorism, but they have no choice but to give in to political pressures.
"More unfortunately, it is also indicative of the grim state of affairs existing in my beloved homeland since the Modi government took over two-and-a-half years ago," he said.
"Till date there's been no contact and only an FIR has been lodged against me. They (agencies) have not provided a single proof to substantiate their claims. That's because none exist, and all that agencies are claiming are chatter and nothing else.
"What I'm doing now is the same work I've been doing for 25 years. Do you really think my so called "terrorist activities" would have been hidden from multiple intelligence agencies for so long?" he said.
Early this week, Naik released an open letter in which he said ban on his NGO was timed with the demonetisation move to avert resistance to action against the outfit and divert media attention, and alleged it was "an attack on Muslims, peace, democracy and justice".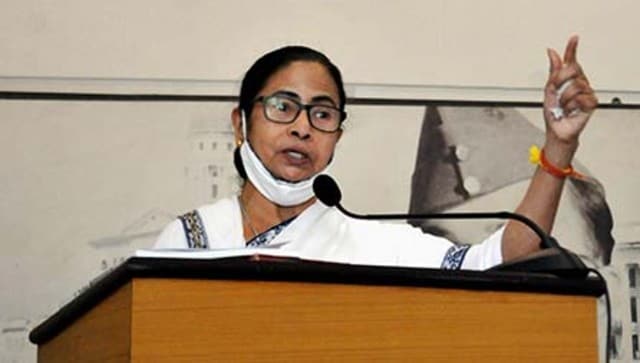 Politics
The TMC supremo is pitted against BJP's Priyanka Tibrewal and Left Front's Srijib Biswas in the 30 September bypoll
Business
Both the 50,000 and 60,000 levels have been breached in 2021, showing the resilience of the market after the pandemic-triggered crash in March 2020
India
She founded the South Asian feminist network Sangat, which works with underprivileged women from rural and tribal communities