'Youth should set up paan shops, not chase govt for jobs': Biplab Kumar Deb courts controversy, yet again
Biplab Kumar Deb on Saturday suggested that the educated youth set up a paan shop instead of running after 'political parties for several years to get a government job and waste vital time of their life.'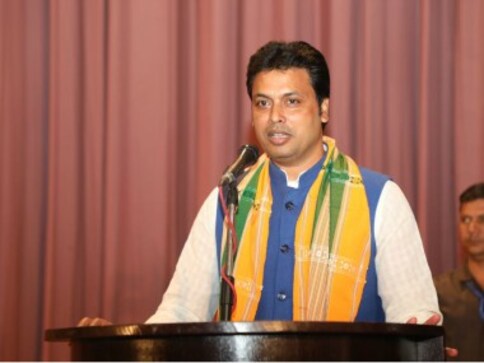 On Saturday, Tripura chief minister Biplab Kumar Deb added to his growing list of controversial statements by suggesting that educated youth set up paan shops instead of "running after political parties for several years to get a government job and waste vital time of their life".
Speaking at a seminar organised by the Tripura Veterinary Council in Agartala, Deb added, "Had the same youth, instead of running after parties, set up a paan shop, he would have by now had a bank balance of Rs 5 lakh".
The chief minister urged educated youth to undertake various projects and become self-employed with bank loans under the Prime Minister's Mudra scheme, reported NDTV.
According to a report in The Indian Express, Deb also suggested graduates "milk cows" instead of going after jobs. "Every household must rear a cow. Here, milk sells for Rs 50 a litre. Had a graduate who has been searching for employment in the last 10 years reared a cow, then their bank balance would have been Rs 10 lakh by now", he claimed.
Deb recently hit the headlines for a string of controversial remarks.
On Saturday, he said mechanical engineers must not opt for for civil services and added that civil engineers are more suitable for the job.
"Those who are from a mechanical engineering background should not opt for civil services. Society has to be built up. Civil engineers have this knowledge... because those in the administration have to build society", he said at an event at the Prajna Bhavan in Agartala.
"Earlier, arts graduates use to appear for the civil services examination and now, medical and engineering graduates are also joining the services", he said.
Deb also said civil service officers should be all-rounders as "people who are expert in all disciplines have the highest demand".  To drive his point home, he cited the examples of Sachin Tendulkar and Kapil Dev.
"People take names of special players such as Sachin Tendulkar and Kapil Dev. Dev's bowling was good, but batting was also excellent. This is the age of specialty. All-rounders are accorded highest priority", Deb said.
On Thursday, the chief minister questioned the crowning of Diana Hayden as "Miss World" in 1997 and alleged that international beauty contests were a farce.
Earlier this month, Deb, an arts graduate, claimed that internet and satellite communication existed in the days of Mahabharata, drawing criticism from Twitterati, intellectuals and his political adversaries.
With inputs from PTI