Yogi Adityanath in Ayodhya: CM pitches for 'Ram Rajya' as Uttar Pradesh witnesses 'historic' Deepotsav
Chief Minister Yogi Adityanath raised his pitch in the favour of 'Ram Rajya' in Ayodhya, and vowed to transform the the holy city by bringing in tourism.
Visiting Ayodhya on Wednesday, Uttar Pradesh chief minister Yogi Adityanath pitched 'Ram Rajya' and vowed to transform the city.
Beginning his speech with 'Jai Shri Ram' and 'Bharat Mata Ki Jai' at the 'Deepotsav' event on Wednesday, Adityanath said, "The Centre has sanctioned Rs 133 crore for Ayodhya. We are taking efforts so that Uttar Pradesh becomes the tourism hub for India and the world."
He praised the city for its ancient glory. "Ayodhya is the land of humanity. Maanavta ka path duniya ko Ayodhya ne padhya hai Ram Rajya ke maadhyam se. (Ayodhya has taught the lesson on humanity to the world, through the medium of 'Ram Rajya')," Adityanath said.
Adityanath said 'Ram Rajya' meant "where there is no poverty, pain, grief or discrimination; no poor without a home; no home without electricity or LPG."
The Uttar Pradesh government planned to light 1.71 lakh diyas (earthen-lamps) along the Saryu river on Wednesday evening, and enter the Guinness Book of World Records.
"We're all here so that Ayodhya could get back its identity, and respect. I am grateful to all the saints and ministers and supporters present here. Remember, Ayodhya ki jitni abaadi hai, utne deep jalenge (The number of diyas to be lit today is equal the population of Ayodhya)," said Adityanath.
Attacking critics and the Opposition for criticising the Uttar Pradesh government, Adityanath said, "There are people in this country who will oppose every good initiative. If I come to Ayodhya, they'll question that. If I don't come to Ayodhya, they'll say I'm scared of coming here. Now they are saying that the Ayodhya programme is to divert the attention of people. I am here with my work, including loan waivers, wheat purchase done in the past six months"
The chief minister said he wondered why there were negative discussions on Ayodhya.
"We are making an attempt to take it from negativity to positivity. I am happy all Ayodhya residents cooperated in this endeavour. Ayodhya remained neglected, faced attacks continuously, but it will not remain so," he said. Adityanath said this was first of the four phases planned for Ayodhya.
"There will be beautification of Ayodhya and its ghats. This effort will continue in other historic places. Be it Kashi, Mathura, Namisharayna (Sitapur), Mirzapur, Tulsipur (Balrampur), Saharanpur, we will develop historical places. The state should become a world tourism hub and it is a beginning from Ayodhya," he said.
The Uttar Pradesh chief minister revealed the state's plans for the progress of Ayodhya. "We are ready to electrify Ayodhya 24x7. This is Ram Rajya, where there is no discrimination. It was Ravan Rajya previously, which would discriminate on the basis of caste or background," said Uttar Pradesh chief minister.
He added: "Diwali gives us the opportunity to take an oath for the betterment."
Chants of "Jai Shri Ram" echoed on the banks of the Saryu river as actors portraying the roles of Lord Rama and Sita arrived on a chopper decked up to resemble the mythological Pushpak Viman—in a recreation of Lord Rama's return from 14 years of exile to Ayodhya—as part of a grand 'Deepotsav' celebration, attended by Adityanath.
Uttar Pradesh governor Ram Naik and senior ministers were also in attendance in the flower-bedecked and gaily lighted temple town on Wednesday evening.
Diyas are being illuminated on the Ghats of river Saryu in #Ayodhya to celebrate #Deepotsav. pic.twitter.com/y6ogRNvOFu

— UP Tourism (@uptourismgov) October 18, 2017
Tonnes of flower petals were showered as the actors portraying the characters from the Ramayana arrived at the venue of the Ramlila. Adityanath said a 'Ramayan mela' will be associated with this programme from 2018.
Speaking before Adityanath, Uttar Pradesh deputy chief minister Keshav Prasad Maurya said, "Those opposed to Lord Ram cannot stop us from developing Ayodhya".
In his speech, Union tourism minister KJ Alphons said, "I am happy because this is where Lord Rama blessed this land with his feet. We (Centre) have sanctioned Rs 133 crores for Ayodhya. We will sanction more funds, there is no problem at all. We are also giving plenty of money to Varanasi. There is a project for Rs 430 crore, and that also will be sanctioned."
"We want to make Ayodhya—the holiest place—the best place in India," he added. This was Alphons' first visit to the city.
Uttar Pradesh governor Ram Naik lauded the efforts of the Uttar Pradesh government in developing Ayodhya and thanked him for the assurance that all the work would be completed in two years, before his tenure ends.
"In my opinion, this is an historic day. There is Uttar Pradesh government and there is Centre. There is Ganga and there is Yamuna. When these two met, this event could take place," said Naik.
He added: "From the heaven above, Lord Rama must be looking down and wondering what has happened of his Ayodhya. But Sita must've told him today 'Look, so many people have gathered for Ayodhya. Lakhs have come here for Deepotsav. When you had come to this place, were there these many diyas lit up?'"
Other prominent leaders present at the Deepotsav were Union culture minister Mahesh Sharma, and BJP state chief Mahendra Nath Pandey.
After the main event, the stage was set for a grand laser show and 'aarti' (worship) of river Saryu.
With inputs from agencies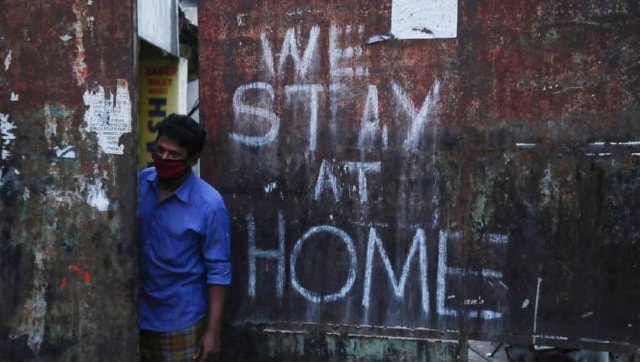 India
A maximum of five people are allowed at religious places, while 25 persons can attend wedding ceremonies or any function
Politics
The UP CM's visit to Delhi comes close on the heels of the BJP holding a series of review meetings in Lucknow, which had fuelled speculation of a ministerial reshuffle in the state
Politics
The newly-appointed RLD chief vowed that his party will not allow a communally polarised campaign to 'ruin' the Hindi heartland state in the run-up to the Assembly polls in 2022