Yavatmal pesticide poisoning: Centre's review panel head Anupam Verma puts onus of safety on farmers
Firstpost spoke to Anupam Verma about the recent pesticides poisoning deaths and his opinions on the unfolding tragedy in Yavatmal.
In July 2013, the central government formed the Anupam Verma Committee to review 66 pesticides that are banned in other countries but still find widespread use in India. With nearly 50 deaths in the last two months due to pesticide poisoning in Vidharba, activists and experts have demanded that the committee speed up the review process and ensure that toxic pesticides are banned immediately.
They reasoned that regulation and enforcement was simply impossible in a country like India. In 2015, NCRB data shows that more than 7,000 people died of pesticide poisoning.
However, Verma, who heads the committee, believes that India cannot do away with pesticides and squarely blames farmers for not using them properly. He believes that farmers need to take more precaution in terms of protective gear and concentration while spraying; even though there are cases of people using protective gear and still falling dangerously sick.
Firstpost spoke to the former national professor at the Indian Agricultural Research Institute (IARI) about the recent developments and his opinions on the unfolding tragedy. Edited excerpts follow:
At least 12 deaths in Yavatmal were caused by a single pesticide - monocrotophos. Why is there no immediate ban on it?
I was not aware that monocrotophos is the cause behind so many deaths in Yavatmal. Thanks for bringing it up. I will also look it up. In any case, monocrotophos is in the list of pesticides that are to be banned in 2018. We have some 13 such pesticides on the list. The data for which is still not fully available. We are looking into the toxicity of these pesticides. We wanted more information on its use, efficacy, and its impacts. But, I am sure, it will be banned; especially after these incidents.
What is your opinion on the Yavatmal tragedy?
Some companies simply manufacture pesticides and throw them away in the market (with no respect to regulation). However, they (pesticides) should not be misused. I have seen farmers sitting on the back of tractors and spraying openly without any protection for themselves.
But, given such a large number of deaths at one time, there has to be more to it than just spraying. Just by spraying, people would not die because antidotes are available. There is a possibility that they have been using highly concentrated portions and must have taken no precautions at all. No deaths can occur with prescribed usage.
Do you think safe usage is possible in a country like India? So far, regulations have not worked and farmers continue to face fatal impacts due to toxic pesticides.
You are absolutely right. It happens everywhere. But if that is the case, we should not allow for anything. Whether safe usage is possible or not, it is a question for implementing agencies and the companies to answer. We can only give suggestions to the ministry.
Many of the countries that have banned these pesticides do not have the kind of problems that India has.
Why does India need to review pesticides that have already been studied in other countries?
You have an argument. But many of the countries that have banned these pesticides do not have the kind of problems that India has. India is a hotspot for all problems. We need it because nobody is talking about population control... the ground (land available for farming) is limited.
Anyways, our findings are based on scientific information. We suggest that some pesticides need to be banned, some to be phased out and some to be reviewed. This is the first time the country is doing this, and I am happy that the government has accepted it.
Most of the data that is used for review comes from pesticides manufacturers themselves. Isn't there a conflict of interest there?
We asked manufacturers as well as major users like the Directorate of Plant Protection and Quarantine & Storage. The regulatory process is not in a very good shape.
Why is there no independent body to look at the impact of pesticides?
There is a unit in the Union ministry of agriculture called the Central Insecticides Board & Registration Committee that should look into this issue more seriously. But they don't put too much emphasis on this. They, perhaps, have too many things on their plate or may have very little resources. We need to create these resources. The money for this should come from the industries themselves.
Your committee has reviewed 66 pesticides that are banned in other countries while there are at least 93 such pesticides. Why is the list limited to 66?
We should appreciate this government for taking this initiative. We have made a start. Before that, we were reviewing in small numbers. We could have been in a worse situation. So, we must appreciate the government. Once this 66 is done, we should tell the government that there is more to be done. I am looking at the positive side of this development.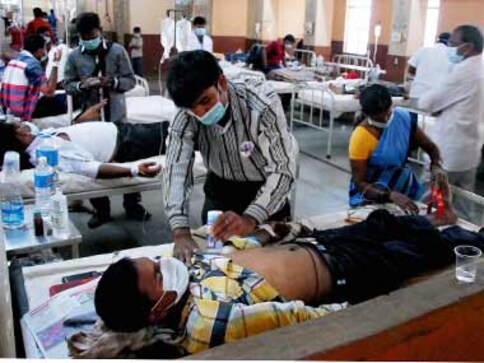 India
With several deaths due to pesticide poisoning reported in the district, Yavatmal police in Maharashtra on Friday registered a case against yet another retailer for selling pesticides without a license
India
In 2017, over 60 farmers died, and hundreds were affected reportedly by the increased use of pesticides sprayed without any protective gear, on the cotton crop in Yavatmal and other districts of Maharashtra.
India
In the wake of several cases of farmers' deaths in Vidarbha region due to pesticide poisoning, Maharashtra chief minister Devendra Fadnavis has ordered a Special Investigation Team (SIT) probe.