Women in combat roles: Move an attempt to change mindset of armed forces, in favour of gender sensitisation
General Bipin Rawat's statement on Sunday (4 June) that the Indian Army is all set to open up combat positions for women has been widely welcomed as a recognition of nari shakti (women power).
General Bipin Rawat's statement on Sunday (4 June) that the Indian Army is all set to open up combat positions for women has been widely welcomed as a recognition of nari shakti (women power).
"I am looking at women coming as jawans. I am going to start it soon. Firstly, we will start with women as military police jawans," the army chief said in an interview to PTI, giving details of the move to allow women in the male-dominated positions in the army.
In a sense, Rawat is only implementing the Narendra Modi government's decision last year to grant women the combat role in the armed forces. In fact, the implementation of the decision can be said to be quite delayed as more than a year ago, in February 2016 to be precise, President Pranab Mukherjee — who is also the supreme commander of the Indian armed forces — had told Parliament in his pre-budget address that the government would recruit women for combat roles across the military. "My government has approved the induction of women as short-service commission officers and as fighter pilots in the Indian Air Force. In future, my government will induct women in all the fighter streams of our armed forces," he had said, adding "in our country shakti, which means power, is the manifestation of female energy. This shakti defines our strength."
However, before describing Rawat's or for that matter the Modi government's move as a radical one that will lead to gender parity in what is essentially the world's most male-dominated profession, a reality check is in order. Women were first inducted into the Indian Armed Services way back in 1927 as nurses (military nursing service). Then they entered as doctors (medical officers). It was only in 1992 that the women entered other branches in the armed services, but mostly under Short Service Commissions (SSC), for 10 years, with a possible four-year extension if they so chose.
The Permanent Commissions (PC) for the women officers that exist at the moment include the armed forces medical services, legal and education corps in the three services, the accounts branch of the air force, and the traffic controllers in the navy.
However, following the Delhi High Court order in March 2010, the Indian Air Force has granted PC to 22 SSC women officers as "a one-time exception". In other services, the question of PC to women officers is pending before the Supreme Court. Overall, in both the SSC and PC, the women officers constitute about 5 percent in our armed forces – around 3.5 percent in the army, 4 percent in the navy and 10 percent in the air force. It seems that the air force is little bit more liberal compared to its sister services, be it in the number of women recruited or the nature of roles offered to them. Last year, the IAF became the first service to offer three women officers (Avani Chaturvedi, Bhawana Kanth and Mohana Singh) combat roles as fighter pilots on "an experimental basis"; if found successful performance-wise during evaluation, more women fighter pilots will be inducted into our squadrons. As it is, the IAF already has quite a few women pilots to fly helicopter and transport aircraft.
In other words, unlike the IAF, the Indian Army and the Indian Navy do not give their women officers combat-roles as yet. The army chief's recent statement does not alter this situation as he says to start the trend at non-officer level – at the level of military-police jawan. In the navy, women officers are not posted in submarines and battle ships.
There have been three basic reasons that have been often cited against offering women officers combat roles. First, it is said that because of physical or biological reasons, women officers cannot sustain the rigour or enduring powers required in the rough terrains of the battlefields. Being smaller and lighter than their male counterparts, these women officers have almost half the latter's upper body strength and 25-30 percent less aerobic capacity. Besides, the female skeletal system is more prone to fractures. Psychologically more kind-hearted and compromising, the women fighters cannot take tough decisions easily, particularly while dealing with ground forces as fighter pilots (bombing them for instance). They also need more space and privacy (separate toilets and sleeping arrangements) which can be premium, particularly in platforms like submarines.
Secondly, it has been seen that most women officers like peace-time postings with their families. They need more leaves from duty to attend to the ailing family elders and children's education, let alone the normal maternity leaves from time to time (we do not have the system that prevails in some countries that prohibit their women officers to have babies while performing the combat-roles). That is why, so this line of argument goes, women officers in our armed services should be in roles that do not require physical hardships such as commanding troops, flying fighter jets and manning battle ships and submarines. Instead, they can do more meaningful roles as nurses, doctors, engineers, architects, intelligence officers, cyber experts and legal officers, roles that are as important as the combat ones for the armed forces.
Thirdly, and this is the most important argument against women combatants, is their possible physical abuse or molestation by the enemy in case they are wounded or taken as prisoners. Even otherwise, as the American example proves (the women constitute more than 20 percent of the total strength of the American forces), those women in the combat roles often complain of sexual abuses by their male colleagues, evident from the rising cases of such complaints in military tribunals and courts.
But then, on the other side, there have been compelling arguments why women must not be deprived of the combat roles. During the World War II, the then Soviet Union employed thousands of women officers inside even the battle tanks. In any case, there are at least 25 countries, many of them advanced like the United States, Canada, Germany, Australia, South Africa and Israel and Russia, which formally permit women in combat positions. Even Pakistan allows women as fighter pilots.
Similarly, it is argued that the question of women being brutalised if captured cannot be overstretched (even though in many cases it is true) as today's women officers opting for combat roles know what their challenges are and they are prepared for all eventualities as long as they do not affect their resolve or the primary objective of overpowering the enemies. We have in this regard an excellent book Band of Sisters: American Women at War in Iraq (2007) by Kirsten Holmstedt; the book has 12 stories of American women on the front line including America's first female pilot to be shot down and survive, and a 21-year-old turret gunner. The book concludes that women combatants can rise to any occasion like their male counterparts.
It may be noted in this context that it is not necessary that every officer allowed combat roles actually fights. As Major General Raj Mehta (retd), one of our thinking veterans, says, "It seems obtuse and archaic to demand that both sexes should be tested by the same yardsticks and female physiology remain the overriding factor in determining women's combat worth. In an Indian tank regiment of around 650, for instance, only about 200 soldiers actually enter combat as tank crews; with another approximately 200 involved in supporting tasks where the risk of close combat is lesser though still real. That leaves about 250 soldiers who, though in the combat zone, will rarely be involved with war-fighting. The implication is clear; women pitched into a combat zone do not have to be like the boys."
Viewed against the above arguments and counter-arguments, it can be said that Rawat's statement on Sunday or President Mukherjee's assertion last year does not mean that combat positions in the country are going to be flooded with women, particularly when their number is minuscule in the Indian Armed Forces. But the move by the Modi government reflect that there is an attempt to change the mindset among the rank and file of the armed forces, raised with a history of caution and conservatism, in favour of gender sensitisation.
Subscribe to Moneycontrol Pro at ₹499 for the first year. Use code PRO499. Limited period offer. *T&C apply
India
The biggest challenge faced by women entrepreneurs in India is gender bias in access to finance as studies show that their loan applications are more likely to be delayed or rejected as compared to men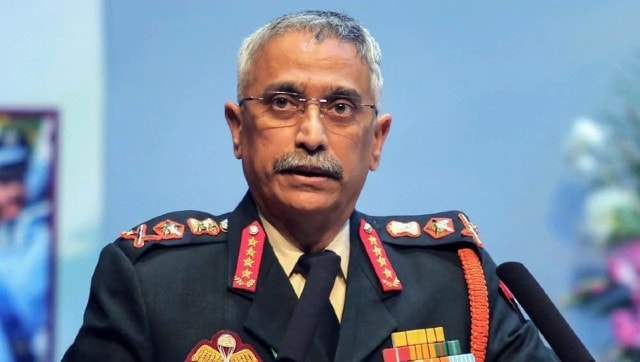 India
However, Naravane added that some issues remain in the area of Depsang, in the area of eastern Ladakh and in other areas along northern border
World
In the talks, India is learnt to have insisted on a faster disengagement process in areas like Hot Springs, Gogra and Depsang to bring down tension in the region