'Women empowerment can help India end malnutrition, fight anemia by 2022'
India vows to end malnutrition by 2022 and experts say that women empowerment can be one of the ways for India to win this battle.
India vows to end malnutrition by 2022 and experts say that women empowerment can be one of the ways for India to win this battle. While speaking at a workshop at the Indian Habitat Centre, ahead of the National Nutrition week commencing on 1st September, Dr Basanta Kar, an expert in the field of nutrition, said women have a decision-making role in households and empowering women can influence her decisions. This could result in the fulfillment of nutritional needs of the family.
"When food is brought to a family, it is the woman at home who decides who will eat what and in what quantity. It is the woman at home who decides on the intake of iron and folic acid or other decisions related to healthcare which have a direct bearing on the nutritional well-being of the family," he told the participants of the workshop organised by NGO Action Against Hunger (India).
He added that unless women are considered as agents of this change, the worries related to malnutrition are not going to subside.
While addressing the Parliament on the 75th anniversary of 'Quit India Movement' Prime Minister Narendra Modi pledged to end the malnutrition along with poverty and lack of education. He named these menace as the greatest challenge to India. Vowing to end these menaces by 2022 he said, "In 1942, the clarion call was 'Karenge Ya Marenge' (do or die) - today it is 'Karenge Aur Kar Ke Rahenge'. These five years are about 'Sankalp Se Siddhi."
Stating that anemia among women is a serious problem in India caused by nutritional deficiency, Kar further said that some of the states in India namely Uttar Pradesh, Meghalaya, Tamil Nadu, Punjab, Himachal Pradesh, Delhi, Kerala have shown the widespread prevalence of anemia among women.
"Around 50 percent of India's population is anemic. Along with women, children are also the biggest sufferer of the problem of malnutrition. In some cases, men are also are found to be anemic," he said. Anemia is the deficiency of red cells in the blood which is seen as one of the major consequences of malnutrition. Anemia can lead to bone diseases and even cancer.
According to a study published in 2016, nearly 59 percent of women in India are anemic. Another study showed anemia was the top cause of maternal deaths in 2014, contributing to 50 percent of fatalities. Anemia during pregnancy also increases the chances of foetal deaths, abnormalities, preterm and underweight babies.
But Kar says that the problem of anemia among women is not only because of iron deficiency but also because of infection, micro-nutritional deficiency and genetic factor.He adds that 50 percent of this is contributed by nutritional deficiency.
The woman being the major player in the fight against malnutrition, he further said, "Several policy reforms are required to tackle the challenge of malnutrition. The country needs a National Food and Nutrition Security Act to ensure sustainable food and nutrition security, food safety, bio-safety and bio-diversity. A food and nutrition commission should be established, headed by the prime minister," he said.
He also added that India should contemplate on engaging volunteers on every hamlet of the country to ensure that nutritional need of every family is met. Attending the workshop, Govind Parikh, Public Relation Officer of National Rural Health Mission of Rajasthan government shared his experience in the state's struggle in fighting the problem of acute malnutrition.
He said that 11 of the districts in the state were found to be heavy in the prevalence of acute malnourishment. "To fight this problem we had to sort out the children who are suffering from the heath issue. For that special training was conducted for the health workers to survey and identify these children."
He also said that 9,640 children suffering from the problem were identified and have been treated separately. Malnutrition has proven to be a serious problem which has bearing on economic goals. Kar said that malnutrition is one of the reasons why India's GDP has not reached double-digit growth.
"Malnutrition causes issues with cognitive ability and thus impacts productivity," he added. Experts say that India loses 4 percent of its GDP due to malnutrition. Shailendra Gujarathi, mental health care practices expert with Action Against Hunger (India), said that every year, one million children die in India due to causes related to the lack of nutrition related causes. Such high level of child malnutrition incurs a huge economic cost.
India
Apart from Sibal, G-23 leaders Shashi Tharoor and M Veerappa Moily have also slammed Prasada for switching to the BJP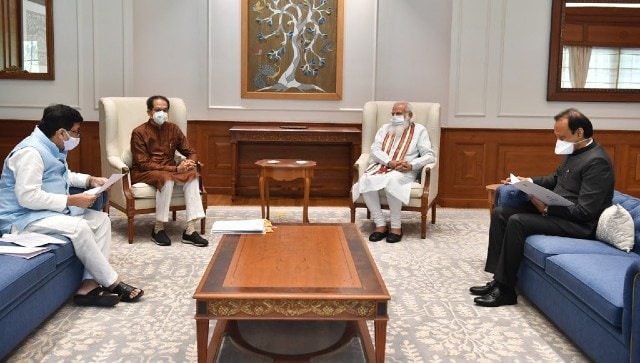 India
Maharashtra deputy chief minister and senior NCP leader Ajit Pawar and senior Congress leader Ashok Chavan also accompanied Thackeray during the meeting with the prime minister
India
Meanwhile, a slew of BJP leaders including JP Nadda, Rajnath Singh and Smriti Irani praised the prime minister's announcements and said the decisions showed the government's committment to the public