Witch-hunts on the rise in Jharkhand: Govt gears up awareness campaign; land grab behind most cases
Jharkhand has been on top when it comes to the number of people killed for practising alleged witchcraft for four consecutive years between 2013 and 2016.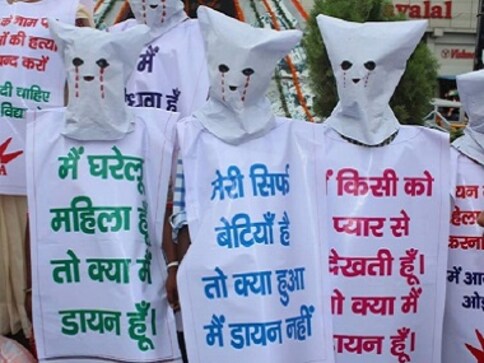 Lohar Singh Munda, 50, and his wife were killed and their bodies buried in a forest in Jharkhand's Namkom, about 35 kilometres away from the state capital Ranchi, last month. They were accused of witchcraft and lynched by villagers after a three-year-old boy from the village fell ill.
Despite the state and central government taking several steps to spread awareness and protect people from being branded as witches, instances of people being abused or killed continue to increase in the state.
Jharkhand has been on top when it comes to the number of people killed for practising alleged witchcraft for four consecutive years between 2013 and 2016, in India, according to data available with the National Crime Records Bureau (NCRB). In 2016, 27 such cases were reported in the state and between 2001 and 2016 a total of 523 such cases have been reported.
Jharkhand police figures show that six people have been killed for allegedly practising witchcraft this year. In 2017, the number of people killed for witchcraft was 41.
Citing Dumra, an interior village in Saraikela district, as an example, Ajay Jaiswal, secretary of the Association for Social and Human Awareness (ASHA), a social welfare organisation, said, "Over 30 women in the village (Dumra) have been branded as witches. The villagers form a group and attack these 'witches' every time someone falls sick in the village. They are called names, beaten up, tonsured and forced to eat human excreta."
Jaiswal added that recently an octogenarian in Daltonganj district was brutally beaten by villagers after a local youth died of cancer.
Vulnerable villages being identified
The state government has geared up awareness campaigns to curb the age-old superstition, including organising Nukkad Nataks, putting up hoardings and flagging off a number of awareness vehicles across the state.
Jharkhand's women and child development department has also directed deputy commissioners and superintendents of police of all 24 districts in the state, to survey and identify the vulnerable spots in their districts where witch hunting is rampant.
"The district administration officials are to identify the vulnerable spots and launch awareness drives in the areas. Also, they have to identify the witch doctors and link them to various employment schemes so that they quit their 'practice'," said women and child development department secretary Vinay Choubey.
While Jaiswal agrees that awareness is the only way to eradicate the social evil completely from districts in the state, he feels that the Witchcraft Prevention Act, 2001 has not proven to be very helpful.
"The punishment for branding a woman a witch and getting her treated by a witch doctor under the Act is only an imprisonment of three months to one year and a fine of Rs 2,000. This is not enough. We need a stricter law in order to curb this practice," said Jaiswal.
Land grab behind most witch hunts
Jaiswal pointed out that property disputes and attempts of land grabbing are among the primary reasons leading to individuals being branded as witches.
In Kochbong village in Namkom, one Sunita Devi and her family has been accused of witchcraft. Traumatised by constant taunts, Sunita's husband lost his mental stability and had to be admitted to the Ranchi Institute of Neuro-Psychiatry and Allied Sciences (RINPAS) for treatment.
For every accident on Ring Road, villagers blame Sunita's family, who own several acres of land, valued at almost Rs 1 crore, along the road. The rumour about the family was spread by land dealers so that villagers chase the family away and their land can easily be grabbed. We had to interfere and threaten villagers with police action in order to save the family," said Jaiswal.
"We conducted a survey in 10 villages and found that every village has at least five to 10 'witches'; most of whom are widowed and living alone on their properties. Rumours of them being witches are spread to grab their land," said Sanjay Mishra, head of the Bharatiya Kisan Sangh (BKS), a social welfare organisation. The BKS has been working against witch-hunting in 10 villages under Murhu and Torpa blocks in Khunti, for the last five months. These villages are dominated by the Munda tribe and witch hunts are a common practice in the area.
Illiteracy and lack of awareness are some other avenues that need to be dealt with in order to completely eradicate the superstitious evil. "When someone falls ill in a village, she or he is not taken to a medical practitioner but instead to a witch doctor. When the witch doctor fails to cure the person he blames the most vulnerable woman in the village of practising witchcraft," said Mishra.
Entire families victimised
"I was beaten, tortured and kicked out of the village. I went to the police, but they refused to register my FIR. The sub-divisional officer of the area heard my plea and finally took action against the culprits," said 70-year-old Chhutni Mahato, a resident of Saraikela who was forced to drink urine and banished from her village for allegedly practising witchcraft in 1995.
Presently, Mahato works with ASHA, which runs a shelter home for children in need in Ranchi. At least eight children of branded 'witches' are living in the home as their mothers were forced to flee their villages.
Jaiswal said entire families and apart from being physically abused, individuals are often forced to undergo tremendous emotional torture. "Villagers don't eat the food touched by the 'witches', nobody crosses from their door, children are hidden away from them," he said.
"A woman of Khunti who was branded a witch had approached us with her three children, begging us to take care of them as she cannot return to her village and has nowhere to go. We took the children in and she moved to a relative's house in a different village," he added.
In Raisimla village, 35-year-old twins Anita and Sunita (names changed), remain unmarried as nobody wants to wed the daughters of a witch; their mother was branded a witch a few years ago and forced to leave the village.
While not much data is available on when witch hunts actually began among tribal communities in the region, it definitely goes back to many centuries.
FR Fidelis de Sa briefly mentions the ill-treatment of two women from Ranchi on suspicions of being witches that came to light in 1890, in his 1975 book, Crisis in Chhota Nagpur, under 'The Witchcraft Case'.
However, authorities concerned started taking major steps to eradicate the practice only after a dozen people were killed in Chaibasa for allegedly practising witchcraft in 1992.
"BKS, along with the district administration had organised a conference in Ranchi. This was the first time that people branded as witches and witch doctors were brought together on the same platform to discuss this social evil. The then SSP Amitabh Chaudhary and DC Uday Pratap Singh put in tremendous efforts to spread awareness," said Mishra.
The author is a member of The NewsCart, a Bengaluru-based media startup.
Explainers
Lalit Patidar, 17, from Nandleta village, said he was diagnosed with the condition at the age of six. Less than 50 cases of hypertrichosis have been recorded since it was first documented in 1648
World
Despite its successes, Ukraine has only reclaimed 55 per cent of the territory taken by Russia since the February invasion
Explainers
According to the US State Department, the current wait time for an interview for B1/B2 applicants (business and tourism) is at 999 days in Mumbai, 994 days in Hyderabad, 961 days in Delhi, 948 in Chennai, and 904 in Kolkata. It is important to note that these are estimates and not a guarantee of an