Why the PM's I-Day speech was really hokum, ho-hum
The PM's I-Day speech offers more excuses for non-performance than promises of performance.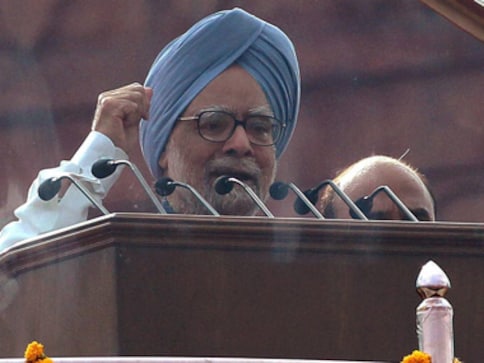 Did Prime Minister Manmohan Singh manage to convey a new sense of purpose in his Independence Day speech from the Red Fort?
Most unlikely. While he made the usual motherhood and apple pie statements, nothing he said can be taken as sign of a new resolve to fix the economy and get things moving again. What we got was more excuses than positive statements on action. (Read the full speech here)
There were frequent references to the "last eight years" as though India's development history began in 2004. There were also occasional references to the next five years – everything left undone in the last eight years will come in the next five – but the "last eight" and "next five" add up to 13 years. Singh can't surely be planning to stay on till 2017.
Here are some of the key statements he made, and our own comments on them.
After two paragraphs of homilies on freedom movement and democracy, he landed on his first excuse for non-performance. The word "reforms" was not mentioned even once in his speech.
The PM said: You are aware that these days the global economy is passing through a difficult phase.  The pace of economic growth has come down in all countries of the world.  Our country has also been affected by these adverse external conditions. Also, there have been domestic developments which are hindering our economic growth. Last year our GDP grew by 6.5 percent.  This year we hope to do a little better.
FP view: The first part of this paragraph is just a load of excuses for poor economic management. Moreover, even when he gets to talk about our failures, he chooses to call them "domestic developments which are hindering our growth." He is also surely wrong in presuming that we will do better than 6.5 percent this year without any reforms. Most analysts are scaling down GDP figures to below 6 percent (read here).
The PM said: We cannot do much about the conditions that prevail outside our country. But we must make every effort to resolve the problems inside our country…While doing this, we must also control inflation.  This would pose some difficulty because of a bad monsoon this year. However, we have taken many measures to deal with the situation. In districts where there has been a deficit of 50 percent or more in the rainfall, diesel subsidy is being provided to farmers…seed subsidy has been enhanced….
FP view: Again, the disclaimer. We can't do anything about problems from outside. But surely he can do something about problems within our control. Inflation, for example. But he says even "this would pose some difficulty". So, after saying "we must also control inflation" he gives no supporting evidence on this. Instead he goes on to talk about the freebies given to rural areas – necessary, no doubt, but nothing related to the sentence on inflation before.
The PM said: As far as creating an environment within the country for rapid economic growth is concerned, I believe that we are not being able to achieve this because of a lack of political consensus on many issues. If we do not increase the pace of the country's economic growth, take steps to encourage new investment in the economy, improve the management of government finances and work for the livelihood security of the common man and energy security of the country, then it most certainly affects our national security.
FP view: Does Manmohan Singh realise that he has effectively said that the UPA's economic management failures now pose a threat to national security? Blaming it on lack of political consensus does not help or save him the blushes.
The PM said: I believe that this period of difficulties will not last long. Even as we face these problems, we should be encouraged by the fact that we have achieved extraordinary successes in many areas in the last 8 years.  We now need to replicate these successes in newer areas.
FP view: There is no basis to believe that the UPA is beginning to act to rescue the economy, and achieve the "extraordinary successes" of the last eight years. Over the last two years, some of these "extraordinary successes" include never-ending inflation, falling exports, a central budget out of whack, and rapidly decelerating growth. The UPA growth story ended in 2011 – the much of it before that was a fluke, resulting from general global buoyancy and excess government spending. The party is over.
The PM said: Our next target is to provide electricity to each and every household in our country in the next five years and to also improve the supply of electricity.
FP view: Again, the PM seems to have goofed. He wants to provide electricity to "each and every household" when the energy sector is going downhill, and we have just seen a massive grid collapse in northern India last month. The thought about improving electric supply should have preceded the decision to give power to every household, not followed it. Supply precedes demand.
The PM said: We have paid special attention to the needs of children in our policies and programmes. The education of children has been made mandatory by law. In the year 2006-07, only 93 percent of children in the age group 6-14 years were getting admission in schools.  Today almost all children in this age group are being admitted to schools. More than 51,000 new schools have been opened in the country and about seven lakh teachers appointed in them in just the last 2 years. Now we will focus on improving the quality of education.
FP view: The Right to Education can be considered a very good initiative of the UPA – we should not be critical of the intention. Still, why is the "focus on improving the quality of education" only an after-thought? Just like raising electricity is an after-thought to giving to "each and every household". This lies at the heart of UPA's failure: it thinks too much about votebank politics, and too little about sensible economics.
The PM said: Recently we have taken new measures to accelerate infrastructure development.  Ambitious targets have been fixed in roads, airports, railways, electricity generation and coal production. The government will take steps to increase investment for infrastructure development with the help of the private sector. To attract foreign capital, we will have to create confidence at the international level that there are no barriers to investment in India.
FP view: After all the talk about what the UPA achieved in the last eight years, suddenly all the important goals in infrastructure and foreign investment have become critical. Why didn't these things happen in the last eight years? And who created these "barriers to investment in India" – someone from outer space? Did the spectrum scam, GAAR and the retrospective tax – all investment dampeners in UPA-2 - happen without the knowledge of government?
The PM said: The incidents of violence which occurred in Assam recently are very unfortunate….  We are doing everything possible to provide relief to them. I also promise to you that our government will make every effort to understand the reasons behind the violence and work hard with the state governments to ensure that such incidents are not repeated in any part of the country.
FP view: Who is the PM trying to fool? The Assam problem was recognised as early as in the Rajiv Gandhi regime in the 1980s, when the Assam accord was signed to identify and repatriate illegal foreign migrants. But nothing happened. As an MP from Assam, does the PM mean to say he still has no understanding of the Assam problem?
The PM said: There has been a reduction in violence in the North-Eastern states and we are engaged in dialogue with many groups there so that they can join the mainstream of development.
FP view: The North-East he is talking about cannot be Assam, but Nagaland, Mizoram and Manipur. If violence has gone down here, and up in Assam, it cannot be a feather in the government's cap.
The PM said: The Lok Sabha has cleared the Lokpal and Lokayukta Bill. We hope that all political parties will help us in passing this Bill in the Rajya Sabha. A number of other Bills have also been presented before the Parliament. The Cabinet has cleared a Public Procurement Bill. We will continue our efforts to bring more transparency and accountability in the work of public servants and to reduce corruption. But we will also take care that these measures do not result in a situation in which the morale of public functionaries taking decisions in public interest gets affected because of baseless allegations and unnecessary litigation.
FP view: Last year, Singh talked lots about corruption. This year, it only gets a footnote at the end and an 'if' and a 'but'. The Lokpal Bill depends on the opposition. And transparency and accountability is apparently a burden for our public servants.
The PM concluded: I believe that no power in the world can stop our country from achieving new heights of progress and development. What is needed is that we work together as one people for the success of our country. Let us once more resolve that we will continue to work for a progressive, modern and prosperous India.
FP view: The problem is not the people, but the rulers. If our leaders can work together, the people will not stand in the way. But for that leaders must lead. Is Manmohan Singh upto the job?
India
The Gujarat chief minister accused the prime minister of waking up late to the issue of skill development in the nation.
Politics
Narendra Modi's no holds barred attack on Prime Minister Manmohan Singh on Independence Day today drew an indirect rebuke from senior BJP leader L K Advani.