'Why not invite Pakistan Army chief for talks?': Ex-RAW chief AS Dulat's out-of-the-box solutions to improve bilateral ties
At a time when the India-Pakistan border is crackling with persistent gunfire with mounting casualties on both sides, former Indian intelligence chief AS Dulat has floated a disruptive proposal
New Delhi: At a time when the India-Pakistan border is crackling with persistent gunfire with mounting casualties on both sides, former Indian intelligence chief AS Dulat has floated a disruptive proposal — invite Pakistan Army chief General Qamar Javed Bajwa for a dialogue to reduce tension and talk peace.
Dulat said General Bajwa was making all the "right noises", referring to his April remarks that disputes, including Kashmir, between India and Pakistan can be solved only through peace talks.
"We should invite General Bajwa, the army chief. He has been talking peace and also a lot of our frustration in our dialogue with Pakistan is because we feel frustrated by the armed forces or what we call the 'deep state' — the ISI or the army. Therefore, why not talk to the army chief directly? He is talking reasonably now. Why not invite the army chief, just an idea," Dulat told IANS in an interview at his south Delhi residence.
India has maintained that it will talk only to the elected civilian leadership in Pakistan and has shunned talking to the Pakistani military, which however controls key decision-making on foreign policy — particularly with respect to India — and security in the Pakistani establishment.
Dulat served as chief of India's Research and Analysis Wing (RAW), the country's external intelligence agency, from 1999 to 2000 and was a close aide of then Prime Minister Atal Bihari Vajpayee on Kashmir affairs from 2001 to 2004.
He has participated in a somewhat unique book of dialogues, The Spy Chronicles - RAW ISI And The Illusion Of Peace with his once rival, former Pakistani spy chief Lt. Gen. Asad Durrani (retd).
The book throws light on Kashmir, and a missed opportunity for peace; Hafiz Saeed and 26/11; Kulbhushan Jadhav; surgical strikes; the deal for Osama bin Laden; how the US and Russia feature in the India-Pakistan relationship; and how terror undermines the two countries' attempts at talks.
Dulat, who has previously authored Kashmir: The Vajpayee Years, said "not talking to Pakistan is a sort of a handicap" more so at a time when geo-political landscape was witnessing a new churn.
"There is a lot happening in the world around us and they are all taking interest in this particular region. The Americans have a big interest in Pakistan and in Afghanistan.
"Likewise now, the Chinese, the Russians and the Iranians have all developed interest and we need to take note of that and in that, I think, not talking to Pakistan will not help," he said.
But is it wise to extend an invitation to the Pakistani army chief, particularly at this juncture when ceasefire violations across the frontier have killed scores of civilians and over 40,000 residents were forced to flee their homes from the border areas in Jammu?
"Isn't it more reason that we should talk," Dulat asked, adding: "You are presuming that all these cease-fire violations happen only from the Pakistani side and only our people are suffering.
"There is a their side of the story also, it can't be one-sided. If there is firing from one side, the Army or the BSF is bound to respond."
Dulat, who served in Kashmir as the Joint Director of the Intelligence Bureau from 1988 to 1990, maintained that "there is no military solution" to the seven-decade old conflict that has killed tens of thousands of people and triggered two wars (1948 and 1965) and a prolonged military skirmish (1999) between the two nuclear-armed powers.
"There is only so much that the army can do; after that it is time for the politicians to play their part," he said.
The former spymaster also noted that there was no space for big-brotherly attitude in bilateral relations, suggesting that Prime Minister Narendra Modi should revisit his hardline stance against Pakistan.
"The trouble with Modi is, because India is a big country (there is no doubt about it), we want things on our terms but bilateral relationships do not work in this way. We should not ask 'isme mere liye kya hai' (What does it hold for us?)
"Once you start talking to Kashmiris, there is a lot for you. You should try this and see what all is in store for you."
He said most things in the Modi government were related to elections but still expressed a "feeling" of a breakthrough on Kashmir before the 2019 Lok Sabha elections that are due in May.
"Somewhere I have a feeling that something will happen. It's just a feeling. I am not in government. But I have a feeling."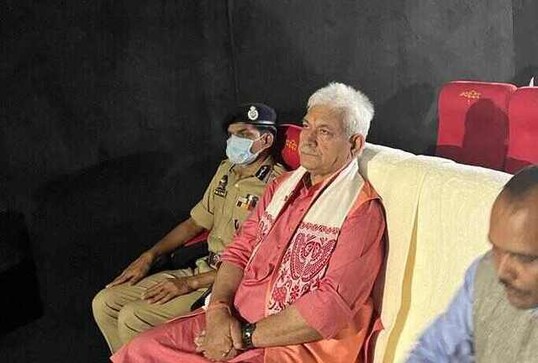 India
The Dhar family and INOX, one of the major film distributors and theatre chains, worked together to create the multiplex
World
A third of Pakistan, which is facing its worst floods in the past 30 years, is submerged in water, affecting 33 million, sweeping away homes, crops, bridges, roads, and livestock, and causing an estimated USD 30 billion of damage.
World
The floods have affected 33 million people in Pakistan, leaving hundreds of thousands homeless. Swelling waters have swept away villages, roads and bridges, and at one point inundated a third of Pakistan's territory