Editor's note: Chief reporter Debobrat Ghose found himself surprised, bemused and scared after receiving calls and messages from unknown numbers threatening him with death for writing against 'nationalist forces'. He describes below how disconcerting it is to face such threats. Firstpost stands for fair and credible journalism and will defend its positions and personnel at all costs. For now, it hopes the Delhi Police get to the bottom of this quickly to enable a lawful end to this unacceptable episode.
The first message landed on my mobile on the morning of 21 September. It was from an unknown number. I opened it an hour after it arrived and was intrigued by its contents: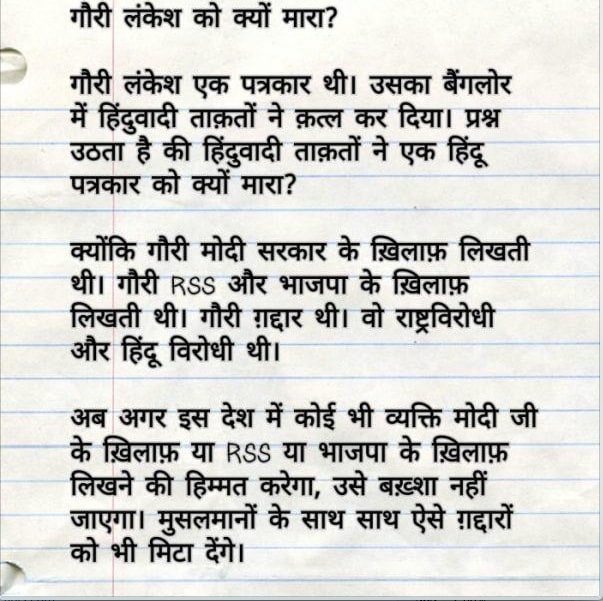 I dismissed it as one of those forwards from unknown persons that hits WhatsApp every day. Roughly translated it read, "Write against the RSS, the BJP or Narendra Modi, and be prepared to meet the fate of Gauri Lankesh."
It didn't even strike me that the message was intended for me. Shortly after, a second message arrived from another unknown number in the afternoon. By evening, a third message arrived compelling me to revise my thoughts about it being wrongly sent to me or a prank.
These thoughts turned to concern and consternation a little later when I received a call from an unknown number. I was then at the Rajiv Chowk Metro station in New Delhi navigating the evening rush hour home. The call quality was poor, but I heard a male voice telling me why a patrakar or anyone else shouldn't write against rashtriyavaadi taqaat' (nationalistic force) RSS and BJP. The call was quickly disconnected and the mobile switched off.
By 11.30 pm, when the fourth message turned up, I started getting worried. I had heard about several other journalists receiving similar threats, and treated these messages with a certain degree of scepticism. These could be a ploy of political rivals to discredit the government and the man helming it; they could be from some Hindutva fringe groups just issuing warnings with no real intent to carry these forward; or they could just be part of a sick joke. Perhaps these were the result of obstinate, offensive and unreasonable ideological positions certain journalists take in their articles. Who knows?
But this was happening to me. Not that anything can justify death threats to any journalist, but I just couldn't comprehend "Why me?" I am a reporter, not an opinion writer. Although I write on national politics, the BJP is not my beat and posturing is not what I do.
With the recent cases of Gauri and Santanu Bhowmik at the back of my mind, I would be lying if I say I was not unnerved. If nothing, whoever sent me the messages got hold of my number and knew I am a journalist. Was I am being watched? That evening on my way home, I was frequently looking over my shoulder for the first time in my life.
On 22 September, I met the Delhi Police commissioner and other senior officials. The sender (or senders) of threat messages could have belonged to the Left, Right or more centrist political ideologies. They may have been some lumpen elements with no ideology of their own, but trying to add fuel to fire. I lodged an official complaint giving details of the mobile phone numbers and screenshots of the threat messages I had received.
The very next day I again received the fifth (and hopefully, final) message from another unknown number. In all, five messages from four mobile phone numbers. The first four were from a single series starting with '998' and the last one from the '887' series.
Meanwhile, I received a call from Anil Sinha, a senior journalist. He told me that he too had received a similar threat. Then I remembered the story of Vijay Gupta, another senior journalist, who too had received a threatening call a fortnight earlier from a 'private' number. The caller claimed he was from Uttar Pradesh. When Gupta challenged him, he disconnected.
So, I was not the only one to have been targeted, I realised, there are others too. I began going through a few conspiracy theories in my mind. I made a few calls to RSS functionaries who are known to me. I was surprised to find that they were equally flummoxed. "Yes, we have found out that a few other journalists have received such threatening messages, including one Nihal Singh, who has lodged an FIR. A few of our own karyakartas have also received threat messages. It's serious and the matter has been brought to the notice of the police. We're taking up this issue with the government," RSS functionary Rajiv Tuli told me.
The police haven't come to any conclusions. Special Commissioner (Ops) Dependra Pathak of the Delhi Police told me that sending messages of this sort is a criminal offence under the IT Act, even if they are pranks. "Anyone behind such an act should be punished. No offender sending such malicious threats through mobile phones can get away," he said.
I hope that the callers will be traced and nabbed, and all this will turn out to be a sick joke conceived by a sick mind. Nobody should have to undergo the trauma a death threat brings with it, prank or no prank.
Your guide to the latest election news, analysis, commentary, live updates and schedule for Lok Sabha Elections 2019 on firstpost.com/elections. Follow us on Twitter and Instagram or like our Facebook page for updates from all 543 constituencies for the upcoming general elections.
Updated Date: Sep 29, 2017 12:14:47 IST