Why local politicians are to blame for Goa's 'Nigeria' crisis
Cracking down on foreigners living in Goa without paperwork is a welcome, if delayed, step. Racism is not.
Even to those who haven't had the chance to partake of Goa's famed sunny Decembers marked by excesses of every kind and a moral police in absentia, it is hardly news that highly organised cartels control the contraband and flesh trade in the state. After everything that's been reported about Russians and Nigerians in Goa, did it really take a blockade of National Highway-17 by a large group of angry, menacing Nigerians protesting the killing of one of their own for authorities to comprehend that the state known best for its beach tourism and rave party circuit is also getting an international reputation for lawlessness?
It is now common knowledge to visitors to Goa that there are villages not far from Anjuna and Calangute, including Parra and Siolim, which are hubs for the state's drug trade. The killing of a Nigerian allegedly by members of a local drug cartel on 31 October is not even the first instance of violence involving foreigners who are part of the narcotics industry. There are reportedly over 2,000 Nigerians living in Siolim and Parra, a large majority of them without adequate documents.
Yet, incredibly, the Bharatiya Janata Party's state government led by Chief Minister Manohar Parrikar appears to have woken up to the situation only after this week's bizarre protest on NH-17, prompted by the embarrassment of having a police force intimidated by a group of strapping Nigerians throwing cuss words, snatching a hapless policeman's baton, dragging the dead body of their slain colleague out of a hearse, placing the body on the highway, vandalising the vehicle, advancing menacingly towards a policewoman and terrorising the locality.
Suddenly, Goa's political and administrative top rung is waking up. Fifty-three Nigerians were detained, a crackdown has begun against hundreds of NIgerians and other foreigners living without proper paperwork. Parrikar said he would write to the Nigerian embassy about "a lot of Nigerians" who have only photocopies of their passports and visas. "We are going to ask the Nigerian embassy to verify these documents," Parrikar reportedly said.
Expectedly, he said the previous Congress government was to blame, at least for the poor policing apparent in the Porvorim riot this week, because posts had been left vacant. "Even though I have recruited policemen now, I do not have sufficient police personnel as they have to be sent for training," Parrikar said.
But the state government is still to explain why foreigners living on such photocopied passports and "fake student visas" are treated with kid gloves in Goa. Not only are there gangs operating from clearly demarcated operational areas in the Anjuna-Calangute-Vagator-Morjim belt as this report points out, but at least one MLA even publicly pulled up a Superintendent of Police for acting against the drug cartels supplying to rave parties in his constituency.
Only in July this year, Goa's Tourism Minister Dilip Parulekar said it is "a known fact" that drugs are popular along Goa's coastline. The minister's statements came soon after his own party legislator Michael Lobo submitted a list of alleged drug pushers to the Director General of Police, including several Nigerians' names. The MLA had said drug trade in his constituency which included the Calangute, Candolim and Baga beaches, had assumed alarming proportions. So Parrikar can hardly plead ignorance to explain his inaction until now -- the BJP's own MLAs and ministers have spoken candidly on the issue.
Meanwhile, inexplicably, Nigerian diplomat Jacob Nwadadia issued a thinly veiled threat: "There are 50,000 Nigerians in India, but there are one million Indians in Nigeria." Now, Parrikar is asking irritably whether the Nigerian ambassador expects him to not arrest Nigerians taking the law into their own hands. He doesn't say, however, what stopped a clean-up drive before matters came to this pass.
The outcome of the sorry episode -- and, indeed, of the years of looking the other way as the narcotics-fueled tourism flourished -- is a tragic knee-jerk response from Goans. Siolim and Parra village councils have met and talk has begun to initiate a campaign to keep Nigerians out of these villages, compelling those with homes and rooms to rent against leasing these to Nigerians. The racist undertones are disturbing, and yet one can't fault the village sarpanches' fear after this week's audacious blockade of the highway.
You would expect elected representatives to reach out to Goan families, assure them that the law of the land remains in control and that the painting all foreigners and especially African nationals in the state with a single brush is problematic, unfair and illegal. But how do you expect such sanity when a ruling party MLA (incidentally the same one who ticked off a senior police officer for cracking down on rave party drug suppliers) reportedly calls Nigerians in Goa a "cancer"? NDTV tweeted a photograph of banners strung up by locals asking people supporting peace in the state to "Say No To Nigerians". And we thought it was drugs we have to say no to.
The problem is, the peddler-cartel-politician nexus is critical to the health of the industry in Goa, now a well-known fact thanks to the 'Atala case'. Kingpin drug dealer Yaniv Benaim, of Israeli origin and known as Atala, reportedly paid off senior police and anti-narcotics officials, even buying back drugs seized during raids, according to this report. The name of a former home minister's son cropped up in investigations by the CBI in the Atala case, in which a chargesheet is to be filed soon. Atala famously disappeared from Goa in 2010 even as investigators were hot on his trail, inviting loud allegations of politicians' collusion in his disappearance. He was eventually tracked down in Peru and extradited in 2011.
The Goa Legislative Assembly, which set up a committee on the politician-police-drug mafia nexus, also last month recommended criminal investigations into the alleged role of the former home minister, his son and senior police officials of the state for their alleged involvement in Goa's narcotics trade.
That's why, to expect Goa's leaders to consider the state's global image and possible diplomatic fallouts of the latest jingoism against Nigerians is a waste of time. Nwadadia's threat about Indians living in Nigeria was unacceptable, surely this xenophobia is exactly as reprehensible. The chief minister's late but welcome action to clean up every beach bum's favourite getaway state would be incomplete if he doesn't speak out against and nip what could turn into an international shame.
Politics
One of the highlights of BJP's poll promises in Kerala is to bring in a special law to contain Love Jihad. We spoke to a few BJP supporters from the state to understand how love jihad stands out as an election issue for them.
Politics
The BJP's and TMC's promises for West Bengal towards education are at odds, one harped on the making Bengali compulsory the other chose a more secular approach.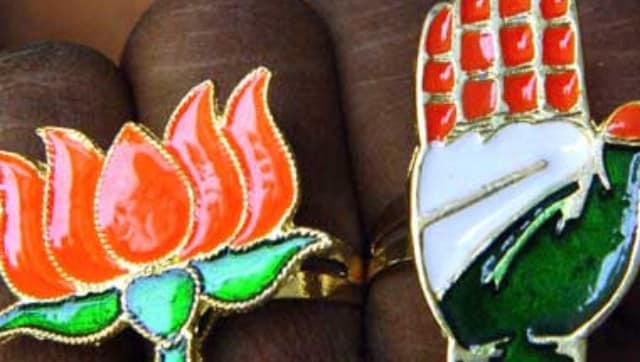 Politics
A look at the manifestos of the BJP and Congress gives a glimpse of how they are trying to convey their agendas to voters