Where's the 'art' in living like this? Sri Sri Ravi Shankarji, please note how your event is killing the Yamuna
The World Culture Festival of the Art of Living Foundation headed by Sri Sri Ravi Shankar threatens to leave the ecologically sensitive and fragile Yamuna floodplains with irreparable damage. Environment activists are shocked over the brazen disregard for the health of the dying river, which holds a significant place in the Hindu mythology, from the organisers. The National Green Tribunal (NGT) has already recommended a fine of Rs 120 crore on them for violation of ecological norms but it has hardly deterred preparations
New Delhi: The World Culture Festival of the Art of Living (AOL) Foundation headed by Sri Sri Ravi Shankar threatens to leave the ecologically sensitive and fragile Yamuna floodplains with irreparable damage. Environment activists are shocked over the brazen disregard for the health of the dying river, which holds a significant place in the Hindu mythology, from the organisers. The National Green Tribunal (NGT) has already recommended a fine of Rs 120 crore on them for violation of ecological norms but it has hardly deterred preparations. The three-day international event, which is expected to attract 35 lakh visitors from across the globe, begins from 11 March.
Why NGT finds it alarming
This is what the report of a four-member committee of the NGT led by Shashi Shekhar, secretary, ministry of water resources, has found:
· The entire area of the flood plain between river Yamuna and DND Flyover levelled.
· Small water bodies that existed earlier have been filled up and all natural vegetation has been removed. Most of the trees have been removed or lopped.
· Construction debris dumped on some of the roads constructed along the river margin for the festival.
· Two ramps have been constructed joining the DND flyover with flood plains for providing access to VIPs up to the stage constructed on flood plains.
· One pontoon bridge has been constructed on river Yamuna and another under construction. Few more are proposed on the Yamuna and Barapullah drain (a total of five).
· Parking sites and 650 portable toilets on both eastern and western sides of the river. Thousands of vehicles are expected to be parked.
· An enormous stage (about 1,200 feet long x 200 feet wide x 40 feet high) is being erected with steel pipes, wooden planks and fibre glass domes, where thousands of artistes are expected to perform. The site littered with construction material.
· The western side of the river — 50 to 60 hectares floodplain completely destroyed; natural vegetation comprising reeds, shrubs, trees, etc has been completely removed. Large numbers of birds and other natural life on the floodplain have vanished.
What it sees as the potential long-term damage:
· The site is a meeting point of Barapullah drain and river Yamuna. It'll get blocked.
· The floodplains where the Yamuna water gets recharged will get damaged.
· The natural life in this bio-diversity region will either move out or perish.
· The birds will leave the place.
· Have cascading effect on nearby Okhla Bird Sanctuary.
"The Yamuna floodplain is a highly sensitive ecological zone. To organise its culture festival, the AOL Foundation has illegally cleared the entire stretch of wetland and marshy area. It's total devastation and we fail to understand how the person (Sri Sri Ravi Shankar), an apostle of non-violence and spiritualism can allow it," Manoj Kumar Misra, convener of Yamuna Jiye Abhiyan, an NGO working for the restoration of river Yamuna, told Firstpost.
Besides Yamuna Jiye Abhiyan, there are several groups who have joined hands and mobilising citizens and activists to oppose the event.
Swechha India, a New Delhi-based organisation working in the field of environmental protection, has launched an online signature campaign 'Sign the petition: Say NO to World Culture Festival'. Using the platform of change.org, it has petitioned Prime Minister Narendra Modi, the Chief Justice of India, Delhi Chief Minister Arvind Kejriwal and Sri Sri Ravi Shankar urging them to shift the venue and save Yamuna floodplains from being destroyed.
Vimelendu Jha, executive director, Swechha India met Ravi Shankar on Tuesday to personally convince him to call-off the event, but to no effect.
"I had an hour-long meeting with Ravi Shankarji but failed to convince him of the devastating effect the event would have later. They were dismissive and gave strange logic in favour of organising the festival on floodplains. We've been working on these floodplains for the past 15 years, but this event will negate all our efforts. We've launched an online campaign and fight it till the end," Jha said.
The Delhi government's minister for water resources Kapil Mishra, who once took part in saving the Yamuna, has now lent his support to the controversial festival stating it to be a good idea and it would connect lakhs of people with the River Yamuna. Environmentalists have criticised minister's statement, calling it 'vote-bank politics'.
"It's so unfortunate that Kapil Mishra, who took part in the Yamuna Satyagraha a year ago to make Yamuna clean, is now supporting this anti-environment event. It's all due to vote-bank politics. The Delhi Development Authority, which is supposed to implement the judgment of NGT has given permission to organisers although it doesn't have the authority to do so," remarked Misra, a forestry and wildlife expert.
In March 2015, around 1,000 people comprising religious leaders, devotees, farmers and activists had marched from Vrindavan to Delhi to protest against pollution of the Yamuna and launched 'Yamuna Muktikaran Abhiyan' (save Yamuna campaign) and the march had ended in Delhi on 22 March on World Water Day. "Now a spiritual guru is organising an event that would completely destroy floodplains of Yamuna. It has violated the court's order delivered in the past, when a similar event was organised. Declaring it a sensitive zone, the court had ordered a ban on such large-scale events. Our Yamuna, one of the most worshipped rivers in India, exits as a drain in Delhi. It's Delhi's lifeline and even a little misstep might turn into a big disaster in the future," said Jha.
AOL Foundation refutes allegations
"It's incorrect to say that we're damaging the floodplains. AOL Foundation, which is equally concerned, has been involved in river and environment conservation projects. In 2010, we organised 'Meri Delhi, Meri Yamuna' campaign for the protection of Yamuna, which was followed by the 'Clean Delhi' drive. The government has spent crores (of rupees), but the river has turned into a dirty nullah. The vegetables growing on floodplains are poisonous.
"To the best of our knowledge we have taken permission from authorities concerned. This process has been going on for the past seven to eight months, but the NGOs have raised objections only now when hardly 10 days are left for this international festival. Instead of damaging the river and its floodplains, we'll revive it, green it up," Rashmi Paliwal, apex member of AOL Foundation told Firstpost.
But, activists are not ready to budge and waiting for the next hearing of NGT.
Read the report by the NGT-appointed Shashi Shekhar Committee below:
Subscribe to Moneycontrol Pro at ₹499 for the first year. Use code PRO499. Limited period offer. *T&C apply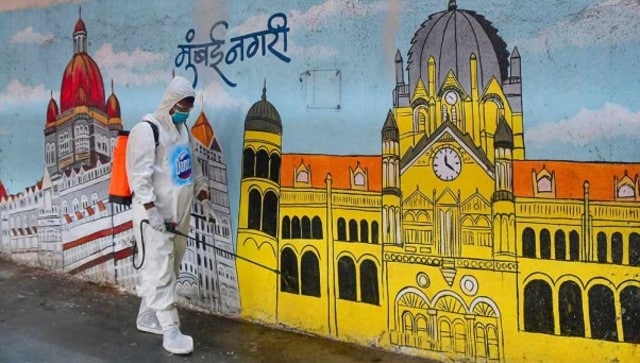 India
In October 2020, Mumbai appeared to show the future pathway — and potential end-point — for the COVID-19 pandemic. That certainty has been irreparably dented
India
The biggest challenge faced by women entrepreneurs in India is gender bias in access to finance as studies show that their loan applications are more likely to be delayed or rejected as compared to men
India
That angry Indian debates involve young people pitted against the values of their parents' generation suggests an upheaval in values lies ahead