What is in a firecracker? Chemical composition of Diwali fireworks is a recipe for human illness on a mass scale
Ahead of Diwali, New Delhi and the National Capital Region started the implementation of a Graded Response Action Plan which will include strict measures to curb air pollution.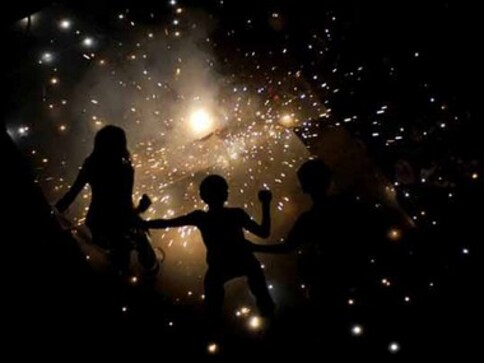 Ahead of Diwali, New Delhi and the National Capital Region started the implementation of a Graded Response Action Plan which will include strict measures to curb air pollution. Mandated by the Supreme Court, the plan involves stringent measures against burning of waste, industrial pollution and transport sector emissions.
This plan follows the ban on firecrackers in Delhi NCR put in place by the Supreme Court. The news was met with a mixed reaction with certain sections of the society rejoicing at the apex court order, while traders and businessman were busy counting their losses.
While most people are vaguely aware of the health problems firecrackers can cause, it would be useful to look at the exact effects firecrackers can have on the human body.
Firecrackers are essentially made up of four components: Oxidisers, fuel, colouring agents and binder, according to a report filed before the Supreme Court by the Central Pollution Control Board (CPCB) on the "Known Health Impacts From Bursting Firecrackers Caused Due To Their Chemical Composition".
The oxidiser is usually a perchlorate salt. It serves the function of releasing the oxygen required for the explosion. Dr David E Chavez, a chemist in the High Explosives Science and Technology division of the Los Alamos National Laboratory told Newsweek that the perchlorate is a toxic compound. When the firework is set off, most of the perchlorate present becomes harmless compound. However, the remants enter the soil and water, and when ingested by humans, it gets absorbed in the thyroid gland and interferes with the thyroid hormone. This eventually leads to problems in metabolism and mental development.
The fuel in the firecracker is generally charcoal which sustains the fire. Burning this results in the release of a large amount of air pollutants, particularly sulphur dioxide, carbon dioxide, carbon monoxide (CO) and particulate matter into the atmosphere. These get lodged in people's lungs, and there's an immediate danger for those with asthma or chemical sensitivities.
Then, there are the colouring agents.
According to the CPCB report, these are the chemical compounds which give firecrackers their colours. Aluminium compounds produce brilliant whites, barium nitrate produces greens, and the addition of copper results in blue light. Each of these come with their health effects.
Aluminium causes contract dermatitis and bio-accumulation. It also causes bronchoconstriction in susceptible individuals. Copper compounds can cause cancer. Antimony sulphide produces toxic smoke and is a carcinogen. Barium nitrate can cause an irritated respiratory tract in addition to a possible radioactive fallout. Barium chromate was also found to be toxic to living cells and genes in the human lung cells.
The CPCB report also lists out other compounds released by firecrackers which cause health problems. Lead dioxide/nitrates/chlorides are poisonous. Mercury can cause bioaccumulation. Potassium nitrate is a carcinogenic which causes toxic dust. Ozone is a highly reactive gas and has been noted to result in small changes in airway resistance and repeated exposure to it is associated with increased asthma-related symptoms. Strontium compounds are toxic and can replace calcium in the body. Nitric oxide and nitrogen dioxide are highly toxic if inhaled.
Apart from the CPCB report, studies across the world have found links between fireworks and variation in air quality, according to The Indian Express. In the 2014 study, Potential impact of fireworks on respiratory health, in Lung India, a peer-reviewed journal, Caroline Gouder and Stephen Montefort wrote, "There is increasing recognition of the detrimental effect of urban air pollution on human health both in the long and short term. Adults exposed to high levels of ambient air pollution have shown increased prevalence of chronic cough, phlegm, and breathlessness and are therefore at an increased risk of developing respiratory symptoms... and lung cancers."
Another study titled Recreational atmospheric pollution episodes: Inhalable metalliferous particles from firework displays, as summarised by The Indian Express, found that children were susceptible in particular, since their defences against particulate matter and other gaseous air pollutants were weaker. Also, children engaged in greater physical activity, increasing the intake of polluted air into their lungs.
The central government might well solve all of these problems however, as it has asked scientists to develop zero-pollution firecrackers which do not cause health hazards to children. Union environment minister Harsh Vardhan made this announcement while flagging off the 'Run for Clean Air' campaign in New Delhi as a part of the 'Clean Air Campaign'. He also said that the ill-effects of pollution cause maximum problems to children.
With inputs from PTI
Explainers
Throughout the history of sports, athletes have risked their careers and even their lives to uphold their principles. Let's take a closer look at some famous protests
Explainers
IEDs kill more people each year than any other explosive ordnance - accounting for 43 per cent of all global civilian casualties from explosive weapons. The IED used in Mangaluru was made by placing explosive material inside a pressure cooker and fastening a blasting cap to its lid
Explainers
From Australia to the US, Sweden and India, scream therapy seems to be gaining ground with women. But the concept first advanced in 1970 by American psychologist Arthur Janov has left experts unimpressed