What exactly happened on 9 February? Hopefully, Kanhaiya Kumar's release from prison will reveal the truth
Hopefully, Kanhaiya Kumar will follow what the court expects of him; hopefully, everyone around will get wiser from his experience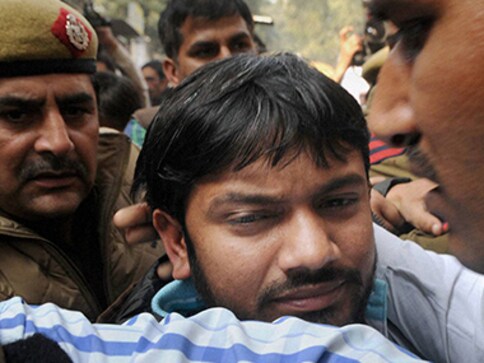 By Shishir Tripathi
Kanhaiya Kumar, president of the students' union at Jawaharlal Nehru University, reached the university on Thursday evening.
His "conservative treatment" — as Judge Pratibha Rani called it in her bail order judgement — has already started. He will engage in "constructive work" and he will, hopefully, remain "in the mainstream".
Hopefully, he does not participate "actively or passively in any activity which may be termed as anti-national".
Hopefully, a "second line of treatment" is not required and, God forbid, the "need for surgical intervention" doesn't arise.
Hopefully, Kumar understands that he is "enjoying this freedom only because our borders are guarded by our armed and paramilitary forces".
Hopefully, he understands that, as president of JNU students' union, he is "responsible and accountable for any anti-national event" organised in the campus.
Hopefully, he understands that "the kind of slogans raised may have a demoralising effect on the families of martyrs who returned home in coffins draped in the Indian tricolour".
And hopefully, the truth is also established. The truth about the 9 February incident: who organised the event, who were the real culprits, which slogans were shouted and whether shouts of "Pakistan Zindabad" actually reverberated in the air at Sabarmati Dhaba.
A lot will depend on how the police ascertain the merits of the case; whether they do so with much-required neutrality or with an agenda. So far, authorities investigating the case against the JNU students' union president and five other students accused of sedition seem to be ardent believers of this Kafkaesque assertion: "You don't need to accept everything as true; you only have to accept it as necessary". If you are putting a word (read anti-national) in someone's mouth, do it if it is necessary; believe it; and then enforce it to the hilt.
According to various forensic reports, three out of the seven video clips of the alleged anti-national sloganeering at the university on 9 February, examined by the Delhi government, were found to have been doctored. Before this, the Delhi Police had accepted in court that Kumar cannot be seen in any of the videos touted as being the main evidence to prove his culpability; a fact that has been placed on record in his bail order.
Without casting any aspersions on the witnesses, it is pertinent to highlight the fact that most of the witnesses enlisted by the investigating agencies are either JNU security personnel or members of the ABVP.
The bench of the Delhi High Court that granted bail to Kumar asked the police: "Do you know what sedition is?" Let us assume that they know what sedition is, though there are serious doubts about whether the police knows what actually happened on 9 February — who organised the event, who raised the "anti-national" slogans and on what grounds were Rama Naga and Anant Prakash Narayan booked when they are not even seen in most of the videos going around.
American sociologist Edward Shils, in his 1968 essay Student politics and universities in India, made an important observation that resonates strongly with events that took place in JNU following the incident. Commenting about the gap in our knowledge of students' movements, Shills wrote, "We know very little about which students participate in them in different capacities — as instigators, as coadjutors, as swellers of the chorus. We do not know which students take lead in acts of violence and in other acts of aggression or defiance against authorities. We do not know the scope of the process and particularly how actions begin and expand. We do not know how many students participate in these actions and we do not know how recurrent their participation is."
Shils categorically states, "We are especially deficient in our knowledge of the processes of growth of an agitation and the way in which it spreads and draws in students previously indifferent to such issues and occasions of the initial disruption".
On 9 February, an event was organised where allegedly some "anti-national' slogans were raised, some of which deserved undiluted and unconditional reprimands and condemnation. But what followed resonates with Shils' observation in every respect. No one was sure which students actually participated in the protest and which students raised pro-Afzal Guru and anti-India slogans. Were Kumar and other accused active participants in the event or were oblivious onlookers? Who took the lead? All this remains mired in mystery to the same extent as to the reason behind the growth of the agitation.
The university authorities failed to probe the reasons behind the alienating experiences that propel a 24-year-old boy to question the very state that is helping him survive. No attempt was made to explore the reason behind the growth of this agitation and the way in which it spread and "drew in students previously indifferent to such issues and occasions of the initial disruption".
The JNU is currently calm, fatigued by the protests that have continued for more than three weeks now. But, at a subterranean level, there is massive intellectual churning. Students are trying to ascertain why their university was targeted.
Sitting at Ganga Dhaba, a thick-bearded, beedi-smoking student told Firstpost on Tuesday night, "A lot of people here are migrants but what happened in the last few days has made them look like fugitives. They have come from places where there is a lack of proper ventilation, leave alone talking about space for expressing themselves. They have migrated from their culture, their society. And here they get the opportunity to vent their resentment. That space is also slowly being snatched."
This student's statement reminds one of what Rakesh Batabyal, author of JNU: The Making of India's National University, said a few weeks ago: "Institutions help us transcend barriers and that is the only exit route for many people. JNU houses a large number of students from the Northeast; they are all refugees. They have much resentment that cannot be expressed at the places they come from. They get that space here. This space works as what they call safety valves which prevents explosions that will cause big damages."
If only the university's guardians had understood this and handled the case with more empathy!
Hopefully, Kumar will follow what the court expects of him.
Hopefully, everyone around will become wiser, thanks to his experience.
India
The Delhi Police team visited Joshis' under construction residence in Sen Colony, Jaipur, where it glued a notice for Rohit
Education
As per the official notice, the computer-based examination is scheduled to be held in September 2022. It would be conducted in languages including English and Hindi only.
India
The weather department has issued a yellow alert and has forecast partly cloudy skies with light rain or thundershower along with gusty winds at the speed of 30-40 kmph. Maximum and minimum temperatures are likely to settle around 34 and 19 degrees Celsius