West Bengal Police arrests BJP leader in North Dinajpur for 'provocative' comments against security forces
The BJP leader Shankar Chakraborty, while addressing villagers earlier on Sunday, asked them to take action against security forces in North Dinajpur, where two students died in a clash with police over teachers' recruitment in a high school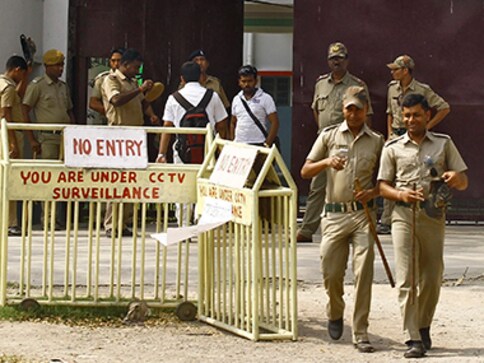 Raiganj (West Bengal): Police on Sunday arrested BJP North Dinajpur district president Shankar Chakraborty from Domohana area for making provocative comments against security forces.
"Chakraborty was held while he was on his way to Raiganj from Islampur," DM Arvind Kumar Meena said.
The BJP leader, while addressing villagers earlier on Sunday, asked them to take action against security forces in North Dinajpur, where two students died in a clash with police over teachers' recruitment in a high school.
He also suggested putting up barricades to prevent entry of police personnel in the area.
"If there is any police action, retaliate. No compromise with them. Do not cooperate with them. If the situation demands, tie the police personnel to trees and beat them up. Don't give water to police. Better give water to a dog. If children or family members of policemen are found injured on the road, don't take them to hospital," he said at a public rally in Raiganj.
Police swung into action after ADG (Law and Order) Anuj Sharma took strong exception to Chakraborty's comments and said nobody has the right to take the law in his hand.
"To incite people against the law enforcing agencies is a criminal activity. It's an attempt to foment trouble in the area. We will not allow any clashes or untoward incident to take place. Strong police action to be initiated," Sharma said.
In his speech, Chakraborty also threatened to pitch for the transfer of Superintendent of Police Sumit Kumar from the district, if he "remained inactive" and failed to take action against the culprits of the incident, which took place on Thursday.
Locals have alleged that the two, who were former students of the school, were killed in police firing but Kumar had said the police did not open fire.
The SP had, however, admitted that the students had received bullet injuries and said the police were investigating who had opened fire.
The parents of the two students have said their cremation would be done only after a Central Bureau of Investigation (CBI) probe is ordered into the incident.
The BJP has called a 12-hour shutdown in West Bengal on 26 September to protest the death of the students.
India
Sukanta Majumdar filed a case against the national general secretary of the Trinamool Congress (TMC) at the Bankshal court on Thursday. The issue pertains to the controversial comments by Abhishek Banerjee following the 'Nabanna Chalo' campaign by the BJP
India
During a meeting of Trinamool Congress (TMC) workers in the Malda district of West Bengal, Abdur Rahim Bakshi warned those associated with the BJP, Congress and the CPI (M) to stay away from polling booths during the next panchayat elections
India
In a sensational claim, West Bengal BJP chief Sukanta Majumdar has asserted that CM Mamata Banerjee may be arrested soon and her Trinamool Congress (TMC) goverment will fall later this year