West Bengal 'deadliest' state for cow-related violence in 2017; five deaths reported so far
West Bengal's count of bovine-related killings has risen to five persons this year, making it the deadliest state for bovine-related violence in 2017 till date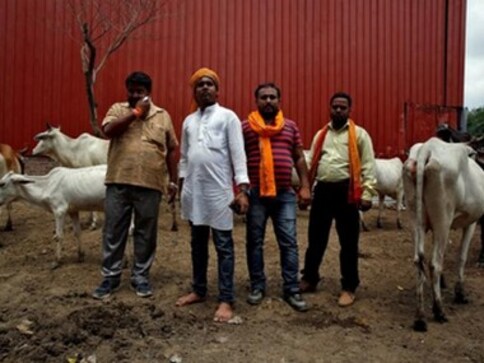 Vipul Vivek and Alison Saldanha
With the recent lynching of two men in West Bengal over the suspicion of stealing cows, the state's count of such killings has risen to five persons this year, making it the deadliest state for bovine-related violence in 2017 till date, shows an IndiaSpend database that records such violence.
As of 31 August, 2017, West Bengal accounted for 55 percent — or five of nine — deaths recorded in bovine-related attacks reported across India, IndiaSpend's database shows. With six deaths recorded since 2010, West Bengal is now on a par with Uttar Pradesh, which recorded as many deaths in 12 incidents of such violence over eight years. In this same period, West Bengal has reported three incidents - all of which reported fatalities.
In the early hours of 27 August, 2017, Nazrul Islam (25), Anwar Hussain (19) and Hafizul Sheikh (19) were transporting cattle from the Dhupguri cattle market to Tufanganj in Cooch Behar district, north-east Bengal, when they were apprehended by a mob near Barohalia village in Jalpaiguri, a senior police officer told IndiaSpend on condition of anonymity. While Sheikh was from Dhubri town in eastern Assam, Islam and Hussain belonged to Pundibari village in Cooch Behar, according to the Dhupguri police.
"The men had purchased seven cattle from the market and had lost their way to Tufanganj in the middle of the night," the police officer told IndiaSpend. "This was when a group of people, suspecting them to be cattle thieves, attacked them."
Noticing that the men were travelling with cattle, the mob demanded Rs 50,000 to let them pass the area. When the victims said they did not have the money to pay them, the villagers beat them to death, said Anwar's father Mahamadul Hussain, The Hindu reported on 28 August, 2017.
Nazrul Islam, the driver of the vehicle transporting the cattle, escaped, but the 19-year-olds could not. "The mob accosted the two men and beat them up at around 3 am on 27 August, 2017," a local reporter of the district who did not want to be identified, told IndiaSpend. "Residents have been complaining of cow theft for a year now."
"So far we have managed to arrest three Barohalia villagers - Dilip Mondol, Samiyar Rehman and Monohar Sarkar. We have already produced them before the magistrate and now the courts will decide their justice," said the police officer.
"We are now on the lookout to catch the others who formed part of the mob. The arrested (men) are under questioning," the officer said.
"Since the arrests, Barohalia residents say they do not know who killed the two teenaged boys. They say the spate of cow thefts over the past year might have led to this extremely violent reaction as the three men were seen transporting cattle at night," said the local reporter.
At the time of filing this report, Hussain's family was yet to file a complaint against the villagers, according to the Pundibari police. IndiaSpend could not verify whether Sheikh's family had filed a complaint.
Two months ago, on 22 June, 2017, three Muslim men were lynched for allegedly trying to steal cows from North Dinajpur district's Chopra block in north Bengal, The Indian Express reported.
Between 2010 and 2017, only one incident of such violence was recorded in the state: 2010 is the starting point of the IndiaSpend database of bovine-related violence. On 8 May, 2016, a mob lynched a Hindu youth on suspicion of stealing a buffalo, The Times Of India reported on 10 May, 2016.
87% Victims Are Muslims; Rumour Triggered 9 Of Every 10 Incidents
Across India, such violence has claimed 30 lives since 2010. At least 210 people were injured in these 75 attacks, including 14 women, two of whom were gang-raped.
Of 75 incidents recorded over eight years, 94 percent – or 71 – were triggered by rumours of cattle theft, IndiaSpend's database shows.
Muslims were the target of 53 percent (40 of 75) incidents of violence centred on bovine issues in 2010-17 and comprised 87 percent (26 of 30) killed in 75 incidents, data show.
Created through a collection and content analysis of reports in the English media — which tend to have the widest nationwide news spread — the database shows that 97 percent (73 of 75) of such incidents were reported after Prime Minister Narendra Modi's government came to power in May 2014. More than half or 52 percent of the bovine-related violence — 39 of 75 incidents — were reported in states governed by the Bharatiya Janata Party (BJP) at the time, revealed our analysis of violence recorded until 31 August, 2017.
In 46 percent — 35 of 75 — incidents reported, police registered cases against victims/survivors, an analysis of IndiaSpend's database revealed.
A "feeling of unease, a sense of insecurity is creeping in" among Muslims, outgoing vice-president Hamid Ansari said in his parting interview to Rajya Sabha TV, published on 10 August, 2017.
National or state crime data do not distinguish general violence from bovine-related attacks and lynchings, so the IndiaSpend database is the first such statistical perspective to a growing national debate over such violence.
Despite the increase in violence related to bovine issues, particularly over the last three years, the Ministry of Home Affairs does not collect data on lynchings, said this government statement to the Lok Sabha (parliament's lower house) on 25 July, 2017.
The National Crime Records Bureau, that collects and analyses crime data from across the country, plans to collect data on lynchings as well, The Indian Express reported on 9 July, 2017.
(Vivek is an analyst and Saldanha is an assistant editor with IndiaSpend.)
India
When the prime minister says he's making an announcement, Indians start expecting the unexpected. It all started with the sudden announcement to ban Rs 500 and Rs 1000 notes on 8 November 2016
India
From Amit Shah to Sushma Swaraj, let's take a closer look at eight powerful leaders who have ably assisted the prime minister in his endeavour
India
Assam chief minister Himanta Biswa Sarma thanked Prime Minister Narendra Modi and Union Home Minister Amit Shah for releasing an advance of Rs 324 cr and said that the funds will ensure timely relief and rehabilitation of affected citizens