West Bengal becomes first state to opt out of 'Modicare'; Mamata Banerjee says state already provides free healthcare
West Bengal has become the first state in the country to opt out of 'Modicare', the central government's ambitious healthcare insurance plan, that was announced in the Union Budget earlier this month
West Bengal has become the first state in the country to opt out of 'Modicare', the Central government's ambitious healthcare insurance plan, that was announced in the Union Budget earlier this month. Chief Minister Mamata Banerjee, while announcing the state government's decision to opt out of the healthcare scheme, also slammed the Centre for not consulting the states before unveiling the plan.
Addressing a public meeting in West Bengal's Krishnanagar, Banerjee said the state will not "waste its hard-earned resources" in the programme. Under the provisions of the National Health Protection Scheme, dubbed "Modicare", the Centre will contribute Rs 2,000 crore to the scheme, out of a total cost of Rs 5,500 crore to Rs 6,000 crore. State governments are expected to pay the remainder.
However, Banerjee said West Bengal already has made hospitalisation and medical treatment free of cost for its citizens, so it doesn't see the point of spending on a separate programme that will do the same. A report in The Times of India quoted Banerjee as saying the Bengal government has enrolled 50 lakh people under its own Swasthya Sathi programme.
"We have done it even after the Centre takes away Rs 48,000 crore a year for debt-servicing the loan liability left behind by the preceding CPM government," she said.
At the meeting, Banerjee also ridiculed the Centre's 'Beti Bachao, Beti Padhao' scheme, saying the allocation given to the scheme is paltry, and the state government spends more money on education of girls, said a report on The Week. "Look at the financial allocations in the project. Rs 100 crore for all over India. Which means Rs three crore for my state which has a population of 10 crore. So per person allocation would be Rs 0.30," she was quoted by saying, adding that she has already spent Rs 1,200 crore for providing education to girls in the state.
She has also asked people in the state to ensure that the BJP does not win panchayat elections. "Then the development process would be hampered. In all seats, our people should win," she said, The Week added further.
India
The agitators occupied railway tracks at Nimdih and Kustaur in Adra division and Khemasuli in Kharagpur division from 5 AM, affecting the movement of passenger and goods trains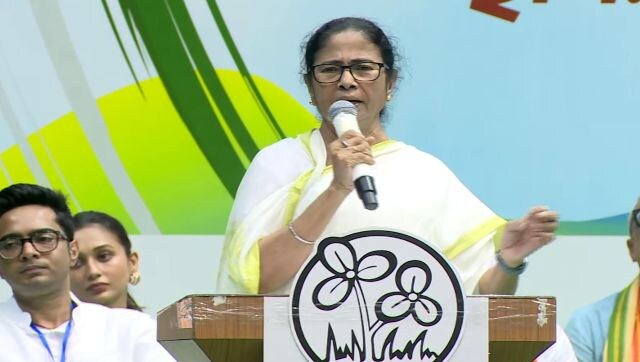 Politics
This time around Mamata Banerjee has to play on a larger arena — balancing between protecting her home turf while moving the chess pieces on the national board
India
As the CBI and ED tighten their collective noose around senior Trinamool Congress (TMC) leader Anubrata Mandal - a 'bahubali' leader of Birbhum district - things may get difficult for West Bengal CM Mamata Banerjee as well