Watch: Air India officials offer lesson in how not to treat your passengers
In a shocking case of insensitivity, a video, that created much buzz on social media, showed the insensitivity of Air India officials who refused to let passengers fly because they were 5 minutes late for their check-in.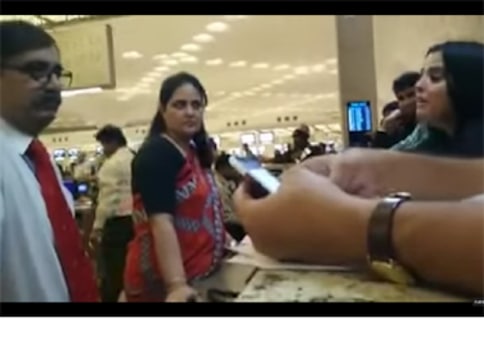 Air India, which already has a reputation for sullen customer unfriendly staff has done it again. A new video doing the rounds on social media, has shown a group of Air India officials steadfastly refusing to allow a group of pleading, crying passengers fly, because they were five minutes late to check in.
One of the passengers, who said her mother was battling for her life in the ICU, was seen crying and pleading with the officials but all she got in response was, "Control yourself Ma'am."
In fact, the officials appear totally nonchalant as the passengers are seen pleading, fighting and even crying. "Nothing is free boss. Once you're late you will lose the ticket," one Air India official says. The Passengers reportedly reported for check in 55 minutes before their flight was scheduled to take off from Mumbai's international terminal. According to the Air India website, check-in stops 60 minutes before an international flight.
Shivendra Namdeo, who uploaded the video, said on his Facebook page, "As Per the Message from AIR INDIA one should be within 45 mins from departure . . . . . & Even though PPL are 55 mins before departure. They are not allowed to enter."
According to this report in CNN IBN, the passengers said that they got a text message from Goibibo, a travel website, which instructed them to arrive at the airport 45 minutes before departure.
Air India issued a statement on Twitter which said:
Air India is distressed at the video on social media showing its airport staff in poor light. The matter is being examined.....1/2

— Air India (@airindiain) February 17, 2015
@airindiain ...Air India requests patrons to review details on ticket & any updates communicated to them.2/2

— Air India (@airindiain) February 17, 2015

The incident happened on 14 February and was video-recorded by Namdeo who later uploaded the video. Watch the full video here:
World
The video was shared recently and has grabbed the applause of many for the Ukrainian soldiers
India
As soon as the German man hit the ball, his Indian colleagues went on to cheer for him
World
All the eyes were fixed on a red LED light on the pavement, behind which people can be seen standing.