Vladimir Putin to visit New Delhi in October, meetings with Narendra Modi, Ram Nath Kovind on agenda
During the visit, Putin will hold official talks with Prime Minister Narendra Modi and will meet President Ram Nath Kovind as well.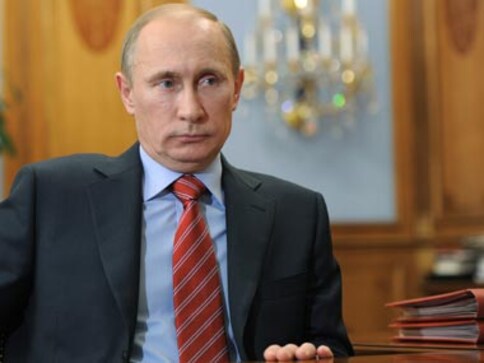 New Delhi: Russian President Vladimir Putin, will pay a two-day official visit to New Delhi from 4-5 October for the 19th India-Russia annual bilateral summit. During the visit, President Putin will hold official talks with Prime Minister Narendra Modi.
He will also have a meeting with President Ram Nath Kovind, as well as other official engagements, a statement from the Ministry of External Affairs read.
The last annual summit was held during the visit of Prime Minister Modi to Russia on 1 June last year. Russia has been a longstanding and time-tested partner for India.
The development of India-Russia relations has been a key pillar of India's foreign policy. Since the signing of "Declaration on the India-Russia Strategic Partnership" in October 2000 (during the visit of President Putin to India), India-Russia ties have acquired a qualitatively new character with enhanced levels of cooperation in almost all areas of the bilateral relationship including political, security, trade and economy, defence, science and technology, and culture.
Under the strategic partnership, several institutionalised dialogue mechanisms operate at both political and official levels to ensure regular interaction and follow up on cooperation activities.
During the visit of the Russian President to India in December 2010, the strategic partnership was elevated to the level of a "special and privileged strategic partnership." In May, Prime Minister
Modi had visited Sochi for a one-day informal summit with President Putin, where the two leaders discussed a variety of bilateral issues extensively.
World
Russia has been designated as a state sponsor of terrorism by the EU parliament. However, the largely symbolic resolution passed by a 494-58 vote on 23 November has no real-world implications
World
Ilya Yashin, an Opposition politician who went on trial in Moscow on Wednesday, risks becoming the latest in a long line of Kremlin critics sentenced to long prison terms. Some have been killed or narrowly avoided death, while others have gone into exile
Opinion
The fifth review, the most dangerous since the first in 1994, is ambiguous and a pretext to increase the US nuke stockpile