Vladimir Putin in India: Deepening of bilateral energy cooperation a must in today's geopolitical, economic climate
India-Russia energy cooperation provides the two sides with more breathing space in their foreign policy endeavours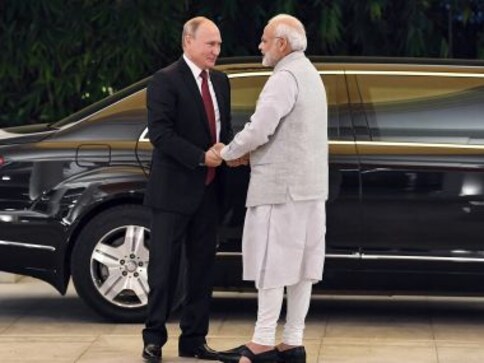 The larger focus of Russian president Vladimir Putin's two-day visit for the annual India-Russia summit is on the key defence deals to be signed between the two countries, but it is the energy cooperation between New Delhi and Moscow, and the deals signed thereof, that will be vital to their economic and security interests.
Russia holds the largest amount of natural gas reserves in the world. In 2017, Russia was the world's largest exporter of oil and gas, contributing 12.7 and 20.4 percent respectively to global oil and natural gas exports. Oil and gas exports effectively contribute 40 percent to Russia's federal budget revenues and account for over 70 percent of Russian exports. In 2018, in fact, revenues from oil and gas are expected to witness a five-fold jump from $8.5 billion to $44.4 billion. This will provide a major boost and an ample economic cushion to the Russian economy.
Russia's extreme dependence on its oil and gas sector is however not without its own repercussions. A cursory glance and the country's export markets indicates that overwhelming quantities of Russian oil and gas find their way to the European markets. In 2017, for instance, Russia's gas exports to Europe rose by 8.1 percent to achieve record high levels of 193.9 billion cubic metres (bcm). The Russian gas major Gazprom alone supplies around a third of the total gas consumed in the European Union. There are however major strings attached to this arrangement.
As a result of the geopolitical tensions between Russia, the US and EU member States, there have been repeated calls for EU members to cut down on their dependence on Russian gas imports. European countries have been trying to wean off their dependence on Russia for their domestic gas requirements by sourcing more imports from the US. This is being done to limit the kind of geopolitical leverage that Russia exercises in the region, owing to the fact that it virtually controls the European energy security.
This issue has become more pertinent after Russia's annexation of Crimea in 2014, and the crisis that subsequently followed in Ukraine. Lithuania, in 2014, for instance, became the first ex-Soviet country to source gas imports from the US, while refusing to renew its contract with Russia in 2015. Similarly, Poland, too, has threatened Russia with a non-renewal of its gas contracts in 2022. Russia's over-dependence on European markets for its gas exports can thus create multiple problems for the country, in the event of growing hostilities. It is in view of securing gas markets for itself now, that Russia has turned to Asian economies like China, India, Japan, South Korea and even Pakistan.
Russia is already in the process of building one of its most geopolitically critical pipelines running from the Kovyktinskoye gas fields in Eastern Siberia to the Russia-China border in the South-East. This project, worth $55 billion, will be the key to connecting Russian gas suppliers to Chinese energy consumers. Gazprom has signed a 30-year sales agreement with China's State-owned China National Petroleum Corporation (CNPC), under which it will supply 1.3 trillion cubic feet (tcf) of natural gas, annually through the pipeline.
This strategic pivot to Asia also places India as an important market for Russia's oil and gas exports. The Russian president's visit to India is expected to see signing of multiple energy deals between India's State-owned Oil and Natural Gas Corporation (ONGC) and Gazprom. ONGC Videsh Limited (OVL) already has stakes in three oil and gas projects in Russia, which account for 56 percent of its total stakes abroad. Besides, with the recent stake acquisitions by Indian Oil in Vankorneft and Taas-Yuryakh Neftegazodobycha, the total Indian investments in Russia's oil and gas sector have gone up to $10 billion.
Acquiring alternate supplies from Russia is also critical to India's energy security, as this helps in supply-side diversification. Russian gas exports will also provide a major boost to the gas markets in India, helping the country cut down on its oil import dependence.
A deepening of energy cooperation between India and Russia spells a major win-win for the two sides. While economically it will help cushion the two economies from the global energy supply and demand shocks that can be potentially rattling, geopolitically, India-Russia energy cooperation provides the two sides with more breathing space in their foreign policy endeavours.
World
Despite its successes, Ukraine has only reclaimed 55 per cent of the territory taken by Russia since the February invasion
Explainers
According to the US State Department, the current wait time for an interview for B1/B2 applicants (business and tourism) is at 999 days in Mumbai, 994 days in Hyderabad, 961 days in Delhi, 948 in Chennai, and 904 in Kolkata. It is important to note that these are estimates and not a guarantee of an
Explainers
DNA profiling was first developed in 1984 by Alec Jeffreys in the UK. Several high-profile cases including the Rajiv Gandhi assassination and the 2012 Delhi gang rape have been cracked using it. Now, police are using it to build a case against Aftab Poonawala