VK Singh to visit Iraq to trace 39 missing Indians as Sushma Swaraj assures Parliament of govt action
With Iraq assuring all cooperation in tracing the 39 missing Indians, Minister of State for External Affairs VK Singh is to travel to Badush near Mosul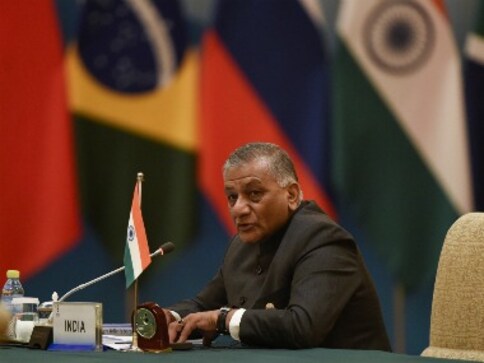 New Delhi: With Iraq assuring all cooperation in tracing the 39 missing Indians, Minister of State for External Affairs, VK Singh is to travel to Badush near Mosul, which was freed from Islamic State control earlier this month, the Ministry of External Affairs said on Thursday.
During a meeting with Iraqi Foreign Minister Ibrahim al-Jaafari in New Delhi, External Affairs Minister Sushma Swaraj reiterated India's request for tracing the 39 Indians who were abducted in Mosul in June 2014 and for Iraq's continued assistance in this regard.
"The Iraqi Foreign Minister assured cooperation in all earnestness from the Iraqi side and informed the External Affairs Minister of the efforts being undertaken", the statement said. Sushma Swaraj requested the Iraqi minister to facilitate the visit of Singh to Badush.
The development comes as Sushma Swaraj on Thursday told Parliament that she would not declare the 39 Indians as dead till she has concrete evidence to that effect.
"I repeat, I will not declare them (the missing Indians) dead until we have concrete evidence to that effect", she told Rajya Sabha.
The minister said that she "never said in Parliament or outside that they are alive, as being claimed by some Congress MPs".
She said that according to the information that has been received, the group was caught at the Mosul airfield, and taken to a jail, after which they were put to construction work, and then farming, before being taken to Badush jail in 2016. But after that there has been no contact.
The Minister said that all the information was culled from different sources and there was no evidence to support any of the claims.
Following reports in the media that the Badush jail building had been demolished, the Minister was blamed for misleading the nation on the 39 Indians.
VK Singh had visited Iraq earlier this month after Iraqi forces aided by an international coalition liberated Mosul on 9 July after 266 days of fierce battles, ending three years of Islamic State rule.
Singh first went to Erbil and then on 12 July visited the Kurdih Pershmerga frontline in Mosul area to seek information about the missing Indians.
At his weekly media briefing in New Delhi on Thursday, external affairs ministry spokesperson Gopal Baglay said that Singh's visit to Badush will be useful only when there is more information.
Sushma Swaraj also congratulated al-Jaafari over the liberation of Mosul.
She also thanked Iraq "for contributing significantly to India's energy security, being the second-largest supplier of crude oil to us".
On his part, al-Jaafari appreciated India's steadfast support to Iraq during its difficult times, including through capacity-building under the Indian Technical and Economic Cooperation (ITEC) programme.
"He highlighted that India continued to welcome Iraqi nationals, especially for higher studies and medical treatment", the statement said.
The Iraqi foreign minister also invited Indian companies to participate in the reconstruction and rebuilding of Iraq, which Sushma Swaraj welcomed.
Politics
Basavaraj Bommai also said he had a detailed discussion on the list of candidates with the party's in-charge for Karnataka Arun Singh
India
In December 2021, the Centre introduced the 'Mediation Bill, 2021' in Rajya Sabha for its further consideration into Parliamentary Standing Committee on Law and Justice
India
Bommai said he will have to decide on the days and schedule considering the upcoming Rajya Sabha and Legislative Council polls, also the possibility of local body polls being announced