'Virgin' means unmarried, nothing objectionable in it: Bihar health minister on IGIMS form issue
Bihar health minister was seen telling news channels that there was nothing wrong with using the word 'virgin' because it simply meant 'kanya' or 'kunwari'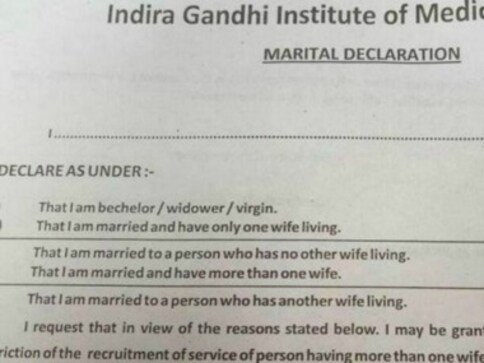 Patna's Indira Gandhi Institute of Medical Sciences (IGIMS) marital status declaration form, asking a person to declare his or her virginity, has caused quite an uproar on social media over the last 24 hours. Following this, Bihar health minister Mangal Pandey on Thursday was quoted as saying by ANI that 'virgin' means unmarried and there is nothing objectionable in it being written in the form.
"The word which is used is 'virgin'. It means unmarried girl, maiden. I don't think these words are not objectionable. But still this issue is being raised. I had a word with the officials of the IGIMS. They said that this is the format of AIIMS and since 1983, it is being used in every organisation of the country,"ANI quoted him as saying.
Recruits at IGIMS have been asked to declare whether they are bachelors, widowers or virgins. There were many cases of this in the form. The form also asked employees if they are married and have only "one wife living" or whether they practice polygamy, according to a NDTV  report.
The minister was seen telling news channels that there was nothing wrong with using the word 'virgin' because it simply meant 'kanya' or 'kunwari' – which translates to unmarried girl. Pandey, who joined the Cabinet just three days ago, had earlier told a news channel that the 'virgin' question was only intended at making employees reveal their zodiac sign for official purposes, a report by The Hindustan Times said.
The minister also said that the form follows the same format as the premier AIIMS hospital in Delhi. "It has been a rule for 34 years for medical staff to submit the declaration," he was quoted as saying in the report by NDTV.
Earlier in the day, college medical superintendent Manish Mandal clarified the same and said the term 'virgin' does not have anything to do with virginity, but with marital status. He also said, "Rules are made by the government and constitution. If they change the word, we will too," according to a report by The Indian Express.
Some officials blamed the faux pas on poor translation on the part of individuals who drafted the document, which has been issued since 1983. "It is embarrassing for all of us to say anything," a hospital official was quoted as saying by IANS.
with inputs from agencies. 
Politics
Steps will be taken against Prasant Kumar Jagdev if he failed to comply, said Justice Shatrughna Pujahari
India
A CCTV camera and router manufacturing and assembling company, in whose office the fire is suspected to have started, had been on the premises since 2017. Its owners: Harish and Vijay Goel, who are brothers, have already been arrested
India
The Class 6 boy complained to Chief Minister Nitish Kumar at a recent event about poor education in his school and his 'alcoholic' father