Vice-Presidential Election 2017: Poll to choose Hamid Ansari's successor will be held on 5 August
The elections for the 13th Vice-President of India shall be held on 5 August. The announcement for the same was made by CEC Dr Nasim Zaidi.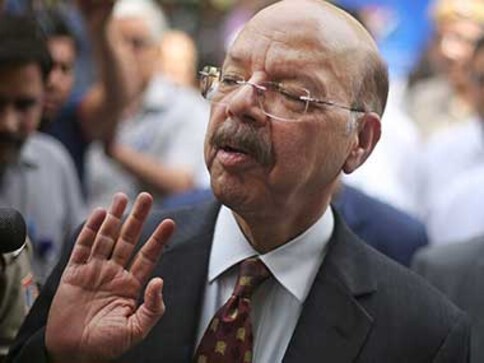 The elections for the 13th Vice-President of India will be held on 5 August. Chief Election Commissioner Nasim Zaidi said notification for the election will be issued on 4 July and nominations can be submitted by 18 July. Zaidi was speaking ata conference held at Nirvachan Sadan in New Delhi.
The scrutiny will take place on 18 July and the last date for withdrawing nomination is 21 July, he said. He said if polling is required, it will take place on 5 August and the counting will also take place on the same day. Members of Parliament will use special pens for marking their choice, Zaidi said on Thursday while announcing the schedule.
#WATCH Election Commission announces schedule for Vice Presidential elections https://t.co/3PJGl2dBPu

— ANI (@ANI_news) June 29, 2017
He said no whip can be issued by political parties. Secretary General of Rajya Sabha Shumsher K Sheriff will be the returning officer for the election, Zaidi said. The term of the present incumbent Hamid Ansari, who has held the post for two consecutive terms, is coming to an end on 10 August. India Today reported that the new Vice-President is likely to be sworn in on 11 August.
The electoral college which elects the Vice President, who is also the ex-officio Chairman of the Rajya Sabha, consists of elected and nominated members of Rajya Sabha and Lok Sabha. The total strength of the two Houses is 790, but there are some vacancies.
The Election Commission also announced the date of election to the Rajya Sabha seat from Goa. The term of the current Vice-President, Hamid Ansari, will expire on 10 August, necessitating elections to choose his successor. Ansari has served two terms as Vice-President, having been first elected to the post on 7 August, 2007 and then re-elected in 2012.
Union minister Venkaiah Naidu had said earlier there was no chance of him contesting for the position of Vice-President. He had further added that, "Never am I going to participate in the vice-presidential elections even if anyone compels me.... Happiness – for me – is meeting people, being among them and serving them. I cannot let a ceremonial position keep me away from people."
The Presidential elections are scheduled to be held on 17 July and will see the NDA's candidate Ram Nath Kovind take on Meira Kumar, the joint candidate supported by 17 opposition parties.
With inputs from agencies
Politics
The Election Commission of India (ECI) will soon call a meeting of all political parties to assure them that the electronic voting machines (EVMs) were tampering-proof and secured, Chief Election Commissioner Nasim Zaidi said on Saturday
India
Achal Kumar Joti took charge as the 21st Chief Election Commissioner on Thursday, and said the poll panel will vigorously pursue its commitment to hold free, fair, inclusive and credible elections
Politics
Abuse of money, distribution of gifts and the ruling party's misuse of government beneficiary database to lure voters are some of the complaints received by election authorities in Goa, Chief Election Commissioner Nasim Zaidi said on Sunday.