Vibrant Gujarat Summit 2019: PM says India ready for business like never before; Benjamin Netanyahu pitches 'limitless possibilities'
Narendra Modi's appeal to investors went thus: India is in the throes of a major transformation and offers an opportunity in various sectors
Heads of State, captains of industry from across the globe, international investors and top CEOs lined up to learn about India.

Narendra Modi emphasised that India is a bigger market than the United States, Mexico and Canada put together

Narendra Modi effectively highlighted India's improvement in Ease of Doing Business ranks
In 2003, few would have though the humble beginnings of the vibrant Gujarat summit — initiated by then chief minister Narendra Modi — would gradually turn into an international event more on the lines of the World Economic Forum in Davos. In 2019, Narendra Modi — now prime minister — declared, in the presence of a powerful international audience, that his dream of Vibrant Gujarat has all the features of an international summit. Heads of State, captains of industry from across the globe, international investors and top CEOs lined up to learn about India. And Modi did not disappoint. He gave a crisp, but powerful speech in English directed at the international audience.
His passionate appeal to industrialists sounded much like the entreaty of Chinese reformist Deng Xiaoping, who roped in international money to promote growth. Modi's appeal to investors was simple: India is in the throes of a major transformation and offers an opportunity in sectors ranging from digital and housing to consumer goods. He emphasised that India is a bigger market than the United States, Mexico and Canada put together. His appeal of "come and invest in India to take advantage of the change" resonated with the audience.
Dismissing the prophets of doom, Modi effectively highlighted India's improvement in the Ease of Doing Business ranks, the reduction in red tape and simplification of the tax structure.  At the same time, Modi offered the assurance that he would look out for those willing to invest in India's future, no small thing from a prime minister facing an election.
Interestingly, Modi's India pitch is nothing but widening the scope of a similar pitch he made as Gujarat chief minister at previous events. As Gujarat chief minister, Modi showcased Gujarat as a "unique investment". Now, Modi is simply taking that pitch national. For the past two days, Modi has been holding meetings with delegates, top industrialists and commerce bodies to assure them about the continuity of policy. Modi's actions countered any impression of political uncertainty.
The global investor summit, held at Mahatma Mandir Convention and Exhibition Centre at Gandhinagar, is perhaps the most modern and stylish convention Centre in the country. This was a creation of Modi, when he was chief minister, and his imprint is everywhere. Fifteen countries partnered with the summit, five Heads of States turned up including Uzbekistan president Shavkat Mirziyoyev, Denmark prime minister Lars Lokke Rasmussen, Czech Republic prime minister Andrej Babis and Malta prime minister Joseph Muscat. Eight Indian states sent their representatives to engage in business talks with potentials investors, both foreign and domestic.
One of the highlights of the Vibrant Gujarat Global Summit 2019 was a special message by Israeli prime minister Benjamin Netanyahu via video-conferencing, who said, "Gujarat symbolises the powerful connection between our two people. Together, we're building limitless possibilities for the future."
Modi added, "In India our challenge is to grow horizontally and vertically. Horizontally, we have to spread benefits of development to regions and communities that have lagged behind. Vertically, we have to meet enhanced expectations in terms of quality of life and quality of infrastructure. In four years we have reduced government and enhance governance. India is now ready for business as never before. In the last four years, we have jumped 65 places in the global ranking of World Bank's Doing Business Report. But we are still not satisfied. I have asked my team to work harder so that India is in the top 50 next year."
Modi then gave some facts as to how India has advanced in the past four years, how India became an exporter of electricity for the first time, and how India has become the world's fourth-largest wind energy producer and fifth-largest solar energy producer.
Opinion
The UK broadcaster's 'Modi Question' holds as much water as Jack Straw's WMD lie on Iraq. It may also be the British establishment's assault against an Indian-origin prime minister at 10 Downing Street
Entertainment
As we are all gearing up for the biggest release of 2023, Pathaan, it is time to put an end to all negative criticism surrounding the film. The film will bring back SRK, the king Khan to big screen. PM Modi asks BJP leaders to refrain from making 'unnecessary remarks' on films.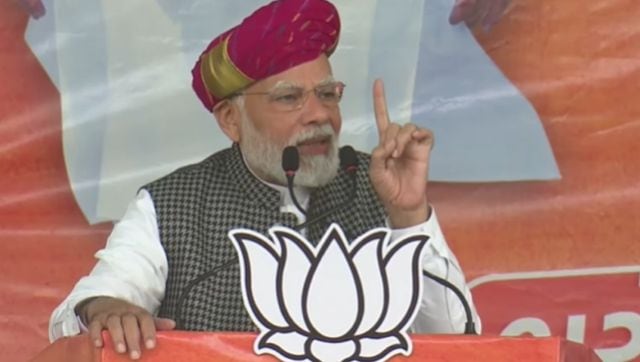 Opinion
In every way, Narendra Modi gains from this needless controversy before the nine state elections this year and the general election next year. And a master politician like him will not let this opportunity for his opponents to malign themselves go waste