Uttar Pradesh: Eight-year-old caught in crossfire between police and 'criminals' in Mathura, boy succumbs to injuries
An eight-year-old boy was killed on Wednesday in cross firing between the police and criminals in Uttar Pradesh's Mathura district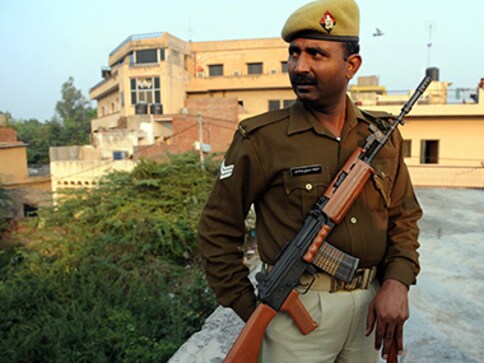 An eight-year-old boy was killed on Wednesday in firing between the police and alleged criminals in Uttar Pradesh's Mathura district, said media reports.
According to NDTV, Madhav Bhardwaj, a nursery student, was hit in the head by a bullet during an "encounter" by the Uttar Pradesh police in Mohanpura village. The boy was playing with four of his friends in front of his house.
"My eight-year-old grandson Madhav suddenly fell down after a bullet hit him in the head while his friends were seen crying," the victim's grandfather Shiv Shankar was quoted as saying by Hindustan Times.
The cops called for a vehicle and agreed to accompany the family to a hospital. However, on the way to the hospital, they told the family to take the boy there themselves as they ''had to go and fetch more forces for the encounter,'' said the Hindustan Times report. Madhav later succumbed to his injury.
The incident occurred when three police personnel reached the village Mohanpura after getting information that some criminals accused of being involved in a recent case of looting were spotted somewhere nearby, said the Times of India report.
However, a report by The Times of India quoted some villagers as saying that there was no exchange of fire and the police opened fire on the alleged criminals.
"It is a very unfortunate incident, and I extend complete support to the family," Swapnil Mamgai, a police officer was quoted as saying by NDTV. He further stated that a Deputy Superintendent of Police will look to into the matter to probe if there was any negligence from the police.  
The Uttar Pradesh police has been under criticism after official data revealed that the state police conducted 420 encounters with alleged criminals, killing 15, in less than six months since the Yogi Adityanath government came to power, The Indian Express had reported.
Eighty-eight police personnel suffered injuries in encounters between 20 March and 14 September last year, revealed the figures released by the Director General of Police headquarters.
Taking cognisance of the matter, the National Human Rights Commission (NHRC) had sought a detailed report from the UP government in November last year, News18 had reported.
The NHRC had said the state government was often seen presenting these encounters as achievements and improvement towards law and order.
India
The chief minister said the BJP's double-engine government in the state and the Centre has started several programmes like Skill India and Startup India to recognise the skill and potential of workers
India
Rehan, a resident of Chachaiyan village, posted maps of India and Pakistan on Twitter and wrote India should be made an Islamic state
India
Apart from this, the state government has set a target of opening 12,500 AYUSH wellness centres and is preparing to open 1600 AYUSH wellness centres by 2025