US' postponement of '2+2' dialogue reflects uncertainty in ties between India and mercurial Donald Trump regime
India no longer seems a priority country for the highly chaotic and unmanageably mercurial Donald Trump administration.
The United States' decision to postpone the high-level inaugural 2+2 dialogue with India, scheduled for 6 July in Washington, is not without reverse to the generally favourable atmosphere in India-US relations.
The 2+2 dialogue format was one of the major takeaways from Prime Minister Narendra Modi's landmark visit to the US in June 2017. India's external affairs minister Sushma Swaraj and defence minister Nirmala Sitharaman were scheduled to visit Washington to hold joint talks with their counterparts, Mike Pompeo and James Mattis.
However, the postponement of the meeting for the second time comes when India has been asked to "go to zero" in Iranian oil imports by 4 November with absolute firm refusal for any "waivers", as revealed by Nikki Haley, the US permanent representative to the United Nations, during her two-day visit to India.
It is not clear if the Donald Trump administration's abrupt decision is linked with India's reported reluctance to cut down on oil supplies from Iran, but what it clearly indicates is the uncertainty characterising existing Indo-US relations. Another reason being attributed for the postponement of the dialogue is the Secretary of State Mike Pompeo's ongoing efforts to schedule a summit between Trump and Russian president Vladimir Putin in the middle of July. Whatever may be the real reason behind this unfortunate postponement, India no longer seems a priority country for the highly chaotic and unmanageably mercurial Trump administration.
Two major issues, which involve potential American sanctions, have put ties between New Delhi and Washington under stress. India's understandable reluctance to accept two major American demands – to stop oil imports from Iran from 4 November, and stop the planned purchase of the S-400 missile defence system from Russia – ensures that the bilateral relationship is headed for a rocky patch.
It needs to noted that the implications of the 'Countering America's Adversaries Through Sanctions Act' (CAATSA) — the US law whose primary aim is to alter Russia's international behaviour — are far-reaching on India. Washington is discouraging New Delhi from going ahead with the purchase of Russian S-400 Triumf anti-aircraft and anti-missile systems. Since Moscow remains New Delhi's most important defence partner, and is perceived as India's all-weather friend, curtailing security ties with Russia will not come easily.
Trump has also tightened the screws on Tehran as it begins to impose severely punitive sanctions. Given India's significant geopolitical and geoeconomic stakes in Iran, this is another serious challenge for New Delhi. While pressuring India to lessen its oil dependence on Iran, the Trump administration has favoured the India-backed Chabahar port, which is being developed as a part of an ambitious transportation corridor for landlocked Afghanistan and is aimed at ending Kabul's dependence on Pakistan. However, Washington's 'consolation' on Chabahar port does not come as a surprise as it is intimately connected with America's war efforts in Afghanistan.
The roots of tremendous bilateral ties with the US can be traced to the late 1990s, when India embarked on a major shift in its developmental and foreign policy strategy with Bill Clinton's administration also reciprocating with key overtures to India. The Bush administration was even more determined to institutionalise a strategic partnership with India, and the process has continued well into the Trump administration, even though this relationship remains a work in progress and seems to have experienced some coolness on the strategic front lately. From having almost negligible defence ties during the Cold War to India becoming a 'major defence partner' of the US, the two countries have come a long way.
However, mutually contradictory strategic perceptions have come back to haunt the bonhomie. The two sides are developing differences on issues other than Iran and Russia as well. Differences on trade-related matters, particularly after Trump converted a non-issue of tariff on Harley Davidson motorcycles worth less than $5 million into a major issue, only served to vitiate the relationship.
The US has threatened India with retaliatory tariffs if it does not lower taxes on American products. But how can New Delhi give up its long-time partners – Russia and Iran – and economic interests to appease an administration which has acquired notoriety for changing its policies too frequently? New Delhi has closely watched the manner in which Trump is antagonising close allies such as Canada, Mexico and the European Union. Notwithstanding the Trump administration maintaining that "the US.-India relationship is a major priority for this administration, and we look forward to continuing to strengthen our partnership,"
A shift in Indian foreign policy over the last few months has been too visible to have escaped notice. Though we are yet to reach a stage reminiscent of the 1990s 'strategic triangle' era, where the threat of American unipolarity will push India, Russia and China towards collective action, the recent 'informal' summits between Modi and Xi Jinping in Wuhan in China, and Modi and Putin in Sochi in Russia point to India's new-found reluctance to keep all its eggs in one basket.
Modi's landmark speech at the Shangri-La Dialogue in Singapore and his participation in the Shanghai Cooperation Organisation (SCO) meeting in Qingdao further confirm that New Delhi is beginning to doubt the depth of its strategic partnership with the US.
Although New Delhi has rhetorically thrown its weight behind the 'quadrilateral' – the grouping of India, US, Japan and Australia that is widely perceived as a counterbalance to rising Chinese assertiveness – in its quest to reshape the 'Indo-Pacific' balance of power, India has come back to pursuing a hedging approach by both engaging directly with China and seeking to contain disruptive Chinese behaviour.
There is no hint of India backing away from its security relationship with the US. But what is undeniable is that the pace of moving forward on the quadrilateral is very unimpressive. In his address at the Shangri La Dialogue, when Modi articulated India's vision of the Indo-Pacific, there was no mention of the word 'Quad'. Nor did he comment on the renaming of the US Pacific Command as the Indo-Pacific Command, as if nothing has happened. Australia, which was very keen to join this year's annual Malabar Exercise between India, Japan and the US since it believed that joining the exercise was a natural progression of the Quad, remains firmly shut out.
Moreover, there is no major forward push on agreements Washington considers to be 'foundational' for a robust military relationship with New Delhi. The only 'foundational' agreement signed between the two countries in August 2016 is 'Logistics Exchange Memorandum of Agreement' (LEMOA). The 'Communications Compatibility and Security Agreement' (COMCASA), meant to provide a legal framework for the transfer of communication security equipment from the US to India that would facilitate "interoperability" between their forces, is stuck in lengthy negotiations.
In fact, the agreement usually signed by the US is known as the 'Communication and Information on Security Memorandum of Agreement' (CISMOA) but the US agreed to change it to COMCASA to reflect its India-specific nature. Negotiations on 'Basic Exchange and Cooperation Agreement for Geo-spatial Cooperation' (BECA) have not even started. As defence ties with the US has always been a politically sensitive issue in India and the COMCASA involves India's "sovereignty" due to visits by US personnel to Indian bases, the Modi government is likely to remain hesitant to move ahead into an election year.
At a time when major powers are looking at multiple coalitions to manage a highly unpredictable and fluid global order, India's efforts are understandable. However, China continues to remain locked in a complex rivalry with India characterised by tangible and intangible disputes, and the slump in Indo-US relations has the potential to make India's immediate neighbourhood and the broader Indo-Pacific region more insecure.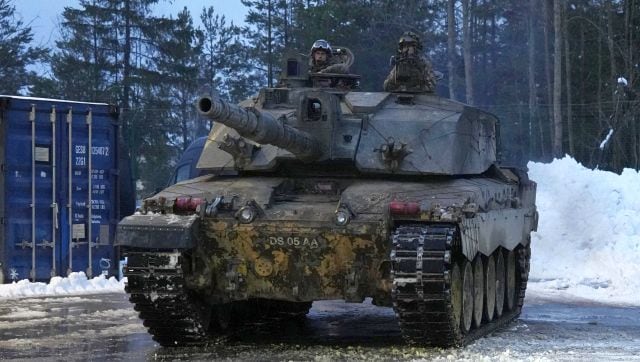 World
Providing the sophisticated battle tanks — one of the most powerful symbols of war — was long seen as a red line by the United States and its closest European allies who feared Russian retaliation
World
According to The National Cyber Security Centre (NCSC), the hackers typically target people who conduct research and work on Iran and Russia
World
After months of discussions with Ukrainian officials, the Biden administration is finally starting to concede that Kyiv may need the power to strike the Russian sanctuary, even if such a move increases the risk of escalation