Uri terror attack: To reclaim a sense of history, India needs war museums like Hall of Fame in Leh
Our experiences from 1947 onwards and learnings there after are inadequately documented & not available in the public domain; thus, India needs war museums.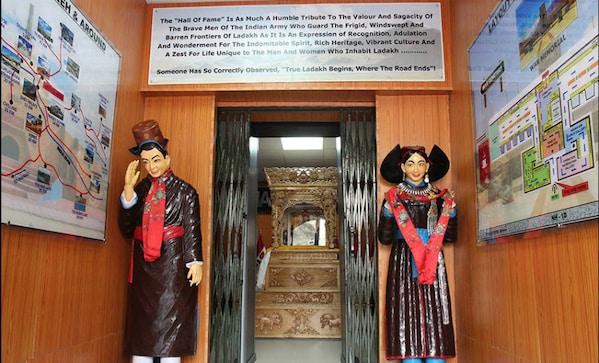 The Indian Army was attacked in Jammu and Kashmir (J&K) on Sunday, where 18 jawans were killed in Uri. But, is this the first such attack?
No, this was the 18th major strike on security forces in J&K since 1999, the first one being when ten army personnel were killed in a fidayeen attack on 15 Corps Headquarters at Srinagar's Badami Bagh.
It is unfortunate that India speaks to a nation that has made the export of terror an instrument of state policy. India's quest for peace is so strong that we refuse to learn from past betrayals. Actually, we lack a sense of history. Since 1947, our experiences and learnings are inadequately documented and not available in the public domain; thus, the bureaucracy, political class, and civilians make the same mistakes again and again.
Note that India's principal adversaries on the east and west side have an excellent sense of history; to the extent that they keep reiterating the same lies in the hope that they are accepted as the truth.
It is in this context that museums play an important role. The learnings and contents of the Indian Army Museum in Leh are relevant to contemporary India and make a case for setting such museums across the country, and globally.
A board at the entrance sets the tone for what to expect inside. It reads, "The Hall of Fame is as much a tribute to the valour and sagacity of the brave men of the Indian Army who guard the frigid, windswept and barren frontiers of Ladakh as much as it is an expression of recognition, adulation and wonderment of the indomitable spirit, rich culture and a zest unique to the men and women who inhabit Ladakh."
Someone has correctly observed, "True Ladakh begins where the road ends!"
The museum tells you about the history of Ladakh since the first century AD – key battles of 1948, 1965, 1971, the 1999 wars with Pakistan and the Indo-China war of 1962. It highlights the contributions of the Ladakh Scouts. There is a section on the Siachen Glacier, which briefly tells about the battles fought and the equipment provided to jawans to enable them to guard the border posts at heights between 15,000 to 22,000 feet. It also recognises the contribution of Project Himank in building roads. Lastly, there is a memorial and a Shaurya Sthal where the names of all the martyrs are inscribed in stone.
The Hall of Fame museum presents history through pictures and illuminated boards. A lot of information presented there has strategic value, something that many civilians are unaware of:
1) Information about the battles fought to occupy and retain control of Siachen Glacier between 1984 and 1999.
2) It is only when you see a map of pre-1947 Jammu and Kashmir that you realise that India could have shared a border with Afghanistan, had the then government taken control of the entire princely state.
3) Why did Ladakh develop close cultural relations with Tibet, which continue to this day?
4) Details of battles in 1948 with Pakistan in Zoji la Pass, Kargil and Leh sectors.
5) Capture of Point 13620 and Kala Pahad on NH 1A – at Kargil in the 1965 war.
6) Capture of Turtuk in Nubra Valley during the 1971 war. It was part of Pakistan until then.
7) Details of numerous battles fought to recapture heights in Drass sector in 1999.
Of particular interest are three key battles fought in 1965, 1984 and 1962. Brief details of each battle and learnings are as follows:
Recapture of Point 13620: The Point overlooks the Srinagar-Leh Highway. It was captured by India thrice. First four Rajputs captured it on 17 May, 1965. Following assurances by the UN Observer, it was handed over to Pakistan in June 1965. In the first week of August, Pakistan resorted to mass infiltration in J&K with an intent to enter through Kargil sector and fan out towards Drass, Zanskar etc regions. It was subsequently recaptured by 17 Punjab on 15 August 1965. In July 1966, it was handed over to Pakistan in accordance with the Tashkent Agreement. It was recaptured by India on 9 December, 1971.
What must Team India remember?
Trust Pakistan at your own risk. Never return areas that overlook national highways or a Pass that allows the enemy to sneak in, like the Haji Pir Pass in 1965. "It is through this Pass, infamously returned to Pakistan five months after its capture, that Islamabad has been infiltrating terrorists into J&K for the last 27 years."
Note that the Kargil War of 1999 was essentially fought to regain control of the heights that overlook the Srinagar-Leh highway.
Secondly, the occupation of Siachen Glacier in 1984. "The operation to occupy the glacier by 13 April, 1984 was planned to pre-empt the Pakistan Army by about four days as Intelligence had reported that Pakistan Army intended to occupy the glacier by 17 April, 1984. About 300 troops dug into the critical peaks and passes on Saltoro Ridge, thus effectively denying the glacier."
If India had played good boy, gone to the United Nations (UN), we might never have occupied the glacier and would still be arguing over UN resolutions.
Always be pro-active, seize and never lose control, better to attack then defend and take the battle into the enemy camp.
Note that ever since Pakistan started supporting terrorism in Punjab, J&K and rest of India, the Indian State is perpetually defending itself. If India has to counter the infinite Pakistan attack it must keep the rogue nation under pressure 24/7, 365 days a year. Students of history should read BR Ambedkar's Thoughts on Pakistan to understand the sub-continent Muslim mind.
Thirdly, Battle of Rezang La in Ladakh. It is true that China defeated India in the 1962 war. What is not true is that India went down without a fight in every place.
The Chinese launched a silent first attack on 18 November, 1962. The attack was stalled by the brave Ahirs of 13 Kumaon. At the break of dawn, Chinese attacked the post again only to be thwarted by accurate small-arm fire. Next, the Chinese resorted to heavy shelling. The Charlie coy deployed under Major Shaitan Singh Bhati repulsed seven waves of Chinese human attacks despite heavy artillery shelling. About 113 soldiers and the Major laid down their lives. According to this article, the battle left close to 500 Chinese dead and wounded, although locals put the number at about 1,300.
When the local leadership was strong, the Indian Army gave the Chinese a good fight. We lost because of idealism, underestimating the enemy and failure to decipher Chinese thinking. The spiritual concept of ahinsa (non-violence) must not be used in the realm of geopolitics. Accepting mistakes allows us to put the past behind and emerge stronger. Only when India becomes an economic and military powerhouse will be there shanti, shanti, shanti.
Note that the closest land route to Mount Kailash is from Demchok in south Ladakh. It's unlikely that Indians will be allowed to enter Tibet from there because that means defying the border. Any border settlement with China must include an entry from here as well. The move would be appreciated by Hindus, Jains, Buddhists and Tibetans worldwide.
It is time to make more Indians aware about such historical facts. Therefore, the government must create similar Hall of Fames in major cities like Delhi, Mumbai, Bengaluru, Chennai and Kolkata. This should not be confused with the proposed National War Memorial in Delhi.
The same format could be used. It should include information about other wars and acts of bravery, for instance, Jaswant Singh in 1962, Battle of Longowal and Liberation of Bangladesh in 1971.
Since the Indian Army runs schools and women empowerment centres, pictures of Sadbhavna activities should be displayed. It should have a separate section titled 'What must Team India remember'.
The benefits of such an initiative would provide reliable data and limits the scope for spreading misinformation. It would give civilians, bureaucracy, and armed forces lessons in history and continuously reinforce learning. Wars have to be fought by the people of India, not the armed forces alone. It would definitely create a feeling of national pride and patriotism.
At a time when social media plays an important role in information warfare, it would empower Indians worldwide to respond to country's opponents.
Once successfully implemented, the Hall of Fame should be set up in international cities with large Indian populations like New York, London, Dubai and Singapore.
This way the Indian point of view gets communicated globally and more importantly, consistently. Few countries have done this so far. India could be amongst them.
Most importantly, Indians must now realise that they can live in peace only when the country has strong leadership, national strength, and the political will to take tough decisions against the country's opponents.
The author is an independent columnist. He tweets with the handle @sanjeev1927
World
All production units of Dawlance, a private company with Turkish sponsors, have stayed shut since the start of 2023
India
The Cheetah helicopter of the Indian Army was reportedly on a routine mission when it crashed near Mandala Hills in Bomdila, in the West Kameng of Arunachal Pradesh
India
Jammu and Kashmir Lieutenant Governor Manoj Sinha at the opening ceremony said that about 68 varieties of tulips will bloom in the garden this year