Uri terror attack: The Quint's 'daring' story on 'cross-LoC operation' angers press, social media
The Quint's contentious story titled 'Exclusive: Uri Avenged As Spl Forces Cross LoC, Kill 20 Terrorists' received backlash from journalists and readers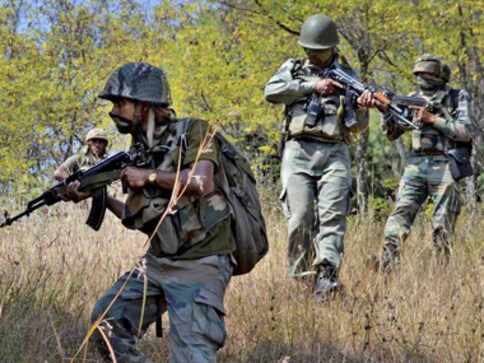 Considering the sensitive nature of the Uri attacks, any reportage around the issue has to tread the fine line of stating facts and developments in relation to the attacks without being jingoistic or sensational. The Quint, on Thursday morning, didn't tread lightly when they published the contentious story titled 'Exclusive: Uri Avenged As Spl Forces Cross LoC, Kill 20 Terrorists'.
The story in question reports that the Indian Army conducted a 'daring cross-LoC operation' where at least 20 terrorists have been neutralised. The story, which is dangerously light on official quotes and vague on its sources claims that "two units of the elite two Paras comprising 18-20 soldiers flew across the LoC in the Uri sector in military helicopters and carried out an operation that killed at least 20 suspected terrorists across three terror camps in Pakistan Occupied Kashmir (PoK)."
The story sparked a debate as soon as it was published on the site's social media pages. The Twitterati wondered how no other news source could get such sensitive information and questioned the veracity and timing of the story.
@TheQuint No other media is reporting this, except you .. How can be believe on its authenticity?? Stop spreading the fake news

— Ashish Vaish (@iOnly_Ashish) September 22, 2016
@TheQuint Don't published until it's verified and confirmed by related authorities.

— Avenge 'The Martyrs' (@BleedSaffron) September 22, 2016
Former Jammu and Kashmir chief minister Omar Abdullah also expressed surprise in a series of tweets against the piece by The Quint.
https://twitter.com/abdullah_omar/status/778845812201705472
https://twitter.com/abdullah_omar/status/778846141634916353
https://twitter.com/abdullah_omar/status/778846458824896512
https://twitter.com/abdullah_omar/status/778847428908752896
Following the immediate and rampant backlash, The Quint added that they would reconfirm the 'information of the story'. Just an hour after publishing the story, the site asserted that they reconfirmed information about the cross-LoC operation.
A number of journalists and army experts bashed the story and the way the controversy was dealt with.
Veteran journalist Nitin Gokhale deemed the story as 'nonsense'.
If it was so easy why wasn't such and action taken all these years? Nonsense. https://t.co/bC25XWrqCz

— Nitin A. Gokhale (@nitingokhale) September 22, 2016
India Today's Shiv Aroor also dismissed the story, adding that it endangers real operations that the Indian Army may engage in.
Standing by story means zilch.
No official comment ever on covert ops.
Story endangers real ops / our troops on ground.
Alerts Pak. https://t.co/XFVNgoYpwe

— Shiv Aroor (@ShivAroor) September 22, 2016
Senior Fellow at Royal United Services Institute, Shashank Joshi questioned Aroor, saying that covert operations can and has been covered by the global media. But he added that considering how the story was reported not even a day after the alleged military operation, he reconsidered the fact that the story could in fact endanger lives.
@shivaroor Oh fair enough, agree. No need to endanger lives when there's no downside to waiting a day or two.

— Shashank Joshi (@shashj) September 22, 2016
Senior journalist Barkha Dutt also commented on the issue.
@shashj @ShivAroor though there were also questions about veracity and substantiation apart from endangering

— barkha dutt (@BDUTT) September 22, 2016
She questioned the facts of the story and also echoed Business Standard columnist Ajai Shukla's assertion that the story aimed at spreading 'motivated disinformation'.
Surprised it was published given firm & consistent Army denials on and off record for last 36 hours. https://t.co/wzQVy9Y4Da

— barkha dutt (@BDUTT) September 22, 2016
Some journos are hallucinating... or perhaps motivated disinformation thru chosen plants! This has been formally denied by the military. https://t.co/IyEp1NsJsv

— Ajai Shukla (@ajaishukla) September 22, 2016
When asked about whether this story was an error on The Quint's part or whether the Indian Army planted the story, Dutt had quite a provocative response.
@BDUTT Is there evidence to suggest that govt. planted this story or is it more likely just random kite flying by Quint? @shashj @ShivAroor

— Sadanand Dhume (@dhume) September 22, 2016
The Quint still asserts that they stand by their story.
First Cricket News
After steady rain delayed the start of play by almost three hours and reduced the match to nine overs-per-side, West Indies totalled 85 for five batting first.
World
The Afghan foreign ministry said that daughter of the ambassador to Islamabad, Silsila Alikhil, was kidnapped and mistreated by unknown individuals for several hours on Friday. She received medical treatment at a hospital after her release
First Cricket News
Leg-spinner Rashid took 4-35 and England just did enough in a nervous chase to seal a thrilling and series-clinching three-wicket win over Pakistan in a Twenty20 decider.