UPSC results 2017: 'Be humble, committed', Jitendra Singh tells civil services exam toppers
Union minister Jitendra Singh and senior bureaucrats told the top 20 rank holders of the UPSC civil services exams to remain humble and committed to their job.
New Delhi: 'Be humble and committed to your job.'
This was the success mantra given by Union minister Jitendra Singh and senior bureaucrats to top 20 rank holders of the Union Public Service Commission's (UPSC) civil services examination in New Delhi.
He said civil servants play a critical role in government, which is why they should always act independent and not perform anything under pressure, as their acts are always open to scrutiny.
Singh said the civil servants should serve the nation to their best and act as a messenger of the general public.
"Be alert to scrutiny. Always remember that your action as a civil servant are always watched," he said.
The first 20 rank holders of the civil services exams, including the topper Nandini KR, were felicitated by the minister.
He said there are ample opportunities available in the country for the new recruits to perform.
"But just be humble to all and committed to your job," said Singh, Minister of State in the Prime Minister's Office.
He also gave the mantra of 4Cs— clarity (of thoughts), conviction (in thoughts), courage (to perform with conviction) and consistency — to them to succeed in their career as civil servants.
Secretary (Personnel) BP Sharma asked the new entrants to the civil services fraternity to start service with a clean slate.
"Do not think too much about the ranks as it can bring issues like ego and arrogance. Just start with a clean slate," he said.
Sharma, a senior IAS officer of the Bihar cadre, asked the toppers to maintain good interpersonal relationship with all colleagues and subordinates.
C Viswanath, Secretary, Department of Administrative Reforms and Public Grievances, asked the new recruits to work with honesty and integrity while maintaining commitment of purpose and devotion towards duty.
"When you go to a district or work in a cadre, you may have have a Tehsildar who is 55-years-old. Kindly respect him. They have experience with them and you as a young officer may need them the most," Viswanath said.
Establishment officer and secretary in the Personnel Ministry, Rajiv Kumar said that the candidates were entering in the government at a time when expectations from the society are very high.
"Your role will be challenging and every action of yours will be watched every day. So work with commitment and success will be yours," he said.
The civil services examination is conducted by the Union Public Service Commission (UPSC) annually in three stages — preliminary, main and interview — to select candidates for the elite Indian Administrative Service (IAS), Indian Foreign Service (IFS) and Indian Police Service (IPS), among others.
Find latest and upcoming tech gadgets online on Tech2 Gadgets. Get technology news, gadgets reviews & ratings. Popular gadgets including laptop, tablet and mobile specifications, features, prices, comparison.
World
The professor of pediatrics at the Penn State College of Medicine has led Pennsylvania's response to the coronavirus outbreak as the country's top health official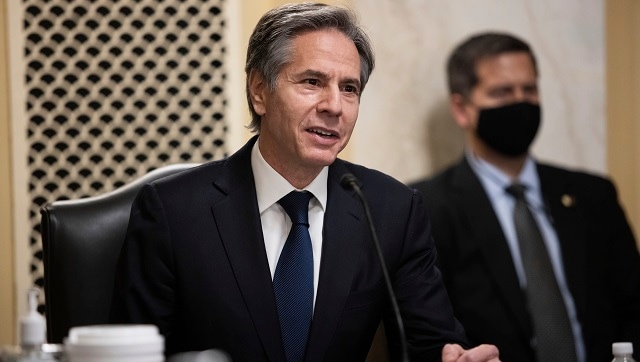 India
At his nomination confirmation hearing before the Senate Foreign Relations Committee, Blinken said that India has been a bipartisan success story of the US successive administrations
World
Pompeo has been tagged by a number of officials and analysts with the dubious distinction of the worst secretary of state in American history