UP cop transferred for standing up to BJP workers says she has been 'rewarded for doing her duty'
Uttar Pradesh cop Shrestha Thakur, transferred days after a war of words with a BJP leader, has said that she has been 'rewarded' for doing her duty
Lucknow: Uttar Pradesh police officer Shrestha Thakur, transferred days after a war of words with a BJP leader, has said that she has been "rewarded" for doing her duty.
Thakur, who had sought to fine a BJP member in Bulandshahr, has been transferred to Bahraich as its deputy Superintendent of Police, a UP police spokesperson said.
"I have been rewarded," she wrote on her Facebook timeline and it has gone viral.

Media reports said the transfer decision was taken after a BJP delegation met Chief Minister Yogi Adityanath. The local leaders reportedly urged the Uttar Pradesh government to take action against her.
Thakur, who was posted as deputy Superintendent in Bulandshahr, was among 244 provincial police officers transferred by the UP government on 1 July.
The police officer hit the headlines when she had a public argument with BJP's Syana city president Mukesh Bhardwaj.
The wordy duel between Thakur and Bhardwaj started after the police officer slapped a fine on a local BJP worker, Pramod Kumar, for riding a motorcycle "without any documents, number plate and a helmet", on 22 June.
Kumar then called up some BJP office-bearers, who landed up at the spot. Among them was Bhardwaj, who got into a lengthy argument with her.
A video clip that captured the altercation was shared widely on social media sites.
Woman police officer in UP takes on angry BJP workers in Bulandshahr pic.twitter.com/nr1X3TKF53

— News18 (@CNNnews18) June 25, 2017
In the video, Thakur was seen telling the BJP leader that she would ask the police not to check any vehicles if he got a letter from the chief minister saying so.
After the transfer, she posted a couplet on the social networking site.
"Wherever I go, there will be light," the post — which she later deleted — said.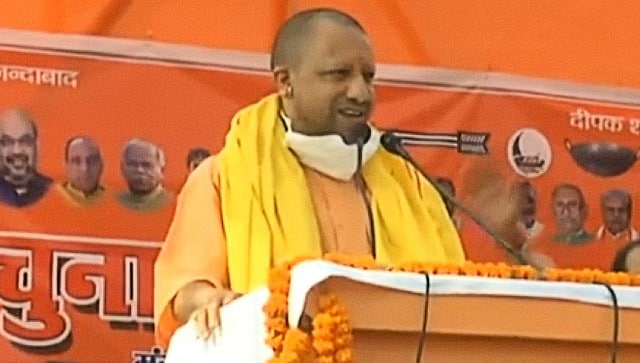 Politics
The Uttar Pradesh chief minister also criticised the Trinamool Congress govt in the state for 'failing to bring in any positive change' in the ten years that it has been in power
Politics
State BJP president Swatantra Dev Singh said the Unnao district president has now been asked to submit three fresh names for finalising a candidate
India
Passing restrictions for Allahabad, Lucknow, Varanasi, Kanpur Nagar and Gorakhpur cities, the court said these curbs are 'nowhere close to a complete lockdown'