UP Board Exam 2018 time table announced, exams set to start from 6 February
Uttar Pradesh Board of High School and Intermediate Education released exam dates for class 10 and class 12 examination. The exams will begin on 6 February. For more details, visit upmsp.edu.in
The Uttar Pradesh (UP) board has released the class 10 and class 12 examinations dates for this year.
Hindustan reports that the class 10 and class 12 board exams are set to start from 6 February next year. At a press meet, the Uttar Pradesh Board of High School and Intermediate Education announced that class 10 board exams will take place till 22 February and class 12 exams will continue till 14 March 2018.
According to NDTV, Education Director Awadh Naresh Sharma said that the Board has plans to conduct the exams early this year. He added that the Board plans to complete the exams and their evaluation within a month. The report adds that the BJP government had decided on this plan of conducting school examinations for a span of 15 days and announcing the results in the next 15 days.
These moves may be in place to curb cheating in examinations. According to India Today, deputy chief minister Dinesh Sharma said that school management will not be allowed within 200 meters of exam centres and papers will be written under CCTV scrutiny. A joint team of police, civil administration and education department officials will also supervise the process. He added that if cheating cases surface from schools despite these strict regulations, they will be barred from becoming examination centres and steps will be taken to derecognise the institutions.
The Yogi Adityanath government and Secondary Education Department has even issued helpline WhatsApp numbers to register cheating complaints. According to India Today, The following numbers can be used for complaints: 9454457241 and 0522 - 2236760.
NDTV states that there has been a reduction in the number of exam centres, which previously stood at 11,413. The report adds that 67,02,483 candidates have registered,  of which 37,12,508 will give the class 10 examination. For more details of the examination dates, visit upmsp.edu.in.
As has been observed over the course of the past few weeks, the dates and times of exam announcements have been frequently changed around. The information above has not been independently verified. However, this article will continue to be updated to reflect official updates as and when they come in.
India
Prime Minister Narendra Modi tweeted that Giri had played a huge role in bringing together "many streams of the Sant Samaj"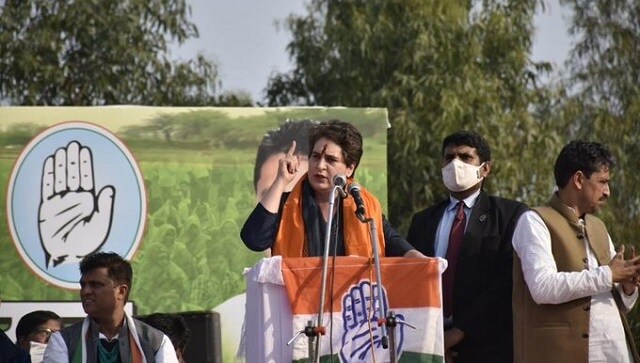 Politics
Her attack on Adityanath came as on this day, last year, the horrific Hathras incident took place in which a young Dalit woman was raped by four men.
Politics
Governor Anandiben Patel administered oath to the new ministers at the Gandhi Auditorium in the Raj Bhawan in the presence of the chief minister