Unnao, Kathua rape cases: Involvement of majoritarian interests have shown the State's complicity in these horrors
The complicity of the State and its security forces, and the powerfully polarising force of religion were part of Unnao and Kathua cases.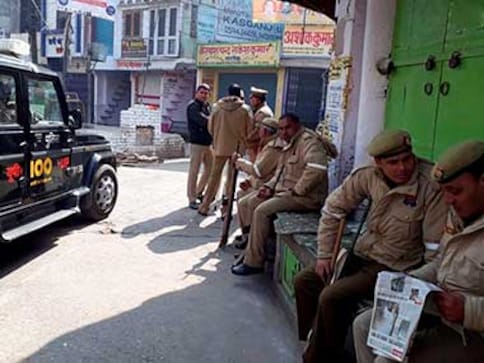 By Sharanya Gopinathan
A strange alchemy of time, politics, placement and accident makes some photos just iconic. Like Nick Ut's 1972 photo of the 'Napalm girl', The Terror of War, which became the face of the horrors of the already unpopular Vietnam War, or The Kiss, a 1945 photo taken in Times Square by Alfred Eisenstaedt, of a drunk naval soldier kissing a dental nurse, which quickly turned into the icon of celebration of America's victory over Japan in World War 2. Many years later, the woman in the photo, Greta Zimmer Friedman, expressly said that the spontaneous kiss was not, in fact, consensual.
Here is the photo that'll describe the horrible times we've brought upon ourselves and are trapped in right now. Indian scholars of the future will pick apart every pixel of this frame, decoding the import lurking in every corner, the menacing weight of both those smiles, the sombre face of the Ganesha, the saffron and green sign board behind them, everything.
It is a picture of Kuldeep Singh Sengar, a BJP MLA from Unnao accused of raping a minor Dalit girl. Here he stands as he reaches the office of UP chief minister Ajay Singh Bisht (Yogi Adityanath) on Monday. Significantly, he's flanked by a beaming, indulgent guard on one side, a solemn, imposing Ganesha statue on the right.
Along with her family, the teenaged girl who accused Sengar of rape attempted suicide on 9 April outside Adityanath's office (the same office where Sengar stands grinning in arrogant joy). Her father was immediately arrested after the suicide attempt, and allegedly beaten so severely that he died in police custody. His post-mortem report reads that he had multiple abrasions near the abdomen, buttocks, thighs, above and below the knee joints and arms, and ultimately died of blood poisoning due to colon perforation.
On Wednesday night, Sengar drove to the house of Lucknow's police chief with 100 of his supporters in tow. The media had been reporting that Sengar would surrender that night. Sengar turned up and said that the only reason he had come out here was to prove that he was not in fact a fugitive and did not intend to surrender. He was not arrested, and at the time of writing, still hasn't been.
So really, is there a better time to be a rapist of minorities in India?
Last weekend also saw reports of the breathtakingly horrifying rape and murder of 8-year-old ***** from Jammu and Kashmir's Kathua in a case so brutal it's really difficult to get down to the details. ***** was kidnapped, drugged, held captive in a temple, brutally raped several times and violently murdered — with police involvement — way back in January. A member of the nomadic Muslim Bakerwal-Gujjar tribe, *****'s rape and murder was likely part of an extensively planned attempt by a group of locals, including a retired government official, his son and juvenile nephew, to force this tribe out of the area. One of the men even temporarily halted the disposal of her tiny, 8-year-old body just so that he could rape her one more time.
The case finally blew up mainstream media headlines last weekend and caught the nation's attention after we saw photographs of lawyers from Kathua attempting to stop police from filing a full chargesheet against those involved in the case, which include two police officers who were paid off to help cover it up. The police were physically barred from entering the court complex on Tuesday by violent lawyers from Kathua chanting 'Jai Shri Ram' and other slogans.
The lawyers are being bolstered by members of the Hindu Ekta Manch, a right-wing party with links to the BJP, and have been holding protests in support of the rapists for over a month now. These protests have been attended by two sitting BJP ministers — the Minister for Forest Chowdhary Lal Singh, and Minister for Commerce and Industries Chander Prakash Ganga.
The similarities between these two events are harrowing. In both cases, the victims were members of minority groups: The Unnao survivor a Dalit, the Kathua victim a nomadic Muslim. In the latter case, it was her identity that singled her out as a target. In the former, this identity is being used to malign her words and the credibility of her family.
In both cases, powerful Hindu men are being shielded by other powerful Hindu men.
In the Unnao case, Adityanath did not deign to meet the rape survivor or her family, and yet the alleged rapist Sengar has his direct ear, given the speed with which he was granted an audience with the chief minister, and the joy the prospect of that conference brought to his face. As of Thursday morning, the Uttar Pradesh DGP has said that Sengar has been booked but will not be arrested until the allegations are proven against him, which is pretty much the opposite of how cases are supposed to work — the police should arrest an accused and bring him to court to prove the survivor's allegations, not the other way around. The DGP has also called Sengar "honourable" while insisting that no one was trying to protect him.
Meanwhile, in Kathua, two police officers reportedly helped wash away blood and traces of DNA from the 8-year-old victim's clothing. They failed completely at doing this successfully and getting away with it, but it is the thought that counts.
Which leaves the rest of wondering what we can even think right now.
Looking at the painful facts of these cases, it's hard not to see them as anything but instances of the state's complicity in crimes committed with impunity, thanks to armed guards on one side and the power of religion on the other.
There is, in fact, no other way in which these events could have played out like this: The complicity of the State and its security forces, and the powerfully polarising force of religion, were both integral components of these terrible events.
So where are we now? Sengar continues to roam around scot-free. Sitting ministers of the ruling party have been demanding that rapists not be arrested, the police are calling alleged rapists and suicide-inciters honourable, the rape of an 8-year-old Muslim girl is already being linked to "cow-slaughter", the police have washed blood evidence away from the clothes of a child's corpse, and all our social media feeds are currently afire with before-and-after pictures of the face and corpse of *****.
Juxtaposing the photos of baby ***** and the grinning Sengar neatly and painfully encapsulates every sorrowful, confused, miserable, hopeless and dazed feeling the rest of us could have about these times we're stuck in. But if you are a certain kind of Hindu man living in 2018, with god and State by your side, I guess you can't help but laugh maniacally.
The Ladies Finger (TLF) is a leading online women's magazine delivering fresh and witty perspectives on politics, culture, health, sex, work and everything in between.
World
Born into a modest family on Colombia's Caribbean coast, Petro embraced leftist politics as a teenager after the 1973 coup d'etat in Chile that unseated Marxist president Salvador Allende. A father of six, Gustavo Petro is seen as a good orator, though not necessarily charismatic
India
Yogi Adityanath returned to the circuit house after the incident and later reached airport and left for Lucknow from a state plane
India
The encounter broke out between the terrorists and security forces at Kanjiular in Shopian after the personnel launched a cordon and search operation in the area