Unlawful Activities Act: India's anti-terrorism law's ambiguous nature gives unreasonable power to authorities
The Unlawful Activities (Prevention) Act, 1967 is India's anti-terrorism law. The UAPA, along with the National Security Act, 1980, are the two swords of the law that are used to combat terrorism.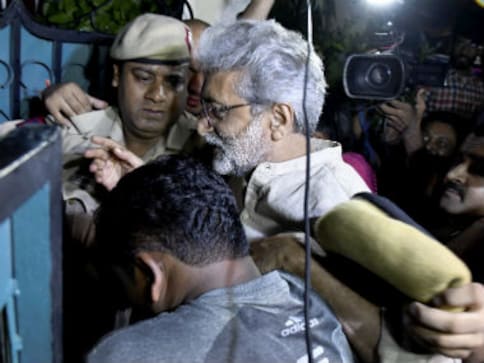 The Unlawful Activities (Prevention) Act, 1967 is India's anti-terrorism law. The UAPA, along with the National Security Act, 1980, are the two swords of the law that are used to combat terrorism. Given the recent arrest of activists and intellectuals on charges under the UAPA, it would be wise at this juncture to examine what exactly does the act do and how is it implemented.
Section 2(o) of the Act defines an "Unlawful Activity" and 2(p) defines an Unlawful association. It reads:
"(o) 'unlawful activity', in relation to an individual or association, means any action taken by such individual or association (whether by committing an act or by words, either spoken or written, or by signs or by visible representation or otherwise),
(i) which is intended, or supports any claim, to bring about, on any ground whatsoever, the cession of a part of the territory of India or the secession of a part of the territory of India from the Union, or which incites any individual or group of individuals to bring about such cession or secession; or
(ii) which disclaims, questions, disrupts or is intended to disrupt the sovereignty and
territorial integrity of India; or
(iii) which causes or is intended to cause disaffection against India;"
"(p) "unlawful association" means any association,—
(i) which has for its object any unlawful activity, or which encourages or aids persons to undertake any unlawful activity, or of which the members undertake such activity; or
(ii) which has for its object any activity which is punishable under section 153A (45 of 1860) or Section 153B of the Indian Penal Code, or which encourages or aids persons to undertake any such activity, or of which the members undertake any such activity:
Provided that nothing contained in sub-clause (ii) shall apply to the State of Jammu and Kashmir;"
Section 3 of the Act empowers the Central Government to declare an organisation as an unlawful association. However, this is subject to confirmation by a Tribunal, who will hear the organisation and then after it confirms the declaration, the Organisation becomes unlawful.
Once an organisation is unlawful the Government can:
a) Freeze Funds;
b) Declare areas of limits;
c) Prosecute a person who continues to remain a member of the organisation
d) Prosecute people for dealing with the funds of the organisation
The Act makes it an offence to take part in unlawful activities. Further the Act creates punishments for terrorist activities. Terrorist Act is defined in Section 15 of the Act. It states:
"15. Terrorist act.—(1) Whoever does any act with intent to threaten or likely to threaten the unity, integrity, security , economic security, or sovereignty of India or with intent to strike terror or likely to strike terror in the people or any section of the people in India or in any foreign country,—
(a) by using bombs, dynamite or other explosive substances or inflammable substances or firearms or other lethal weapons or poisonous or noxious gases or other chemicals or by any other substances (whether biological radioactive, nuclear or otherwise) of a hazardous nature or by any other means of whatever nature to cause or likely to cause—
(i) death of, or injuries to, any person or persons; or
(ii) loss of, or damage to, or destruction of, property; or
(iii) disruption of any supplies or services essential to the life of the community in India or in any foreign country; or
(iiia) damage to, the monetary stability of India by way of production or smuggling or circulation of high quality counterfeit Indian paper currency, coin or of any other material; or
(iv) damage or destruction of any property in India or in a foreign country used or intended to be used for the defence of India or in connection with any other purposes of the Government of India, any State Government or any of their agencies; or
(b) overawes by means of criminal force or the show of criminal force or attempts to do so or causes death of any public functionary or attempts to cause death of any public functionary; or
(c) detains, kidnaps or abducts any person and threatens to kill or injure such person or does any other act in order to compel the Government of India, any State Government or the Government of a foreign country or an international or inter-governmental organisation or any other person to do or abstain from doing any act; or commits a terrorist act
Explanation — For the purpose of this sub-section —
(a) "public functionary" means the constitutional authorities or any other functionary notified in the Official Gazette by the Central Government as public functionary;
(b) "high quality counterfeit Indian currency" means the counterfeit currency as may be declared after examination by an authorised or notified forensic authority that such currency imitates or compromises with the key security features as specified in the Third Schedule.
(2) The terrorist act includes an act which constitutes an offence within the scope of, and as defined in any of the treaties specified in the Second Schedule."
Committing a Terrorist Act is punishable by death or life imprisonment if someone was killed as a result of the Terrorist Act.
The Act further penalises the following in relation to terrorists acts:
a) Raising of Funds
b) Conspiracy
c) Organising Terror camps
d) Recruiting persons
This is where this gets tricky — how does one know that a person is about to commit a act of terrorism given the broad nature of the definition. The Maoist Terror problem is one which has a strong intellectual back bone, albeit one that is flawed and against the interests of the Republic. Under this Act, teaching communism to a person and if that thought resulted in them joining an Armed Attack on the Republic may be under the heading of recruiting a terrorist. Moreover, protecting such a person, who writes about these ideas, may also be an offence under this Act which is why some consider this law to be draconian in nature given the broad power it allows authorities.
Under this Act, it is theoretically possible that a students union which advocates the independence of Kashmir can be declared an unlawful association. That's the letter of the law.
Though there will be a counter argument that constitutional safeguards would never allow for something like that to happen. But that's not the essential point of this law when it is used as a weapon to "silence dissent". It's the process that is the punishment Raids, arrests and other forms of legal action, can stall the lives of many people while the process takes its own course.
India has a serious terror problem from all sides. Maoist Terror, Islamic Terror, Hindu Terror and now cow vigilante groups. A strong anti-terrorism law is needed in India, but its enforcement will always result in some draconian anomalies like the recent arrests of activists.
The Act needs to be amended, in order to ensure a constitutional functionary who is independent from the Executive, be in charge of sanctions for prosecutions and investigations under this Act. Maybe a High Court Judge could be designated for this purpose. Terrorism and unlawful activities are ones that always create political issues. If the Act has to work, its application must at all times look apolitical.
India
The Supreme Court on Friday asked the government to clarify its stand on a PIL seeking return of Kohinoor diamond in the country
Sports
Indian squash players, including Saurav Ghosal and Joshna Chinappa would fight it out for top honours in the 73rd Senior National Squash Championship