Union Minister VK Singh's wife filed a complaint with Delhi Police late on Tuesday at Tughlaq Road police station against a man named Pradeep Chauhan for blackmailing her and demanding Rs two crore.
Bharati Singh claims that Chauhan, who she knows as a friend of her relative, has been threatening her with dire consequences if she fails to pay the required sum.
Singh claimed in a police statement that Chauhan called her several times on 6 August at midnight and threatened to post 'doctored audio and video clips' on social media and also ruin her husband's reputation.
According to the complaint, Singh said even though she was not aware of the content of the recordings, she claimed that Chauhan is of 'dangerous kind' and carries a gun with him.
According to NDTV, police sources claim that Chauhan intended to splice her conversation to distort the content.
"We have registered a case under sections 384 (extortion) and 506 (criminal intimidation) of IPC and we have formed multiple teams to look into the matter," a senior police officer told IANS.
VK Singh, minister of state for external affairs and MP from Ghaziabad, has not yet issued any communique on this issue.
Below is the image of the complaint circulated on Reddit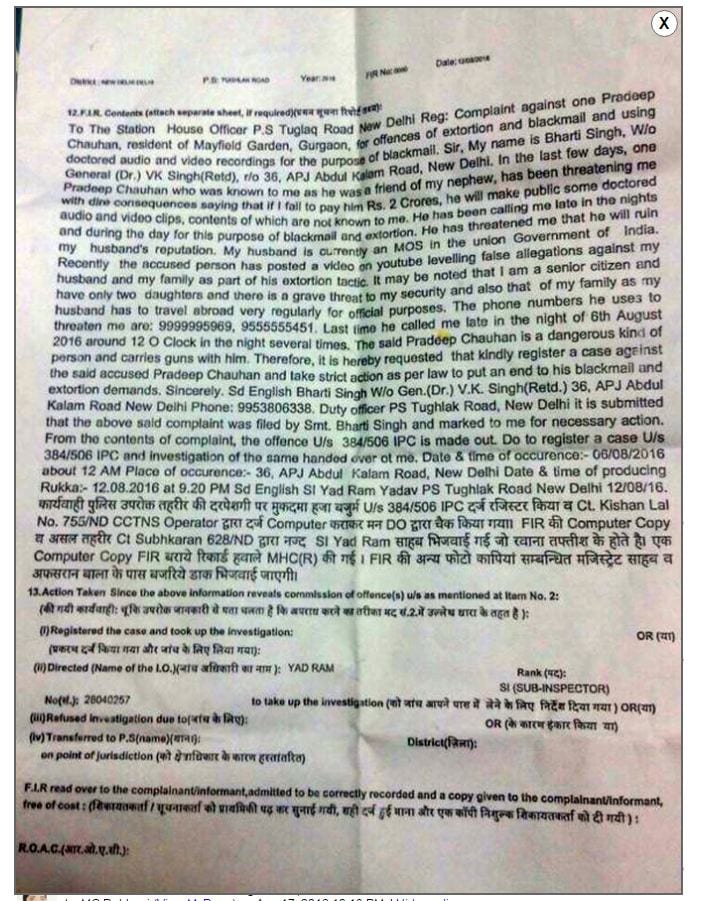 With inputs from IANS
Updated Date: Aug 17, 2016 14:46 PM