Umar Khalid shooting: Men who shot at JNU student absconding, did not surrender, says Delhi Police
Delhi Police said that the two men responsible for shooting at JNU student-activist Umar Khalid did not surrender and are absconding
New Delhi: Two men, who had claimed responsibility for the attack on Jawaharlal Nehr University (JNU) student leader Umar Khalid and said that they would surrender in a village in Punjab, did not turn up on Friday, police said.
A team of Delhi Police's Special Cell visited the village of Sikh revolutionary Kartar Singh Sarabha where the duo, Darwesh Shahpur and Naveen Dalal, had said they would surrender.
A senior police officer said the two did not turn up there and have not been seen in their native village Jhajjar in Haryana for the past few days.
In a video uploaded on Facebook on 15 August, the duo claimed the attack on Khalid was supposed to be an "Independence Day gift" to the citizens.
Police are verifying the authenticity of the video and trying to trace the IP address from where it was uploaded.
"We respect our Constitution. But there is no provision in our Constitution to punish mad dogs. By mad dogs, we mean the JNU gang that is making the country weaker and their number is increasing. Our elders in Haryana have taught us that such people should be taught a lesson," Shahpur had said in the video message.
The duo also requested the police to not trouble anyone and said they would surrender at the village of Sikh revolutionary Kartar Singh Sarabha on 17 August.
Khalid was attacked on Monday when he was on his way to take part in an event at the Constitution Club in Delhi. He, however, escaped unhurt.
On Tuesday, the Delhi Police handed over the case to its Special Cell, which incidentally is already probing a sedition case against Khalid and two other JNU students.
The police had also said that they were not "intimated" about Monday's event attended by Khalid.
A police officer, privy to the probe, said the police had seized the weapon used in the crime and preliminary forensic examination suggested that the pistol had jammed when it was used against Khalid.
He said they were yet to ascertain whether shots were fired as no empty cartridges were found at the spot.
A case of attempt to murder has been registered by police in the incident.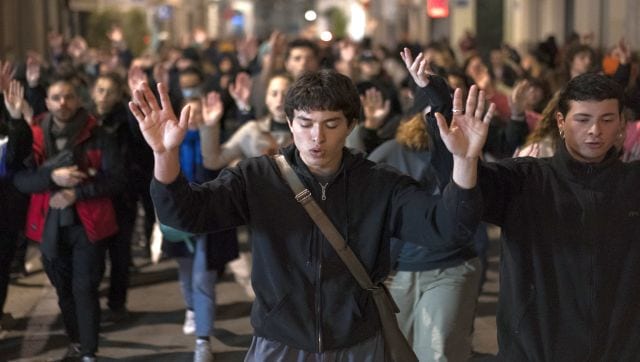 World
France has been seeing protests, which have turned violent in recent days, as the Emmanuel Macron government pushes pension reforms through parliament. In India too, there's a debate on the pension scheme, some arguing that the old method is fiscally unsafe
Explainers
Amritpal Singh and his aide Papalpreet Singh have been on the run for the past seven days. They were last located in Haryana's Kurukshetra. Baljit Kaur, the woman arrested by Haryana Police for sheltering them, told interrogators that the duo confided in her that they might move to Uttarakhand next
Photos
Japan's Fumio Kishida emphasised India's importance for a free Indo-Pacific region during his talks with Prime Minister Narendra Modi. The Japanese prime minister is on his second visit to the country where the two sides will also talk about the G20 and G7 summits