UGC asks universities, colleges to not conduct offline exams in May; issues COVID-19 guidelines
The secretary has advised the universities and institutes to conduct the online examination after reviewing the local conditions and after making sure that they are prepared to follow all the advisories
The University Grants Commission (UGC) has requested the higher education institutions in the country to temporarily suspend all the offline examinations to be held in May. In this regard, a letter has been issued by UGC Secretary Rajnish Jain. The letter has been addressed to all the Vice-Chancellors of the universities and Principals of the colleges.
The requisition has been made so that social distancing can be maintained in view of the rising coronavirus
cases in the country and to provide relief to students, faculty, and staff during the pandemic. The letter also praised the institutions for taking the best possible measures to contain the virus and to ensure the safety of everyone at their campuses.
The secretary has advised the universities and institutes to conduct the online examination after reviewing the local conditions and after making sure that they are prepared to follow all the advisories, guidelines and directions issued both by the central as well as the state government. Further, regarding the offline exams, institutions have been advised to take stock of the situation next month and decide accordingly.
In another letter issued by the UGC Chairman Prof D P Singh, higher institutions have been requested to undertake the following measures to control the spread of coronavirus
:
      Constituting COVID task force and helplines
      Promoting COVID appropriate behaviour in their campuses including wearing masks, proper sanitization, following social distancing, etc
      Arranging counsellors and mentors to address the mental health issues
      Motivating everyone to be physically and mentally active
      Promoting the vaccination drive
      Constituting a team of trained volunteers including both NCC and NSS candidates
 Encouraging stakeholders to be a part of vaccination drives
Taking suitable measures for students, staff, teachers, officers, and stakeholder
India
In view of surging COVID-19 infections, President Joe Biden authorised a travel ban for certain non-immigrants from India under a Presidential Proclamation that came into effect on 4 May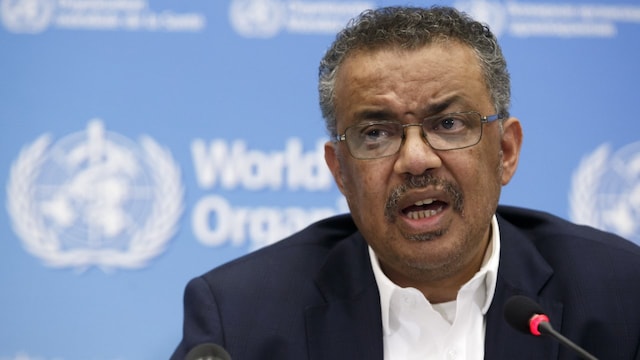 World
Recently, the calls to investigate further the origins of the virus have intensified. President Biden has also ordered a fresh US intelligence inquiry into the origins of the pandemic
Arts & Culture
'The exhibition and its outreach are far from being just an ephemeral event for a few chosen people. That's going to be a radical change in the way we think of the Biennale,' the curator said.