Two Madhya Pradesh youths pose innocuous queries on Hindu deities on Facebook, police file FIR
The Madhya Pradesh unit of CPM has written to the Madhya Pradesh police chief demanding action against those who pressured police to file FIR and to ensure that the youths do not get arrested.
New Delhi: In BJP-ruled Madhya Pradesh an innocuous Facebook query on Hindu deities can get you into big trouble. Besides unrestrained abuse from trolls, it can fetch you an FIR and possibility of police action.
Two recent cases suggest how the police administration is quick to respond with alacrity to the reactions from trolls, particularly those anything to do with Hindutva.
In a first-of-its-kind incident in the state, the police have filed FIRs against two youths, both Dalit students, belonging to Khargone district in Madhya Pradesh on the basis of two Facebook posts. The posts were simple queries related to the celebration of Diwali in simple non-objectionable language, with no derogatory terms used.
They are now living under the fear that on any day the police might come to their doorsteps with arrest warrants.
Ritesh Maheshwari, 24, a post-graduate student of English literature in Government College and resident of Maingaon—a village 8 km from Khargone district-posted a query on his Facebook page in Hindi: "People celebrate Diwali to mark the return of Ram to Ayodhya. So, what is the role of Saraswati, Lakshmi, Ganesh and Kuber (who are worshipped on this day), when Ram should be worshipped?" He posted it with user ID 'Bhim Putra Ritesh'.
Ojas Nihale, 22, pursuing Masters in Journalism and Mass Communication in Khandwa district and a resident of Bhikangaon—40 km from Khargone district wrote in his Facebook post with reference to recent Global Hunger Index report, in which India ranks at 100.
"Despite worshipping Lakshmi and Kuber, why India ranked at 100 on hunger index?"
Instead of a healthy exchange of posts, it turned into a filthy affair where abuses were hurled by trolls at the duo. The trolls 'allegedly used pressure on police' to file FIRs against Maheshwari and Nihale.
Speaking to Firstpost the duo said their intention was never to hurt religious sentiments of any person and their posts were simple queries that they had in their minds.
"I'm myself a Hindu and worship Hindu deities. During Diwali, I too had worshipped Lakshmiji. But I had a query for a long time on why Ram is not worshipped as Diwali is celebrated to mark His return to Ayodhya. I had no intention to hurt anyone's sentiments and question Hindu religion. In fact, I also apologised on FB, when people started abusing me for my post. Maybe the police filed FIR against me under political pressure, because initially, they refused to do so," said Maheshwari, who belongs to Balai community under scheduled castes.
The other youth Nihale tried to juxtapose religious belief with economic parameters.
"A recent Global Hunger Survey ranked India on 100th position among 119 nations on hunger. I only wanted to know if we worship Lakshmi and Kuber—the deities of wealth and prosperity, why India continues to be so lowly ranked on hunger parameter? I don't believe in religious hypocrisy, so I questioned without using any derogatory language. Police filed FIR against us when a group of nearly 100 people reached Khargone thana and created pressure," said Nihale.
The FIR was filed against them at Khargone police station on 20 October. The police said it was filed under Section 153B of the Indian Penal Code as the complainants had claimed that due to the Facebook posts their religious sentiments were badly hurt and it could lead to social tension.
Khargone is a known to be a communally charged district.
Meanwhile, various communities belonging to scheduled castes and scheduled tribes of Khargone have come up strongly in support of these two youths and against the police. A protest rally was taken out on 26 October, demanding an FIR against the complainants.
"Police filed FIRs under the pressure from a few right-wing organisations and local BJP workers. I'm told that the pressure on police came from Khargone MLA. After the Diwali festival, nearly 100 people belonging to these Hindutva groups gheraoed Khargone police station demanding FIR and arrest of Ritesh and Ojas. It's ridiculous that in Madhya Pradesh, even a Hindu can't ask a simple question on religion. There's nothing objectionable or blasphemous in these Facebook posts," Narendra Arya, activist and district president, Balai Samaj Sangathan, Khargone told Firstpost.
Another Khargone resident and an insurance agent working in Indore, Jitendra Khede, said that he too had received threats and abuses on his Facebook post prior to Diwali.
"The trolls threatened me that I would be booked by police for my Facebook post. However, as I'm associated with local workers' union, these right-wing goons didn't take it up further unlike in the case of Ritesh and Ojas. These Hindutva fringe outfits have been targetting Dalits, who are not with them, for quite some time," said Khede, a CITU activist.
The state unit of CPM has written to the Madhya Pradesh police chief demanding action against those who pressured police to file FIR and to ensure that the youths do not get arrested.
"Considering a simple query on Hindu religion by a Hindu youth as 'hate speech' shows 'talibanisation of Indian culture'. The worst is the action taken by the police in this case, as the latter is known for desisting from filing an FIR even of a rape victim. We've asked the DGP to terminate this FIR and ensure that in future, police shouldn't make a mockery of law and order," said CPM state secretary and central committee member, Badal Saroj.
Entertainment
"I was too busy with work, did not know what Raj Kundra was up to," said the #ShilpaShetty's statement, which is a part of the 1,400-page charge sheet filed by the Mumbai Police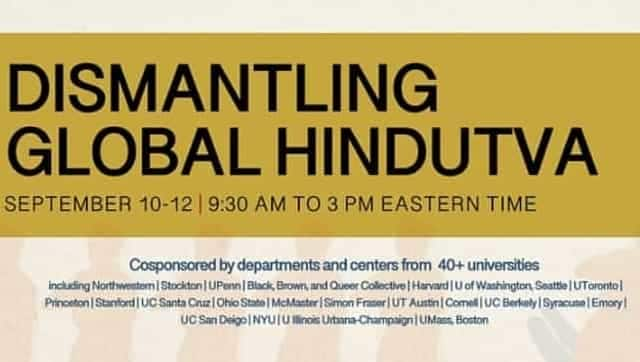 India
From being called "dotheads" and "cow piss drinkers" to being force-fed beef under the garb of a joke or by "mistake", on-campus traumatic episodes are aplenty
India
Hinduism has long been under the assault by western academia since the dawn of the colonial era of European supremacism