Twitterati celebrate 72nd Independence Day, praise all-women SWAT team; Tricolour hoisted in Kabul
Independence Day wishes poured in on Twitter, as social media users shared what freedom and independence meant to them.
As the nation celebrates its 72nd Independence Day on Wednesday, Indians across the world are sharing on Twitter what freedom means to them and how they define independence. The day's events started with Prime Minister Narendra Modi hoisting the Tricolour, followed by his address to the nation from the Red Fort in Delhi.
As the celebrations for the historic day proceeded, here is how people on Twitter observed this day:
Indian tennis star Sania Mirza said she received her independence when she started playing for her country, a day after replying to a troll who asked her if her independence day fell on Tuesday, when Pakistan celebrated the special day.
The day I won the first point for my country on international turf was the day I got freedom from my naysayers. That was #MyIndependenceDay. When was yours? @olacabs pic.twitter.com/CjluBqg8OI

— Sania Mirza (@MirzaSania) August 15, 2018
While politicians also took to Twitter to wish the country a happy Independence Day, National Conference leader Omar Abdullah asked for internet and phone services to be restored in Jammu and Kashmir.
Happy Independence Day. Can we have our internet & mobile phone connections back now? #Srinagar #Kashmir — Omar Abdullah (@OmarAbdullah) August 15, 2018
Jammu University hoisted a 140-foot national flag in Jammu.
Jammu University hoist Highest National Flag in #Jammu, 140 ft.#IndependenceDayIndia#IndependenceDay2018#IndependenceDay#Tricolour#IndianFlagpic.twitter.com/77JQeq6iN1 — JammuVirasat (@JammuVirasat) August 15, 2018
In Assam and Gujarat, giant flags were unfurled. A 1,100-meter-long Tricolour was unfurled in Gujarat's Surat, with thousands of people taking part in a five-kilomtre-long 'Shaan-e-Tiranga' rally, organised by the Agrawal Vikas Trust.
#WATCH 1100 meter long tricolour unfurled in Gujarat's Surat #IndependenceDayIndia pic.twitter.com/6Kl1kFVDhp — ANI (@ANI) August 15, 2018
India's Independence Day was also celebrated in other countries. A flag-hoisting ceremony was held in Kabul, Afghanistan, in the presence of officials from the Indian High Commission and members of the Indian community.
Flag hoisting ceremony was held at the Chancery in #Kabul in the presence of the Embassy officials and Indian community. Cd'A Shri Kapil Dev addressed the gathering and read out the address of the President of India on the eve of the 72nd Independence Day.#IndependenceDay2018 pic.twitter.com/I7icL35ZHh — India in Afghanistan (@IndianEmbKabul) August 15, 2018
Celebrities also wished the country a happy Independence Day. Salman Khan asked his followers to strive to be financially and emotionally independent and also took the opportunity to share the teaser for his upcoming film, Bharat.
Wishing sab ko a v happy independence day. B financially independent but try n remain emotionally dependent, all the happiness n success to all . #HappyIndependenceDay2018 — Salman Khan (@BeingSalmanKhan) August 15, 2018
Other actors, including Amir Khan, Shahid Kapoor and Kriti Sanon also took to Twitter to wish the country a happy Independence Day, sharing what freedom means to them. Comedian Vir Das asked his followers about their Independence Day checklist while sharing his.
I think we all have some sort of Independence Day checklist 🙂 Here's mine: Kurta pajama. Watch Gandhi because it's on every channel. Some sort of crazy fattening meal. Usually Cholla Bathura from Punjab Sweet House. Kaju Ka Barfi...must. Evening drive. You? — Vir Das (@thevirdas) August 15, 2018
Padma Shri-winning sand artist Sudarsan Pattnaik created a beautiful work of art commemorating India's multiculturality.
Many languages, many cultures adorn the landscape. But a national celebration of diversity strings together the bonds of unity through #EkBharatShreshthaBharat#HappyIndependenceDay2018 My SandArt at Puri beach . pic.twitter.com/9HJpnsDhie — Sudarsan Pattnaik (@sudarsansand) August 15, 2018
The Indo-Tibetan Border Police tweeted a picture of soldiers holding the national flag while trudging through the snow in the Himalayas.
'कदम कदम बढ़ाये जा, ख़ुशी के गीत गाये जा, ये जिंदगी है कौम की, तू कौम पे लुटाये जा'#Himveers in the #Himalayas#72ndIndependenceDay#IndependenceDayIndia #स्वतंत्रतादिवस pic.twitter.com/Elar56kCL0 — ITBP (@ITBP_official) August 15, 2018
Besides Independence Day wishes, Twitter has also has been abuzz about the deployment of an all-women SWAT team at the Red Fort.
For the first time ever, an all women #SWAT commando team guarded the Prime Minister of India during his #IndependenceDay appearance. This Republic is in very safe hands #DaughtersOfIndia #IndependenceDayIndia pic.twitter.com/hDIkMgaFk0 — कमलेश राजपूत (@kmlshdbh) August 15, 2018
India gets 1st Women #SWAT force. A team of 36 women commandos from NE India are all set to combat situations that pose an extreme threat to security in our Nation.They're also trained in 'Krav Maga' martial arts which is developed by Israel Army. Happy #IndependenceDayIndiapic.twitter.com/g4U3FI1pRk — Murali (@mayamadhava) August 15, 2018
Police forces of various states also took to social media to share their wishes. The Bengaluru Police said it "salutes real heroes on Independence Day".
Let us all celebrate Independence Day 2018, remembering those countless Indians who sacrificed their lives to free our Motherland. With freedom and pride,let us salute our beloved tricolour flag. ದೇಶದ ಸಮಸ್ತ ಜನತೆಗೆ 72 ನೇ ಸ್ವಾತಂತ್ರ್ಯ ದಿನಾಚರಣೆಯ ಶುಭಾಶಯಗಳು.#HappyIndependenceDay2018 pic.twitter.com/WxYek0ERCE — BengaluruCityPolice (@BlrCityPolice) August 14, 2018
The Mumbai Police posted a video, in which it said freedom and responsibility were incomplete without each other, just like Mumbai and Mumbaikars.
Just like we are incomplete without Mumbai & Mumbaikars... #HappyIndependenceDay2018 pic.twitter.com/qlUSECqq44 — Mumbai Police (@MumbaiPolice) August 14, 2018
Find latest and upcoming tech gadgets online on Tech2 Gadgets. Get technology news, gadgets reviews & ratings. Popular gadgets including laptop, tablet and mobile specifications, features, prices, comparison.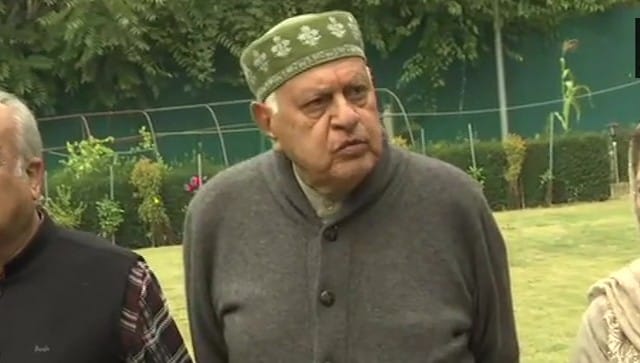 Politics
In a two-page letter to J-K Election Commissioner KK Sharma, Farooq Abdullah said providing security to a select few and literally interning the rest is a gross interference in democracy
India
Taking to Twitter, both leaders slammed the Central Government, claiming that the UT administration is blocking candidates opposed to the BJP from campaigning by using security as an excuse
India
Addressing the G20 side event on 'Safeguarding the Planet', Modi said India is not only meeting its Paris Agreement targets, but also exceeding them