Tripura, bastion of CPM, is low on development but high on social and health indices
Tripura, the north-eastern Indian state that goes to the polls on Sunday, 18 February, 2018, is the bastion of the Communist Party of India-Marxist (CPM).
By Alison Saldanha & Swagata Yadavar
Mumbai: Tripura, the north-eastern Indian state that goes to the polls on Sunday, 18 February, 2018, is the bastion of the Communist Party of India-Marxist (CPM). But the small state – its population is 3.6 million, comparable to Jaipur – has become critical for the ruling Bharatiya Janata Party's (BJP) plans to expand its base in India's north-east.
Under the incumbent CPM-led Left Front alliance for 25 years now – and earlier for 10 years between 1978 and 1988 – this is the first time in Tripura's history that the BJP has appeared as a major contender for state rule.
Prime Minister Narendra Modi of the BJP has promised a job for every household in Tripura and special economic zones for food processing, bamboo, textiles and so on, the Mint reported on 13 February, 2018. "Unemployed youths of Tripura are striving for being employed, suffering from job droughts," he said at an election rally.
"Next government in Tripura will be of the BJP," said BJP president Amit Shah at a poll rally. "There is anger against the CPM government throughout the state, because of their misrule Tripura stands last when it comes to development."
The green hill state's development parameters are mixed. It has a literacy rate of 87.8 percent and is the fifth-most literate state in the country as per the 2011 Census. The state's sex ratio, at 960 females per 1,000 males, is above the national average of 942. On multiple social and health indicators, Tripura competes with Goa, Kerala, Karnataka and Gujarat – which rank first, eighth, 10th and 12th on per capita income (2014-15) – our analysis showed.
But, at 19.7 percent, Tripura also holds the highest unemployment percentage in India – four times the national average (4.9 percent), showed an IndiaSpend analysis of the ministry of labour's annual Employment-Unemployment Survey, 2015-16 report. Agriculture is the main source of employment for 64 percent of the state's population but 60 percent of the state is forestland, and barely 27 percent of Tripura's undulating land is available for farming.
Tripura also features in the bottom pile for per capita income, ranking 24 of 36 states and union territories, showed India's Economic Survey report for 2017-18. With an income of Rs 71,666 per person in 2014-15, Tripura stood below the national average (Rs 86,454), between backward states like Rajasthan (Rs 75,201) and Madhya Pradesh (Rs 56,182), as per an IndiaSpend analysis of government data.
What holds Tripura back? "High rate of poverty, low per-capita income, low capital formation, inadequate infrastructural facilities, geographical isolation, communication bottleneck, inadequate exploitation, inadequate use of forest and mineral resources, low progress in industrial field and high unemployment problem," said the state's Economic Survey 2015-16.
Unemployment And Per Capita,Income In 10 States
State
Per Capita Income (Rs)*
Unemployment rate (In %)**
Kerala
135537
12.5
Goa
289185
9.6
Meghalaya
64638
4.8
Tripura
71666
19.7
Gujarat
127017
0.9
Assam
52895
6.1
Karnataka
129823
1.5
All India average
86454
4.9
Uttar Pradesh
42267
7.4
Madhya Pradesh
56182
4.3
Rajasthan
75201
7.1
Source: Economic Survey 2017-18, Labour Bureau 2015-16; *Figures for 2014-15, **Figures for 2015-16
Other key findings:
Tripura showed the best improvement in infant mortality rate among the 10 states we analysed, dropping 24 points from 51 deaths per 1,000 live births in 2005-06 to 27 in 2015-16;
The state's mortality rate for children under five years of age dropped 26 points to now rank fourth best (33 deaths per 1,000) among 10 states analysed;
Tripura boasts of one of the highest female literacy rates in India (89.5 percent) but holds the second lowest percentage of women educated for more than 10 years (23.4 percent), much worse than the national average (35.7 percent).
Methodology:
For our analysis, we compared Tripura's performance with nine other states and the national average, on 18 development indicators in health, education, gender, employment and access to better infrastructure.
The period of comparison stretches over a decade from 2005-06 to 2015-16, using data from the National Family Health Survey for 2005-06 (NFHS 3) and 2015-16 (NFHS-4), the National Health Profile (NHP) 2017, the ministry of labour and employment, and the Economic Survey 2017-18.
The states chosen for our analysis include development leaders with high per-capita incomes such as Kerala, Goa, Gujarat and Karnataka, and laggards with poorer incomes such as Madhya Pradesh (MP), Rajasthan, and Uttar Pradesh (UP), along with Assam and Meghalaya, Tripura's neighbours in the north-east region.
Politically, four of the states – Madhya Pradesh, Rajasthan, Goa and Gujarat – are under BJP-rule. While UP and Assam are also under the BJP today, they were ruled by the Samajwadi Party and the Congress respectively in 2016–the cut-off year for our analysis.
Kerala is another on-off bastion of the CPI(M), while Karnataka is a Congress-ruled state.
Public healthcare is effective but short of doctors
In terms of stunting (low height for age) and wasting (low weight for height) of children under five years of age, Tripura improved its healthcare efforts considerably over the decade to 2015-16. It now ranks third among the best states on both counts – ahead of Karnataka and Gujarat – in our analysis. The state's stunting rate is 24.3 percent, and its wasting rate is 16.8 percent.
Health Indicators Of Tripura Vis-a-vis Other States
State
Stunting (In %)
Wasting (In %)
Infant Mortality Rate
Under-five Mortality Rate
Kerala
19.7
15.7
6
7
Goa
20.1
21.9
13
13
Meghalaya
43.8
15.3
30
40
Tripura
24.3
16.8
27
33
Gujarat
38.5
26.4
34
43
Assam
36.4
17
48
57
Karnataka
36.2
26.1
28
32
India Avg
38.4
21
41
50
Uttar Pradesh
46.3
17.9
64
78
Madhya Pradesh
42
25.8
51
65
Rajasthan
39.1
23
41
51
Source: National Family Health Survey 2015-16 data for Kerala, Goa, Meghalaya, Tripura, Gujarat, Assam, Karnataka, India, Uttar Pradesh, Madhya Pradesh, Rajasthan; Mortality rates in deaths per 1,000 live births.
Like other states in the north-east, connectivity remains a major challenge for Tripura. With Bangladesh surrounding its north, south and west, the state is further isolated from the mainland. A single highway, National Highway 44, runs through the state, connecting it to the rest of India. About 59 years after the former princely state merged with the Indian republic, it's capital, Agartala, was finally connected to the country's railway network in 2008.
Despite this, the state showed the best improvement in infant mortality rate (IMR) among the 10 states analysed, dropping 24 points from 51 deaths per 1,000 live births in 2005-06 to 27 in 2015-16. Behind Kerala (6) and Goa (13), Tripura's IMR is now ahead of Karnataka (28) and Gujarat (34).
In terms of the mortality rate of children under five years of age, the state dropped 26 points to now rank fourth (33 deaths per 1,000) among the 10 states in our analysis.
These positive health outcomes may be attributed to Tripura's improved antenatal care. In 2015-16, the percentage of women visited by a healthcare worker at least four times during pregnancy — the minimum requirement according to the World Health Organization's guidelines – rose to 64.3 percent from 50.6 percent in 2005-06. Gujarat's coverage of antenatal care, which stood at a similar level of 50.1 percent in 2005-06, leaped 20 percentage points ahead to 70.6 percent in 2015-16.
Tripura's per capita health spending (Rs 2,266) is the third highest among the 10 states – after Goa (Rs 2,927)  and Meghalaya (Rs 2,366) – and even higher than the much richer Kerala (Rs 1,437), Gujarat (Rs 1,156) and Karnataka (Rs 1,043), according to the NHP 2017.
Further, only 9 percent of people in Tripura use private healthcare for their needs compared to 55.1 percent nationally, while 69.1 percent of all deliveries take place in a public health facility compared to 52.1 percent nationally, show NFHS-4 data for 2015-16.
In institutional births, Tripura, while reporting an improvement of 33-percentage points to 79.9 percent in 2015-16, still falls behind at rank seven in our analysis. Though it is above the national average (78.9 percent), only Assam (70.6 percent), Uttar Pradesh (67.8 percent) and Meghalaya (51.4 percent) fare worse.
Progress on this indicator may be related to the lack of specialist doctors in Tripura's community health centres (CHCs). Of the 80 specialist doctors needed in Tripura's CHCs, only one was in position, according to latest rural health statistics from 2016.
Based on 2011 population numbers, while there are enough sub centres, there are considerable shortfalls in the number of PHCs and CHCs needed in the state — 14 percent and 26 percent respectively, according to this analysis by Observer Research Foundation, a think tank.
Tripura still struggles with antenatal care: Only 7.6 percent women received all recommended types of antenatal care as compared to 21 percent nationally.
Further, immunisation coverage in the state grew a mere 4.8-percentage points from 49.7 percent to 54.5 percent – the lowest among the 10 states analysed – to rank sixth in our analysis. It ranked ahead of Assam (47.1 percent), Gujarat (50.4 percent), Uttar Pradesh (51.1 percent) and Madhya Pradesh (53.6 percent).
Nationwide, the percentage of children who received full immunisation – that includes polio, BCG, DPT, and measles vaccines – during this decade rose 18.5 percentage points from 43.5 percent in 2005-06 to 62 percent in 2015-16, as IndiaSpend reported on 28 April, 2017.
High literacy rates for women, but early marriages and motherhood too
Tripura has one of the highest female literacy rates in India (89.5 percent), earning it the State Decadal Award for literacy, 2001-2011. Majority of married women in the state participate in household decisions (91.7 percent) – better than the national average (84 percent), and third best among 10 states analysed. Yet, the number of women with more than 10 years of schooling, at 23.4 percent, is the second lowest in our analysis and much worse than the national average (35.7 percent).
Further, almost a third of women (33.1 percent) in Tripura are married before the age of 18 – the second highest proportion after Rajasthan (35.4 percent) and higher than the national average (26.8 percent). However, while Rajasthan improved by nearly 30 percentage points over the decade to 2015-16, Tripura reduced early marriages by a mere 8.5 percent points since 2005-06.
These social conditions have their consequences: Nearly 19 percent of women aged 15-18 years in the state are pregnant, more than twice the national average of 7.9 percent.
In Tripura, more than half the women of reproductive age, or 54.5 percent, are anaemic. Despite a 10.6 percent improvement over 10 years, the prevalence of anaemia is the second highest after Gujarat (54.9 percent) and higher than the national average (54 percent).
Early marriage, and lower education could be underlying factors of Tripura's continuing struggle with anaemia among women of reproductive age. Anaemia during pregnancy increases the chances of foetal deaths, abnormalities, preterm and underweight babies, and causes a fifth of maternal deaths, IndiaSpend reported in October 2016.
Good access to drinking water, power but sanitation is a concern
At 92.7 percent, access to electricity for households in Tripura is better than the national average (88.2 percent) and comparable to wealthier states of Kerala, Goa, Gujarat and Karnataka.
Over 87 percent of households in Tripura have an "improved source for drinking water" – the officialese for piped or protected source of water – below the national average of 89.8 percent households. Still, the state fares better than nearby Meghalaya (67.9 percent) and Assam (83.8 percent).
While Tripura's open defecation rate is 3.5 percent – among the lowest in the country, nearly 40 percent of its population still does not have access to "improved sanitation", toilets where waste is disposed without human contact. Still, as the chart below shows, this is better than most states and much better than wealthy Karnataka.
Lack of access to improved sanitation facilities could impede progress on curbing stunting in children, and anaemia, according to these reports from IndiaSpend, published in April 2017 and September 2016.
(Saldanha is an assistant editor and Yadavar is a principal correspondent with IndiaSpend.)
Follow LIVE updates on Tripura Assembly Election results here
Click here to follow LIVE updates on North East Election results here
Find latest and upcoming tech gadgets online on Tech2 Gadgets. Get technology news, gadgets reviews & ratings. Popular gadgets including laptop, tablet and mobile specifications, features, prices, comparison.
World
Trump will go down in history as the Republican president who fulfilled his party's perhaps greatest agenda, one that was thirty years in the making
Entertainment
Master looks into prisons, specifically the juvenile system, and gives us a glimpse of the nature of restorative justice.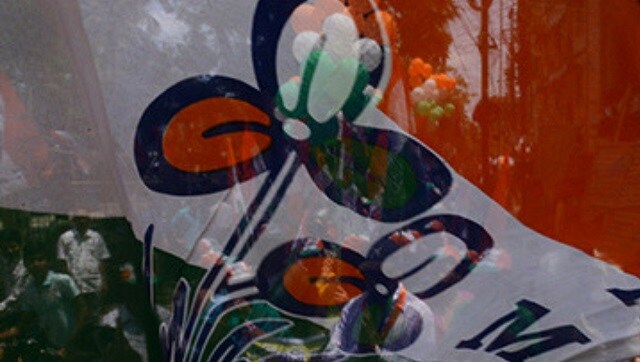 India
The BJP, which has emerged as a potent force in the state, said the TMC's suggestion amounted to admission that it was not in a position to take on the saffron party on its own in the assembly polls in West Bengal due in April-May