Triple talaq bill: Instead of taking refuge in constitutional and Sharia laws, AIMPLB should help end persecution of women
The Muslim community in India and the AIMPLB needs to stop hiding behind the Shariat Laws to justify ill-treatment of women and their persecution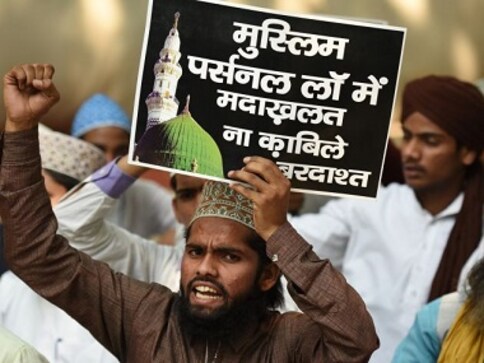 The Muslim Women (Protection of Rights on Marriage) Bill, 2017, was tabled in the Lok Sabha on Thursday. Prepared by an inter-ministerial group headed by Home Minister Rajnath Singh, the bill makes instant triple talaq or talaq-e-biddat in any form — spoken, in writing or by electronic means such as email, SMS or WhatsApp — "illegal and void", while providing for a jail term of three years for the husband.
The bill also offers Muslim women custodial rights of their minor children and guarantees periodic maintenance.
So if the bill ensures equality for Indian Muslim women, why is the All India Muslim Personal Law Board (AIMPLB) so determined on thwarting it? Why is the AIMPLB not willing to support a bill that safeguards women's rights, even running the risk of being branded a misogynistic group of mullahs?
The AIMPLB has not only expressed its dissatisfaction over the bill via television news channels, but on 25 December also wrote a letter to Prime Minister Narendra Modi, urging him to withdraw the bill.
The AIMPLB argued that the bill violates the guarantees specified under Article 21 of the Constitution. It also objects to the definition of 'triple talaq' in the bill, which, it claims, may also include talaq-e-bain — a husband declares divorce from his wife for the third time in one marriage, but after indefinite intervals — which was not held illegal by the Supreme Court. Khula, which gives a Muslim woman a right to seek divorce from her husband is also a form of taalaq-e-bain, as per Sharia law.
"In case your government considers it necessary to enact a law in this respect, consultations must be held with the AIMPLB and such Muslim women organisations that are true representatives of Muslim women," the AIMPLB said in its letter to Modi.
The AIMPLB's opposition to the bill stems from the body's belief that instant triple talaq is permitted in Islam. An anecdote that is often cited in this context is that of the second caliph Umar, who according to several reports, allowed triple talaq in one sitting. Though there are reports which claim that the Prophet didn't allow triple talaq in one sitting, most Muslims in India (and AIMPLB) don't wish to challenge Umar's position and hence their reluctance to support the ban.
The Quranic verses on talaq appear cryptic. And if negating Quran is kufr (rejection of Islam), so is to derive meaning which doesn't exist. Perhaps that's why Muslims have traditionally relied on scholars to understand Quran clearly. But instead of launching a fresh discussion on the legalities of instant triple talaq according to Islam and educating the public about it, the AIMPLB has sought refuge behind articles 25, 26 and 29 of the Constitution that deal with protection of personal laws.
Still, irrespective of whether it's validated in Quran and the Sunnah of the Prophet — the combination of which forms the crux of Sharia law — the tussle over validation of instant triple talaq raises a larger question which pertains to the ethics behind the practice: Is it ethical to allow men to unilaterally divorce their wives and face no consequences for it? Does the AIMPLB genuinely believe that women shouldn't have a say in divorce? And why shouldn't a woman be entitled to maintenance after separation?
Marriage is construed as an agreement in Islam. By allowing only men the right to claim instant triple talaq, it gives one party the right to end this contract without the fear of consequences. Where's the equality that Islam promises?
The Quran promises justice for all on Judgement Day. But if justice can be provided in this life, then why not go for that? The life of a Muslim is as much about leading an ethical, corruption-free life as it is about fasting and praying five times a day. And triple talaq is a form of corruption that has allowed men superiority in marriages.
In many ways, instant triple talaq is the root cause of evil in Muslim families. It's a weapon that neither a woman's husband nor her in-laws shy away from using, to threaten or silence her and her parents into submission. It's used to silence cases of domestic violence and protests against demands for dowry. It allows men to turn women into a "use and throw" commodity.
The Muslim community in India and the AIMPLB need to stop hiding behind the Sharia laws to justify ill-treatment of women and their persecution. Rather than hiding behind articles 25, 26 and 29 of the Constitution to prove their point, they could do better and ponder over the 'Hadeeth', which says, "The most hated thing before Allah is divorce."
Besides, if religious freedom is under threat, it's likely because the AIMPLB and the Muslim community themselves thought it best to play the victim card instead of resolving the issue. They failed to include equality of women's rights in Sharia laws.
also read
India
PM Modi inaugurated the new Parliament building with much pomp. The building is courtesy of noted architect Bimal Hasmukh Patel from Ahmedabad. The 61-year-old has come to be known as the 'PM's architect' as he is also the brains behind the Sabarmati Riverfront and the Kashi Vishwanath projects
Politics
Rahul Gandhi was a Member of Parliament (MP) of Wayanad (Kerala) till early this year after which he was disqualified from Lok Sabha following his conviction a Surat court in "Modi surname" remark
India
A bunch of opposition parties has boycotted the grand opening ceremony of the new Parliament building