Transgenders break political barriers: Left youth group allows membership to third gender in Kerala
In a first kind of its initiative, Surya and five other transgenders in Kerala's capital Thiruvananthapuram have been granted membership to the Democratic Youth Federation of India (DYFI) and thus giving them strong political backing.
Surya Abhilash, a transgender from Kerala, is optimistic that she will receive justice.
In a first kind of its initiative, Surya and five other transgenders in Kerala's capital Thiruvananthapuram have been granted membership to the Democratic Youth Federation of India (DYFI).
The DYFI is one of the largest left-wing youth organisations in the country and claims to have more than 2 million members, thus giving transgenders strong political backing.
In addition to offering them membership, the DYFI, spearheaded by Communist Party of India (Marxist) leaders from its inception in 1980, formed a Thiruvananthapuram unit with Surya and her friends as members.
Surya, who is breaking ground, told Firstpost that being recognised and entering the political space will be of great help in her community's fight for justice.
IP Binu, a ward councilor and DYFI Kerala member, told Firstpost that transgenders comprise six out of eleven members in the unit.
"It's a move to bring them into the mainstream," Binu said. "We are progressive and youth-oriented. If we don't step up, who will?"
Binu added: "These youngsters formed self-help groups in my ward. They also took part in many social outreach programmes. So I was pleased when they approached me with the idea of joining DYFI. We formed the unit quickly."
Surya, the president of the new unit, said this sort of space for transgenders was much needed.
"We are grateful to the DYFI for providing us with a platform. When we stick together, we have power. We don't want to be sidelined," Abihlash said.
However, Surya said they don't want to be defined or labelled as "transgender comrades."
"We just want to be treated equally," Surya said.
In its previous all-India conference, the DYFI decided to allow transgenders to become members and have even added the option of a third gender to their membership form.
Shyama S Prabha, another transgender in Thiruvananthapuram, has been named secretary of the newly-formed unit.
Kerala: Leading the way
After to the Supreme Court's landmark judgment of 2013 (NALSA Vs Union of India), which declared transgender persons to be a third gender, Kerala government introduced a transgender policy.
A transgender woman has since approached the Kerala High Court seeking it to direct the Kerala Public Service Commission to create a transgender option on job application forms.
The petition alleges that since job application forms do not have the option of a third gender, transgender persons are being discriminated against on the basis of sex.
I Saju, DYFI Thiruvananthapuram district secretary, told Firstpost his organisation will promote and highlight the problems that transgenders face. "They face problems everywhere: Be it getting a driving licence, being excluded from health schemes or facing attacks."
Saju said that if more transgenderscome forward and express the willingness to join DYFI, they are prepared to start such units all across the state.
Social activist Mini Mohan dubbed this an historic move.
"Transgenders played a prominent role in our society when we were being ruled by kings and queens. But when the British took over, they were sidelined. Now, they are gaining visibility and recognition. Which for them, is a matter of pride."
"Gaining a political space will help them gain a foothold. And then, they will soon have a say in policy making," Mini added.
Kerala has recently taken several steps to bring transgenders into the mainstream. Kochi Metro is employing 23 transgenders and in September, a state-run medical college opened a free clinic which caters exclusively to the transgender community.
Kerala has also started India's first school for transgenders, held the first athletic meet for transgenders and even held India's first transgender beauty pageant.
One step forward, two steps back
The Left government in Kerala allocated Rs 20 crore in two successive budgets to fund initiatives to aid the transgender community.
However, the increased visibility has also created problems for transgender individuals.
They are still seen as outcasts, shunned and struggle to even find accommodations.
"On the one hand, there is some progress. But on the other, transgender individuals still face harassment and physical abuse. One hopes things change quickly so that they are given the opportunity to live freely and are afforded the rights of any other citizen," Mini added.
In August, the Supreme Court in a landmark judgment declared that privacy was a fundamental right.
While the verdict had far-reaching implications for all citizens, it also offered a ray of hope to India's LGBTQ community.
The verdict also opened up a whole host of possibilities: Reconsidering Section 377, which criminalises 'carnal intercourse against the order of nature' and has been used in many cases against people in consensual homosexual relationships.
However, in September, India voted against United Nations' ban on death penalty for same-sex relationships.
Subscribe to Moneycontrol Pro at ₹499 for the first year. Use code PRO499. Limited period offer. *T&C apply
India
Mani C Kappen, who is heading the faction, revolted against the state LDF leadership following the reported move by the CPM to hand over Pala Assembly seat to its new ally, Kerala Congress (M)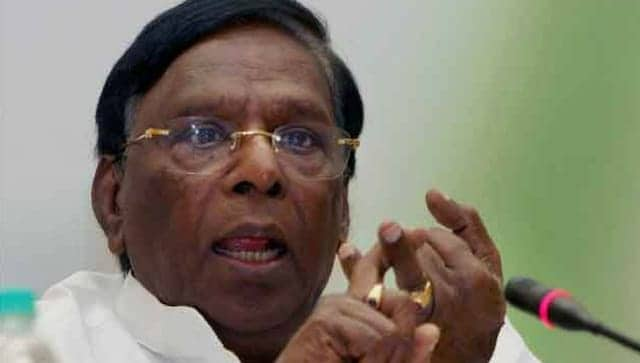 Politics
With the collapse of the Puducherry government, the Congress has lost its second government in a year after Madhya Pradesh
Politics
A floor test on Monday will decide the future of Narayanasamy's government, barely two months before the Assembly polls in the Union Territory are scheduled to be held