Transgender people in police force: Other states should emulate the Tamil Nadu model of sexual diversity
transgender people will get the concessions of women in terms of educational qualifications, physical fitness and reservation. An amazing turnaround for a state, which in 2013 had rejected a transgender candidate when she failed a medical examination for police recruitment.
Last year when Prithika Yashini got recruited to the Tamil Nadu police, she became India's first transgender sub-inspector. It was not easy for her — she had to fight for her right at the Madras High Court, which in turn had relied on a landmark Supreme Court judgment of 2015.
Yashini's historic achievement, which made headlines across the world, seems to have signalled a great transformation in the lives of transgenders in India. Reportedly, the Tamil Nadu police has issued orders to include transgenders in its latest recruitment of over 13,000 police constables in the state.
In remarkable affirmation of sexual diversity, they also have been allowed to apply as male, female or the third gender.
Moreover, transgender people will get the concessions of women in terms of educational qualifications, physical fitness and reservation. An amazing turnaround for a state, which in 2013 had rejected a transgender candidate when she failed a medical examination for police recruitment.
If all goes well, by December, the state will have many transgenders on the streets in police uniform and that will be the single most important demonstration of their their socio-economic transformation. Despite a rather progressive cultural and policy environment, transgenders in the state have been stigmatised and have not been been able to free themselves from the popular stereotypes. Denied formal and informal employment, the only livelihood options available to most of them — particularly the outed ones — were prostitution or begging. Purely because of their gender reasons, they have been denied all basic rights such as access to appropriate housing (most of them end up in slums under exploitative conditions), healthcare, banking, credit, and most importantly, jobs.
The present breakthrough is a great example of how progressive policies can help address social marginalisation. The state was the first in India to have instituted a transgender policy that carried a number of welfare entitlements, which was followed by a transgender welfare board in 2008. In the same year, the government also issued an order to include a "third gender" in applications for admission to government colleges.
That DMK leader Kanimozhi actively championed their cause made a huge political difference. Her party MP Trichy Shiva even introduced a private bill in Rajya Sabha proposing reservation for them. Undoubtedly, no other state government in India or political party would have made such sweeping policy changes to address a major issue of social marginalisation. And the results clearly demonstrate that political affirmation really works. The present government also seems to be treading the same path.
Although sporadically, encouraging things are happening elsewhere in India as well. A couple of months ago, Kochi Metro announced that it would employ, although not directly, transgender people in housekeeping, crowd management and customer care. Reportedly, the suggestion came from the local police, which not long ago clashed with some transgender activists on the streets. A popular women's weekly in the state 'Vanitha' featured a transgender on its cover and also carried a stylish photoshoot with her. Sexual diversity is slowly becoming a mainstream thing in the state's media as well.
Similarly, last year, a college in West Bengal appointed a transgender person as its principal, which was another first in the country.
Tamil Nadu's affirmative steps towards breaking stereotypes, surrounding transgender people and mainstreaming them, stands out as a unique model. Home to India's largest festival that celebrates the live of transgender people (Koovagam Koothandavar festival), the state has a history of tolerance to sexual diversity. It also had at least two TV channels in which transgender people anchored prime time programmes. However, social stigma and lack of safety nets still kept them on the margins of society and they continued to live on the streets either selling sex or harassing people. What began to change the odds against them was the political recognition of their rights in the late 2000s and commensurate policy interventions by the then state government. Policy empowerment and greater visibility prompted them to assert their rights.
The final breakthrough came from the Supreme Court in 2015, when it recognised them as the "third gender" and asked the Centre to treat them as socially and economically backward. In fact, it was the same Supreme Court verdict that helped the Madras High Court pass orders in favour of Yashini getting her the inspector's job.

What also tipped the situation in their favour was pressure from the civil society. The state has a number of NGOs that advocate for the rights of the transgender people.
The Tamil Nadu experience should be an inspiring lesson for other states. The Supreme Court in its 2015 order was very clear that the "absence of law recognising hijras as third gender could not be continued as a ground to discriminate them in availing equal opportunities in education and employment." The order gives them the same reservation rights as the OBC.
Nothing prevents the transgender people from demolishing the stereotypes and shun the wretched lives that they had been enslaved to — they have the law on their side and they have examples such as Tamil Nadu. It's time they asked for their rights become more visible. Sexual diversity is a reality and people have to see it as mainstream.
India
In the video, the woman can be seen coaxing the snake to leave the front yard of her home.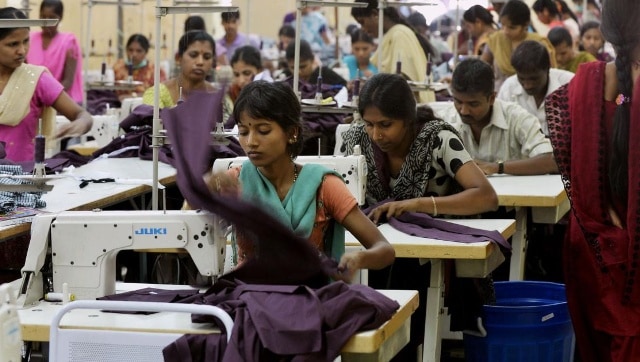 India
The Kerala Shops and Commercial Establishments (Amendment) Act, 2018, was passed in December 2018, guaranteeing improved working conditions in commercial shops
India
Supertech said the order will not have any adverse impact on the company or its group companies as every project has its own independent RERA Account and cost centre