TMC celebrates Mamata's victory with ads in dailies, says people chose development
On Friday people woke up to huge photographs of Mamata Banerjee smiling from full-page ads in leading national dailies.
Kolkata: A day after Mamata Banerjee's Trinamool Congress scored a resounding victory in the assembly polls to retain power, people of West Bengal on Friday woke up to huge photographs of 'Didi' smiling from full-page ads in leading national dailies.
With the name and symbol of All India Trinamool Congress in the top left corner, and a map of West Bengal in white against a blue background -- white and blue are Banerjee's favourite colours -- the advertisement termed the victory as "historic."
"The people have spoken. Development has been chosen."
"This is a victory for Ma Mati Manush", the party said, reiterating Banerjee's pet slogan of mother, land and people.
In the body of the advertisement, the party spoke of the "countless hurdles faced and the malicious propaganda against us," and took potshots at the Congress-Left Front (LF) alliance.
"The coalition between two contradictory ideologies has been outrightly rejected by the people," it said.
"They have also rejected political entities that are alien to our culture and only seek to fuel communalism. The people of West Bengal did not want to regress."
The ad said the people of Bengal have recognised the wave of development and progress.
"The sole reason for this is that we had always given development and progress the highest priority, and had not stooped to petty slandering and hostility towards our opposition."
The party promised to vindicate the people's trust and said it was its mission to ensure "holistic development."
In the 294-member assembly, the Trinamool Congress finished with a whopping 211 seats, leaving far behind the Congress-Left Front alliance that got 77. The Bharatiya Janata Party and its alliance partner Gorkha Janmukti Morcha won three seats each.
The Left Front major CPI-M's Bengali mouthpiece Ganashakti came up with a banner headline "Sarkar fer Trinamooleri" (Trinamool again forms government). The daily gave prominent space to party secretary Surjya Kanta Mishra's comment "we accept the people's verdict, but our fight in the interest of the people will continue."
The largest circulated daily Anandabazar Patrika's headline said "Didii - Dusho par" (Didi crosses 200) and acknowledged that the people's trust for Banerjee has remained intact.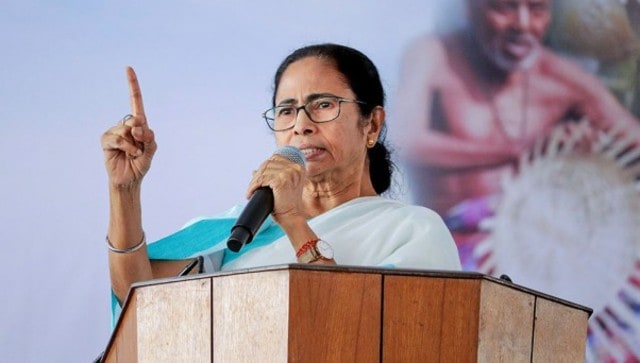 Politics
Sajal Ghosh, the chief election agent of the saffron party's candidate for the constituency, Priyanka Tibrewal, wrote to the EC, raising objections to Banerjee's declaration.
Politics
Ghosh was allegedly pushed by TMC workers when he went inside a vaccination camp at Jodubabur Bazar area in the constituency, where bypoll will be held on 30 September
Politics
Earlier on Saturday, the home ministry reduced Supriyo's security category from the 'Z' to 'Y' category