Tigress Avni's cubs spotted: Forest conservator says focus on rehabilitation in wild; learn from neighbouring states, say experts
Avni's 10-month-old cubs, a male and a female, were spotted this morning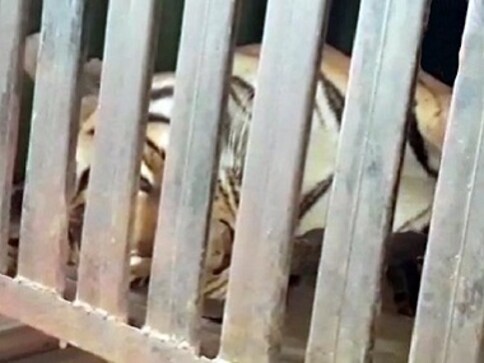 As the nation debates the case of tigress Avni after she was put down on the night of 2 November, it seems there is finally some light at the end of the tunnel. Avni's 10-month-old cubs, a male and a female, were spotted this morning, confirmed Sunil Limaye, Additional Principal Chief Conservator of Forests (Wildlife). The patrol team searching for the cubs spotted them near a place called Vihirgaon Village. Limaye said, "Our first priority is to capture the cubs safely. Then we will take the decision of either shifting them to the zoo or making them able to survive in the wild. We have around 10 hectares of space in Pench, another national park in the state, where we can think of rehabilitating them."
Limaye added, "We were equally worried for the cubs, but we were taking it slow because the cubs were too small and would have been scared of too much human presence." Avni's autopsy report revealed she had not eaten for about 4 to 5 days, which means the little cubs were hungry too and so there was a fear that they might die of starvation.
Cubs are dependent on their mother for food. A mother tiger usually hides the cub when she is on the hunt. She does this because the cubs face danger from other wild animals. The cubs don't change their positions till the time their mother comes back. This is believed to be the first lesson a mother tigress gives to it cubs and is an important law to survive in the jungle. Reacting on the news of cubs being spotted, Dr Jerrly Banait, one of the key petitioners in Avni's case said, "If they have really spotted them, they should not delay the process of rescuing them otherwise it will be difficult to spot them again."
Dr Akhilesh Mishra, senior veterinarian with the Madhya Pradesh Forest Department said, "Avni's stomach was empty, according to the post-mortem report. Which means the cubs were also hungry. These animals can survive from 12 to 16 days, depending upon their last meal and their subcutaneous fat deposit. If the fat deposit is good and they have fed well at an earlier stage, they can survive by burning body fat". Once these animals feel weak, they hide deep inside the forest and then it is very difficult to find them. Also once their immune system breaks down, it's easy for them to get infected."
Mishra was initially a part of the team assembled to tranquilise Avni and her cubs, but he returned to his state after a team was appointed to hunt her down. Mishra's name also figures in the list of veterinarians suggested by Union minister Maneka Gandhi. Discussing the health and possibility of tranquilising Avni's cubs, Mishra said, "In Madhya Pradesh, we have tranquilised and reared 4-month old cubs. If you know your patient, if you know the drug, the animal behaviour and psychology, if you are well equipped and if you have the will you can do it."
An uncertain future
Once captured, the forest department has two options: Shift them to a zoo or help them survive in the wild. Limaye said they will work on rehabilitating them in the wild. Examples from neighbouring states suggest this is a possibility. In 2010, Bandhavgarh lost a famous tigress: Jhurjhur was the mother of three 4-month old cubs. Though one of the cubs died soon after, the forest department put in every effort to rehabilitating the others. From feeding them flesh of small chickens to live bait, the forest department trained them just like their mother would have. The process lasted two-and-a-half years.
By mid-2012, the cubs had grown into magnificent tigers. The male was radio-collared and released in the park's Kalwa range. According to National Tiger Conservation Authority guidelines, a healthy tiger cannot be kept in captivity and must be relocated and rehabilitated.
Mishra added, "We recently tranquilised, captured and reared two cubs in Madhya Pradesh. Also, we reintroduced the female to Nauradehi wildlife sanctuary. She is living like any other tiger: Roaming in the jungles, hunting and mating with her partner. An honest attempt would have saved Avni's life and can save the future of her cubs too, provided the Maharashtra forest department takes help from experts and neighbouring states." Perhaps the only good achieved from Avni's death is the spotlight shone on the incident and tiger conservation by the national media.
also read
Explainers
The Maharashtra government will hold large-scale celebrations to mark the 350th coronation anniversary of Chhatrapati Shivaji Maharaj on 2 and 6 June. The inaugural event will be held at Raigad Fort from where the Maratha warrior was enthroned in 1674
India
Maharashtra CM Eknath Shinde has announced that the city of Ahmednagar will now be renamed Ahilyanagar after the Maratha warrior Ahilyabai Holkar. The Malwa queen was known to be a great ruler and a learned politician. Her contributions to women's empowerment and education are unforgettable
Explainers
A religious procession taken out by a group of Muslims stopped outside the famous Trimbakeshwar temple in Nashik to spread incense in the direction of the deity, as per tradition. However, security guards refused to let them climb the steps. Here's how it snowballed into a controversy