Three, including Doordarshan journalist from Odisha, two jawans, killed in Naxal attack in Chhattisgarh's Dantewada
A cameraman part of a Doordarshan crew was killed in an attack by Naxals in Chhattisgarh's Dantewada district on Tuesday, ANI reported. The crew was attacked by Naxals in the Aranpur area of the district.
A cameraperson from Odisha, part of a Doordarshan crew was killed in an attack by Naxals in Chhattisgarh's Dantewada district on Tuesday, ANI reported. The crew was attacked by Naxals in the Nilavaya village in Aranpur area of the district. According to TV reports, two policemen have also been killed in the attack.
Achyutanand Sahu, the DD cameraperson hails from Loisingha, Bolangir district of Odisha. It is also reported that another DD reporter too took a bullet and has been taken to a nearby hospital. Sources informed Firstpost that the evacuation process is underway and 111 CRPF battalion has been rushed for reinforcement and evacuation.
Chhattisgarh is bound for Assembly elections in two phases next month.
Doordarshan tweeted:
The slain police personnel were identified as Mangal Ram and Rudra Pratap Singh. Two others, including constable Vishnu Netam and assistant constable Rakesh Kaushal, were injured and were taken to the hospital.
"The real face of the Naxals has been exposed," said DIG Naxal Operations P Sundarraj. He further added, "The year 2018 has caused a lot of losses in the resources of the Naxals due to anti-insurgency operations." Sundarraj said that such an attack is an attempt to derail anti-insurgency operations. He also said that two other people have also been injured in the attack. According to the DIG, the media team was travelling with a police patrolling team when the attack took place. A security team is currently at the spot.
Even before the stride of democracy, it was the strike of Maoists that brought the nondescript Nilavaya to the news. Nilavaya is actually on the threshold of history as this round of Assembly election would have been the first kind of any polls held in this Maoist-dominated belt since India's Independence. Maoist menace has been so destructive over the years that the Naxals dug off the approach to a bridge over a river hence making transportation to the village nearly impossible unless one crosses it by other means.
Ahead of the state's Assembly polls scheduled for November, this is the second incident of insurgency-driven violence in less than five days. On 27 October, four personnel of the Central Reserve Police Force (CRPF) were killed and two injured after Naxals blew up a mine-protected-vehicle (MPV) in poll-bound Chhattisgarh's Bijapur district on Saturday, police said.
Reactions pour in Prasar Bharti tweeted: 
Prasar Bharati parivar condoles the death of Cameraman Achyutananda Sahu earlier today near Dantewada in Chhatisgarh. Our prayers with his family during this difficult moment. pic.twitter.com/BQOMg4Jo04 — Prasar Bharati (@prasarbharati) October 30, 2018
Shocked and saddened by the death of our brave cameraman Achyutananda Sahu in the line of duty in Chattisgarh for the cause of democracy. Heartfelt condolences to his family. https://t.co/kFf8YsNwNx

— Shashi Shekhar (@shashidigital) October 30, 2018
BJP's Rajyavardhan Rathore was quoted as saying, "We stand in solidarity with family of the camerman, we will take care of his family. We salute all those mediapersons who go for coverage in such dangerous situations, remember their bravery." The junior minister for sports also tweeted out from his personal handle.
https://twitter.com/Ra_THORe/status/1057185430716669952
More details are awaited.
With inputs from 101 reporters
India
CRPF officer Prakash Ranjan Mishra has been decorated with a gallantry medal for the eighth time, making him the highest recipient of bravery medals among the Central Armed Police Forces (CAPF)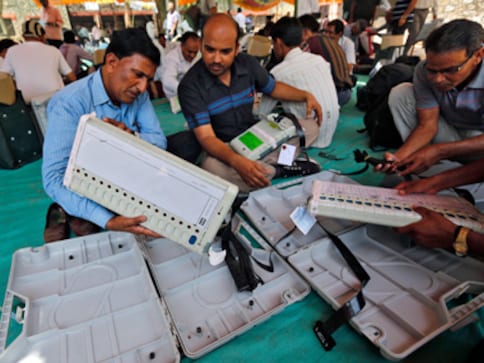 Business
In the annual Budget, Rs 1,891.78 crore has been allocated for purchase of EVMs by the poll panel. Ahead of several assembly polls this year and Lok Sabha elections in 2024, the Union Cabinet had last month approved a proposal for funds to procure additional electronic voting machines for the EC
World
Chaudhry, a former federal minister for information and broadcasting, is facing sedition charges for publicly "threatening" the members of the Election Commission of Pakistan