Third Front talks are fine, but it's Congress which must beat BJP in its den to oust Narendra Modi in 2019
The 'Federal Front' may not be able to unseat Narendra Modi from the throne in 2019 unless the Congress manages to beat BJP in its own backyard.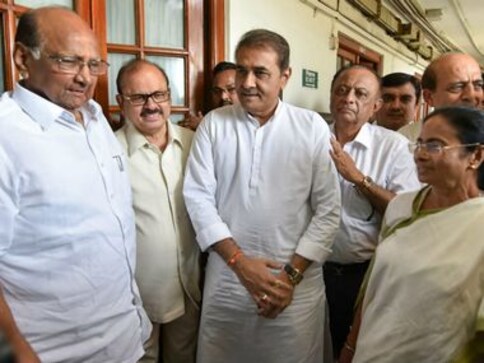 Mamata Banerjee rounded up her three-day visit to New Delhi by meeting Arvind Kejriwal and Sonia Gandhi on Wednesday, in efforts to put up a 'Grand Alliance' against the BJP in the 2019 Lok Sabha elections. She has given the formula of 'one-to-one', implying there should be one united Opposition candidate against the BJP in each seat to put up a tough fight.
Mamata has been leading the talks with regional parties – including NCP, SP, BSP, TRS, RJD etc – to try and repeat a 1977-like experiment, where a majority Opposition contested under one common banner of the Janata Party to oust Indira Gandhi from power.
But the 'Federal Front' may not be able to unseat Narendra Modi from the throne in 2019, as some parties may keep out of it, like the Biju Janata Dal. Also because both YSRCP and TDP cannot join the front at the same time and some parties may still stick with the NDA, like the Akali Dal, Lok Janshakti Party and even Shiv Sena. It is the, thus, the Congress which needs to beat the BJP in its own backyard to achieve this ambitious goal.
Historically, BJP plus Congress have received 51 percent and regional parties 49 percent vote share in the Lok Sabha elections from 1951-2014, as shown in the graph below. Regional parties recorded their best performance in 2004, with a 52.6 percent vote share.
Regional parties came into prominence in the 1989 elections, which gave rise to the coalition era from 1989-2014. The tally of BJP plus Congress has been in the range of 280-320 and the tally of the regional parties in the range of 220-260.
BJP and Congress have been eating into each other's vote share and seat tally and the performance of regional parties has remained largely consistent. For example, Congress (206) and BJP (116) together won 322 seats in 2009. In 2014, they together won 326 but switched roles, with BJP on 282 and Congress on 44.
The majority of seats (147/282) which BJP won were in a direct contest with the Congress – in states like Gujarat, Madhya Pradesh, Chhattisgarh, Rajasthan, Jharkhand, Himachal Pradesh, Uttarakhand, Haryana, Assam, Karnataka, Goa, Arunachal Pradesh and the Union Territories. These accounted for 52 percent of BJP's total tally.
Additionally, in Maharashtra, where it was predominantly a BJP+ versus Congress+ contest, BJP won another 23 seats, taking its tally to 60 percent in direct contests. Congress finished runner-up in 224 seats in 2014, approximately two-thirds of these losses were against BJP candidates.
While there is a lot of talk about how BJP has reached its peak in many states, regional parties, not part of the BJP-led NDA, also have already maxed out in their respective states, namely, Tamil Nadu, West Bengal, Odisha, Andhra Pradesh, Telangana, Kerala etc, as shown in table below.
Only in two states, Bihar and Uttar Pradesh, can regional parties gain through this proposed unity efforts. Regional parties won 217 seats in 2014. They can gain at best 50-60 seats, in these two states, if all goes in their favour, taking their tally to 270-280 odd seats, close to their peak of 260 in 1989. Regional parties could also lose a few seats in Odisha, Bengal and Kerala.
This could reduce BJP's tally to 230, with Congress at 50 and regional parties at 260 (historical best performance). Note of caution, the tally of regional parties will also include NDA partners and parties which may not join the Federal Front in the range of 40-60 seats.
This will not be enough, as BJP plus regional parties in the NDA fold could just fall short of the majority (a 20-30 seat shortfall) and gain first mover advantage. There is a risk of parties from the Federal Front jumping ship in that scenario.
Congress needs to ensure that BJP's tally falls to around 150 seats to prevent it from having a shot at government formation and be on the safe side. The proposed Grand Alliance of Congress plus Federal Front cannot form a government at the Centre unless the Congress itself touches 130-150 seats.
In 2004, Congress won 145 seats and went on to lead a government with regional parties. So, essentially, Congress needs another 80-100 seats and all of them it needs to snatch from BJP in direct contest states like Chattisgarh, Rajasthan, Madhya Pradesh, Gujarat, Karnataka etc, which have close to 180 seats. The proposed Federal Front partners have almost nil presence in these seats, except for BSP in a couple of states. The Congress needs to achieve this on a standalone basis.
BJP recorded big wins in 2014, its average margin being 1.83 lakh votes or 18 percent in terms of vote share. BJP enjoys a huge lead over Congress in each of these seats and such big swings are seldom witnessed, except in 1977 and in 1980. While it is difficult, it's not impossible as we have witnessed in the recent bypolls in Rajasthan and Uttar Pradesh. Congress and Rahul Gandhi need to perform exceptionally well, beating BJP in its own den to oust Modi in 2019.
The author is a former corporate and investment banker turned political strategist, consultant and commentator. He is the author of e-book 'Battle of Karnataka and tweets at @politicalbaaba
also read
India
Senior Congress leader Sandeep Dikshit slammed Kejriwal's attempts to reaching out to leaders of non-BJP parties to garner support against the ordinance so that the Centre's bid to replace it through a bill is defeated when it is brought in Parliament.
India
The Bharatiya Janata Party (BJP) took pot shots at the West Bengal Chief Minister Mamata Banerjee, calling out her 'insensitivity, insult, abuse' towards the tragedy-struck families
Opinion
It's on the Congress leader to decide if he wants to fall into this dubious, dangerous Western trap. For, he may gain power but lose the nation. Worse, he may lose both power and the nation — after all, what's bad for the nation cannot be good politics either