Test us for COVID-19, jailed activists Anand Teltumbde and Vernon Gonsalves tell Bombay HC
Currently lodged in Taloja prison, the two activists said that they were in in 'proximity' with Varvara Rao who gas tested positive for coronavirus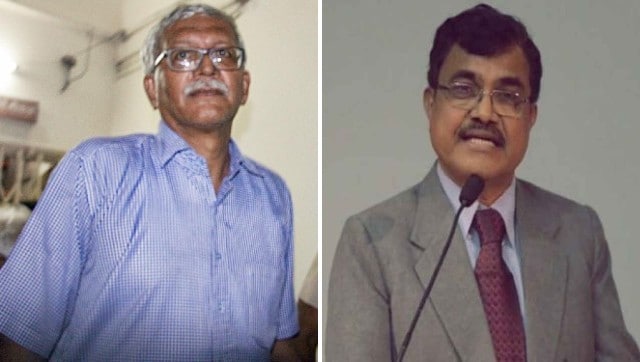 Mumbai: Activists Anand Teltumbde and Vernon Gonsalves, accused in the Elgar Parishad-Koregaon Bhima case, have approached the Bombay High Court after co-accused and Telugu poet Varavara Rao tested positive for the novel coronavirus.
Teltumbde and Gonsalves, currently lodged in Taloja prison, have sought that they too be tested for the infection.
Rao has been moved to St George Hospital near CST.
In their plea through senior counsel Mihir Desai, Teltumbde and Gonsalves have said that they should be tested since they were in "proximity" with Rao.
The plea is likely to be taken up for hearing on Monday, Desai said.
The petitioners said there exists a "grave risk" to their lives, as they are under imminent threat of contracting coronavirus or they might have already contracted the same since they had been in close contact with Rao.
As per the plea, Gonsalves was assigned the duty of being Rao's aide in the prison by the authorities.
He helped Rao with his daily chores since the poet was fighting for his life, battling ill health for months, the plea said.
Teltumbde has further said that he too was admitted in the jail hospital during the time that Rao was kept there earlier this month, and, therefore, he must be tested for coronavirus.
Gonsalves and Teltumbde also suffer from hypertension and various chronic illnesses, respectively, and thus, run a greater risk of contracting the virus, the plea said.
"The petitioners are high risk category candidates as both of them are senior citizens with underlying health ailments," the plea read.
Both activists have urged the court to ensure COVID-19 tests are conducted as soon as possible, and they be kept in isolation in jail where physical distancing is possible.
India
The active cases comprises 0.10 per cent of the total infections, while the national COVID-19 recovery rate has increased to 98.72 per cent, the health ministry said
Health
The sensor used in the mask can respond to as little as 0.3 microlitres of liquid containing viral proteins, about 70 to 560 times less than the volume of liquid produced in one sneeze and much less than the volume produced by coughing or talking
India
The National Investigation Agency, which is conducting a probe into the case, has accused Babu of being a co-conspirator in propagating Maoist activities and ideology on the instructions of leaders of the banned CPI (Maoist) organisation