Terror emanating from Pak serious concern for India: Rajnath Singh tells Bahrain
Bahrain is a key member of the Organisation of the Islamic Conference in which Pakistan is also a member.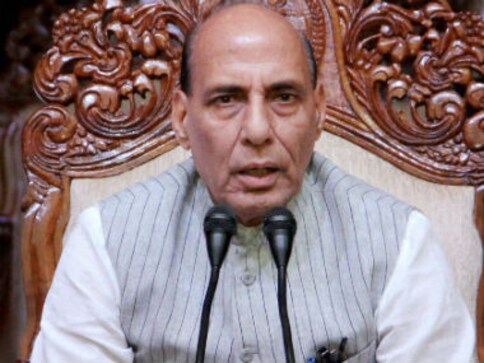 Manama: India on Monday told Bahrain that terrorism emanating from Pakistan remains its most important concern and support from across the border has incited the current unrest in Jammu and Kashmir.
This was conveyed by Home Minister Rajnath Singh to Bahraini Interior Minister Rashid bin Abdullah Al Khalifa during a bilateral meeting in Manama. Bahrain is a key member of the Organisation of the Islamic Conference in which Pakistan is also a member.
Singh, who is on a three-day visit to the Gulf country, apprised Khalifa about Islamabad's open support and participation to glorify slain Hizbul Mujahideen militant Burhan Wani in Pakistan, saying it indicates continued free movement that terrorists and their supporters enjoy there.
Wani was killed in an encounter on 8 July and since then the unrest has been continuing in Kashmir Valley. Pakistan is a country which refuses to give up use of terrorism as an instrument of state policy, he said. The Home Minister raised the issue of the arrest in July of Pakistani terrorist Bahadur Ali, who was armed and trained in LeT camps and then exfiltrated into Jammu and Kashmir with instructions to mingle in crowds for throwing grenades at security forces.
"Since there is no change in Pakistan's approach of sponsoring terrorism we cannot take at face value any of the assurances that Pakistan provides in regard to stopping terrorism," Singh is said to have conveyed to his Bahraini counterpart.
Asserting that Jammu and Kashmir is an internal matter of India and no interference is acceptable, Singh said the central government as well as the Jammu and Kashmir government and other relevant authorities in India are involved in addressing the situation in the state and various efforts have been undertaken to redress the grievances of the local population.
The Home Minister conveyed that there is complete political consensus in India on reaching out to the people of Jammu and Kashmir and substantial progress has been made in this regard.
Singh also told Khalifa about the lack of progress in the investigation into the Pathankot airbase terrorist attack and on the Mumbai terror attack trials in Pakistan. "It betrays Pakistan's selective approach to terrorism. We have conveyed to Pakistan that we are ready to discuss various aspects of the challenge of terrorism that is directed from Pakistan against us, which has been our core concern and is at the centre of the current situation in Jammu and Kashmir," he is believed to have said.
The Home Minister also met Crown Prince of Bahrain Salman bin Hamad Al Khalifa at Gudaibiya Palace and discussed various bilateral issues. Singh will meet Bahrain King Hamad bin Isa Al Khalifa, Prime Minister Khalifa bin Salman Al Khalifa. Addressing the Indian community last night, the Home Minister said terrorism is a global problem and the international community must join hands to root out the menace.
Singh had also said the Narendra Modi government has made several structural and procedural changes and that resulted in successfully reducing the "wholesale corruption" in the country.
First Cricket News
The ICC match referee had rated the Pindi pitch "below average" after England won the test match by 74 runs under dimming light on the last day by playing some attacking cricket.
World
The economy is suffering, but hefty spending on cars and other vehicle imports is raising a lot of questions about the government's policy of halting imports related to the industrial and commercial sectors
World
Pakistan's Minister of State for Petroleum Musadik Malik said government has prepared two new policies aimed at overcoming the problem of gas shortage. He said that the policies are almost ready and would be unveiled in the next couple of weeks