Telangana won't opt for Centre's Ayushman Bharat scheme 'as of now'; sources say state health model to continue
According to official sources, one of the reasons for Telangana not joining Ayushman Bharat scheme for the time being was because of the state's Aarogyasri scheme that covers nearly 80 lakh families
Hyderabad: Telangana has not joined the Pradhan Mantri Jan Arogya Yojana (PMJAY)- Ayushman Bharat, launched by Prime Minister Narendra Modi in Jharkhand Sunday 'as of now' and would continue to implement its health scheme, official sources said.
"One of the reasons for not joining it for the time being was because of the state's Aarogyasri scheme, that covers nearly 80 lakh families," official sources said.
"We already have the Aarogyasri scheme. As of now Telangana is not participating in the (central government's) scheme," they told PTI.
Asked when the Centre's flagship Ayushman Bharat health insurance scheme would be implemented in Telangana, the official said "as of now Aarogyasri scheme will continue," adding Telangana's health coverage model is a robust programme.
The PMJAY aims to provide a coverage of Rs 5 lakh per family annually, benefiting more than 10 crore poor families. Eligible people can avail the benefits in the government and listed private hospitals.
Find latest and upcoming tech gadgets online on Tech2 Gadgets. Get technology news, gadgets reviews & ratings. Popular gadgets including laptop, tablet and mobile specifications, features, prices, comparison.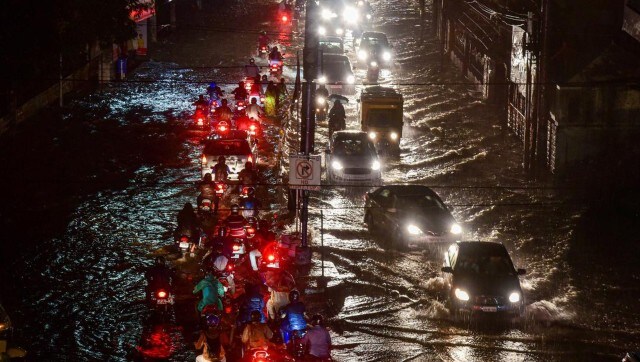 Entertainment
The heavy rains have left 70 people dead Telangana in the last week and caused damage to properties with the state government pegging losses at over Rs 5,000 crore as per preliminary estimates.
India
Around 37,409 families in Hyderabad were affected as fresh spells of rains caused water bodies to overflow while in Karnataka, the Krishna and Bhima rivers remained in spate
India
GHMC Commissioner DS Lokesh Kumar urged people to vacate dilapidated buildings and sheds while Bhadradri-Kothagudem district administration urged people not to venture out till water receded